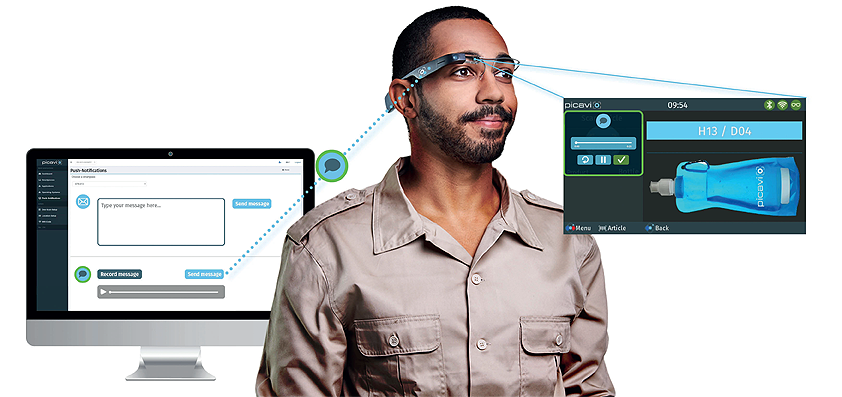 No longer are manufacturers mutually exclusive from logistics. Finished goods have to go somewhere, whether to the end-user (direct to consumer, D2C) or to a warehouse, distribution center, or third-party logistics (3PL) facility. Digital twin technology in logistics is constantly and rapidly growing. Lead by pick-by-vision specialists, creating a human digital twin aims to perfect support for warehouse staff.
Critical factors for successful logistics operations will never exclude human beings. Workers offer unparalleled flexibility and logistics experts predict that this will remain the case, even with rapid adoption of automation. As part of continuous process improvement more companies are optimizing procedures and processes, with a human-centric approach. Many logistics professionals are currently relying on business intelligence and process data captured.
Logistics companies which use digital twins report these highly accurate, virtual representations of the entire supply chain must include the warehouse. Digital twins accompany many logistics systems throughout the entire service life. It provides support for planning, while simultaneously acting as a simulation model to secure test environment for potential process changes.
Incorporating movements
When using digital twins for testing process changes, human workers are a variable for which the technology cannot account. Until recently it was difficult to incorporate the specific activities and movements in the warehouse. Pick-by-vision changed this by implementing the human digital twin. It maps a warehouse worker going about day-to-day tasks which are reflected in the human digital twin from transport routes and times to movements and scans. These data are combined with the important operating parameters, especially tiny details which help identify areas for improvement, such as WLAN coverage or warehouse resources. This highly accurate virtual representation of the worker is continuously improved and updated. This is lean manufacturing in logistics.
Simple data collection
The human aspect of process analysis has been neglected in many businesses throughout logistics and manufacturing industries. Although concerns about data privacy are often given as a rationale for hesitancy, the true cause runs deeper. Collecting the data necessary for the human digital twin was next to impossible prior to pick-by-vision. With the right technology accessing these data it is now quite easy to model human behavior.
Gaining a virtual representation of the worker in the warehouse required logistics specialists to collect and use data generated in the relevant process. Wearables make this data collection axiomatic. The complication is making sense of these data. This requires an intelligent and intuitive tool.
Pick-by-vision unlocks the data
Pick-by-vision unlocks the data that arises in the logistics process with business intelligence solutions. Integrated analytics create a central point for collecting, aggregating, and visualizing all the important information. These data are collected by the sensors integrated in the pick-by-vision smart glasses and are continuously updated. Users can instantly see which process steps harbor potential for time and cost savings.
Support for human warehouse workers
As human digital twins are based on real process data, they ensure a much more realistic and better understanding of work. Objective data can be used to uncover areas for improvement. The human digital twin provides a safe environment in which to test process changes. Once these tests are successfully completed, changes can be implemented in the real warehouse. This proactively minimizes the risk of failures or downtimes in the logistics arena. It also makes training new team members easier, as the training is based on digital empirical values. Companies make life easier for employees and design in a more ergonomic manner. It is the perfect aid for human workers.
Larry Olson
Larry Olson, Senior Sales Manager at Picavi, came to Picavi as a customer for Neovia Logistics, one of the world's leading logistics specialists. As the company's Director of Business Technology Solutions and Innovations, he was responsible for expanding the largest installation of smart glasses in the global intralogistics sector. He brings almost 25 years of logistics, warehouse, and distribution center experience.
Picavi GmbH is an award-winning and well-recognized full-service provider with a 100 per cent dedication of its intralogistics and wearable expertise to Pick-by-Vision solutions.
https://picavi.com/en/company/