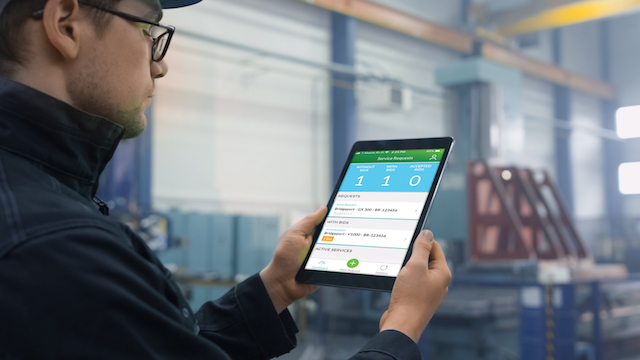 The cost of unplanned downtime can be significant for manufacturers, especially if the company's go-to service provider is unavailable to respond quickly and they have to turn elsewhere. Traditionally, manufacturers had to turn to a search engine and then call different providers for pricing and availability, but things are looking Up!
Up! is a new mobile and desktop app designed to connect manufacturers who need industrial service with companies that can provide it. The technology is available to both service requesters and service providers, helping companies address one of the biggest challenges in manufacturing – machine downtime.
"Up! was started by a couple entrepreneurs in the manufacturing industry who got into a discussion about unplanned downtime and concluded, 'There has to be a better way to do this instead of picking up the phone or doing a Google search for providers," says David Rhodes, director of sales and customer success. "Uber connects a driver with a rider and Match.com puts people together, there should be technology that connects manufacturers and service providers for repair and preventative maintenance."
After much research and development, the Columbus-Ohio-based company launched the Up! app in November 2017, focusing first only on manufacturers and service providers in Ohio, Kentucky and Indiana. "Quite frankly, it took off faster than we anticipated and we started growing organically on the West Coast and now also have users in Canada," Rhodes says. "We are the only ones doing this and we have no direct competition other than the traditional method of picking up a phone and calling the OEM/builder who sold the machine or Googling for another provider."
How it Works
The Up! app allows manufacturers to send service requests and get matched with service providers that can quickly and easily respond to requests they are qualified to handle. Potential users must first download the app and register as a requester or service provider.
The requester or manufacturing company will then make a service request, inputting all the information about the machine that needs repair or preventative maintenance. Up! sends that service request out and matches it to service providers in the area who will then submit bids. Each bid will include the provider's cost for repair and a time when they will be able to arrive onsite. Requesters then decide which provider works best for their needs, accept the bid and the service provider gets started.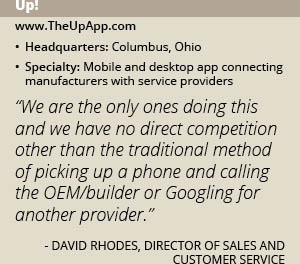 Requesters are also able to rate the service provider after the work is complete. "For manufacturers, the benefit to them is they have options to be able to get service on a machine that goes down or needs preventative maintenance quickly and easily," Rhodes says.
Up! is not meant to replace manufacturers' go-to service providers, rather offer them a faster option to connect with additional providers when needed. "One of the insights we recognize on the manufacturing side is people are happy with their service providers and they know who to go to, but at times they aren't available,' Rhodes adds. "This allows manufacturers to broaden their pool of service providers."
For service providers, the app gives them greater exposure to work they would not have known about and the opportunity to grow their business. While participation in the app is free, service provider companies can and should upload training, insurance and safety documents so the data is visible to manufacturers.
National Exposure
Up! will make its national debut in September at the International Manufacturing Technology Show (IMTS) at booth #135001 located in the East Building, level three of McCormick Place in Chicago. "We hope that IMTS will help us to raise awareness of the brand and get the message out to a larger audience, showing them there are other methods to get service and provide services," Rhodes says.
Brand awareness is Up!'s biggest challenge. "We are the only ones who provide this service, but there are businesses out there that monitor downtime, so sometimes manufacturers think we are a system that monitors that versus an app that solves downtime issues," Rhodes says. "People get confused because we are so new and innovative. We are creating a category and that doesn't happen very often in manufacturing."
Continued Innovation
Service providers and manufactures are already signing up at a rapid pace, Rhodes says. "We are getting a lot of word-of-mouth marketing because of the positive experiences and service they are receiving," he adds. "It didn't hit as hard in the beginning, but now they are seeing it does work."
As Up! continues to grow, the app will expand beyond its machine tools focus today to include all the equipment found on the manufacturing floor. "We will be able to continue expanding to provide service for any type of equipment; it's close to being endless for how the app can adapt to service," Rhodes says. "The nice thing is that it is a really simple process. There's really three easy and simple steps manufacturers can take to find service providers, and it's a great alternative."