URACA is handling the pressure
Over the course of a century, URACA has developed into one of the world's leading manufacturers of high-pressure plunger pumps and cleaning units.
Based in Bad Urach, Germany, with a subsidiary in Paris, further representation offices in Thailand and Dubai, and service centres around the world, the company employs 305 people, including 25 apprentices. URACA's products are utilised across an array of industries, including chemical, petrochemical, automobile and oil, and have recently delivered a turnover worth in excess of 50 million euros.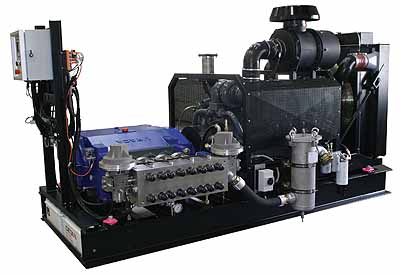 The company's pumps are designed for operating pressures up to 3200 bar, and motor ratings up to 1500 KW. They can, furthermore, be used in a number of applications subject to high-pressure processes, such as CO2 extraction, descaling, energy production from oil residues, spray tower feed, and oil supply to hydrostatic bearings.
To meet the rising volume of incoming orders, the company is currently involved in an intensive period of investment. Last year, for example, URACA put a new milling centre and CNC boring head into operation at Bad Urach, whilst its boring mill was also overhauled. Such advancements are recognised, by the company, as being critical to sustaining its reputation as a technological leader in its field. To further support the quality of its offerings, URACA trains its workforce meticulously, and carefully monitors each stage of the production process so as to ensure optimum performance. As a consequence, quality management has been certified to the worldwide standard DIN ES ISO 9001:2000.
The company displays an equally unerring commitment to the development of innovative new products, and several new designs have already been unveiled this year. The new URACA highpressure spray gun SP 503 was, for example, recently exhibited. This can be used for sewer pipe cleaning, rust removal, or surface cleaning, and is particularly notable for its lightness, and ease of use. Furthermore, it benefits from minimum pulloff and hold force, providing fatigue-proof operation, and a longer lifespan. The newly designed tube can be equipped with accessories such as round jet nozzles, flat jet nozzles, and rotor nozzles, without the use of an adapter. URACA is confident, given this multitude of qualities, that the gun will be the preferred choice for professionals undertaking high pressure cleaning jobs.
As part of promoting its array of new designs, the company is involved in a number of key industry exhibits. These provide an important opportunity for URACA both to liaise with existing clients, and develop new partnerships that will further stimulate its growth. During October, the company 305 will be present at no fewer than six events: ITF, in Bulgaria; TIB, in Romania; the pumps and valves exhibition, in Belgium; Expoquimia, in Spain; and the international rotating equipment conference and parts2clean, in Germany. This range of activities is testament to the global nature of URACA's business; indeed 60 per cent of its sales are to the export market.
The company was no less vigorous in marketing new products last year, and proudly presented its new series of high-pressure pumps to the market. This new generation of pumps was conceived both for intermittent high pressure cleaning and continuous industrial use, and to pair efficiency with cost-optimisation. This resulted in an entirely new pump concept with three, four, and five plungers, but the P4-70 4-plunger pump is a particular novelty. It is available in various drive and liquid end configurations, and designed for low viscous liquids. The power spectrum of the machine covers over 450 KW, whilst its pressure range, as with each pump in the series, goes up to 2800 bar.
URACA supports its product catalogue with a comprehensive range of service offerings. Training and courses are a key aspect of this, and can be undertaken within either the company's own offices or at a client's site. They provide URACA with an opportunity to pass primary knowledge to its clients, and allow for product discussions based on genuine practical experience. Should further technical support be required, service experts are available by phone to offer advice, or to arrange an emergency field service through which repairs might be undertaken.
To meet this need, URACA also provides a spare parts service, and is able to dispatch within 48 hours to meet clients' urgent requirements. Alongside its standard stock, the company is also able to develop customised spare part concepts for customers, and further offers a rental service for those who only need to meet short-term necessities.
It is this all-round package offering that has taken URACA to the forefront of the market, and that should maintain its prominence for many years to come. The company's commitment to innovative solutions, and provision of a reliable after-sales service, has attracted many prestigious clients. So too does it provide URACA with much optimism about its future business.
URACA
Products: High-pressure plunger pumps and cleaning units
Sites: Worldwide
Employees: 305
www.uraca.de