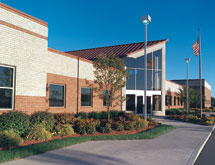 Throughout an automobile's life, the exterior of the vehicle can suffer many scratches and dents that change its appearance. U.S. Chemical & Plastics is a firm that clients turn to so they can help consumers return their cars to their former glory.
Based in Massillon, Ohio, the firm manufactures epoxy, polyester, polyurethane, benzoyl peroxide and coating technologies that are used in the automotive aftermarket, President Tom Perry says. "We export to over 60 countries currently, for private branding, as well as our own brand," he says.
Brothers Philip and Anthony Maggorie founded the company in 1950 as a manufacturer of body fillers. In December 1968, Alco Standard purchased the firm. In 1984, U.S. Chemical, along with 16 other small manufacturing firms, were spun off from the firm to create a new company, Alco Industries.
Today, U.S. Chemical heavily serves clients overseas. Exports comprise up to 40 percent of U.S. Chemical's business, which it serves through two facilities in Ohio and one in the United Kingdom. In addition to its staff of more than 200 workers, the company relies on a large network of independent representatives.
U.S. Chemical serves many distributors that sell to end users, Perry says. "The majority of our product ends up in dealerships and body shops throughout [the world]," he says, noting that a large percentage of its business is comprised of private label work. "We have some extremely large customers."
Enjoyable Work
A longtime veteran of manufacturing, Perry originally joined U.S. Chemical in February 2003 as its vice president of sales and marketing. This came after a 19-year career at The Sherwin-Williams Co.
Although Perry enjoyed working for such a large firm, he prefers the mid-sized operation of U.S. Chemical. "Working at a large corporation provided me with invaluable product, industry and leadership experience and know-how," he says.
"But nothing compares to the experience of leading [U.S. Chemical]," he says. "When you walk through our company, the drive, passion, camaraderie and desire to succeed is palpable.
"We're out in the field, working alongside distribution and customers," he states. "We're lean, agile and able to respond quickly to marketplace needs and demands."
He adds that U.S. Chemical has many advantages over its competitors, including its people and their level of passion and professionalism. "We aspire to be great at what we do," Perry says. "We are a very focused company."
For instance, the company's purchasing and operational teams have enabled U.S. Chemical's growth in recent years. "Our transportation/ freight department has done a wonderful job," he states.
According to the company, the significant growth over the last five years has placed a large demand on existing manufacturing, logistics, service and material resource planning, and its workers have met the demand. "From staff level to executives, we've rolled up our sleeves and created innovative solutions that have improved efficiency, lowered defects and boosted gross profit," U.S. Chemical says.
Strong Service
To keep the quality in its products, U.S. Chemical has maintained a strong quality control department. "It is a general commitment that must be driven to the top of the company, meaning that quality can never be compromised," Perry says.
"We consider every employee in our company a quality control technician," he continues. "[Our workers] take a great deal of pride when the U.S. Chemical name is on [a product].
"It's an American success story of American workers' pride," he declares, noting that the firm is also ISO-9001:2008 certified and practices lean manufacturing. "At times, we will use outside consultants [to implement lean]. We live and die by lean."
U.S. Chemical's lean initiatives included establishing and training a team of cross-functional and cross-departmental leaders to oversee lean processes companywide. Each department establishes goals and metrics and reviews them on a monthly basis.
Perry adds that inventory also plays a strong part in U.S. Chemical's business. "It's critical that we have the right amount of inventory to serve our customers in a timely fashion," he says. "I would say it's one of the strengths of our organization."
Planning Ahead
U.S. Chemical is now finalizing a five-year business plan. "That has to do not only with sales," Perry says, explaining that the firm annually invests $1 million in its capital costs.
He predicts that U.S. Chemical will look at ways to improve its productivity and manufacturing. "We will continue to add personnel in our sales and marketing in things related to product and packaging," he says. "We will continue to do exactly what we've been doing but find ways to just continually improve and innovate."
He also remains optimistic about the company's future in its industry. "We will be going to the next level in a big way," he declares, but notes that he cannot disclose any plans yet. "We're a very excited company right now. [The future] looks wonderful." mt