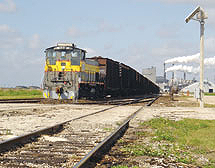 Realizing the competition from heavily subsidized foreign sugar producers was ramping up – as well as worldwide demand – made U.S. Sugar Corp. look at its operations.
"We were traditionally a company that farmed and made non-food-grade product," says Robert Buker Jr., president. "We had no precision management or data collection systems in place." He adds that the company's business model depended on a lot of labor with not much analysis on how it could be done more efficiently.
In 2006, U.S. Sugar decided to make a change. With the help of Life Cycle Engineering, an independent management consulting firm, and Trimble, a GPS positioning technology consultant, plans were put in place to not only increase its sugar production, but also improve its operations while reducing costs and waste. A  strategy was established that set standards for all facets of the company's operation: work management, materials management, reliability engineering and operational efficiency.
It is a strategy that has paid off for the company. Currently the largest producer of food-grade cane sugar in the United States, the company has increased its overall production capacity by 12 percent. Its most recent year-end harvest was 6.95 million tons of raw sugarcane – a million tons more than its closest U.S. competitor. This yielded 772,892 tons of raw sugar and 41 million gallons of molasses. Thanks to both U.S. Sugar's operational excellence strategy and favorable weather conditions, this surpassed pre-season estimates of 631,000 tons of raw sugar and 38 million gallons of molasses.
"We've reinvented our company," Buker reports. "We've managed to lower our unit cost by increasing automation, using fewer people and less equipment, but using those resources more effectively." He says by implementing the best technology and the best systems within that technology, as well as training its staff to use it, U.S. Sugar seeks to perfect its operation by always striving for improvement.
Sugarcane is harvested from October through April. To extract the maximum amount of raw sugar, the cane must be processed within eight hours of harvest. After eight hours, the cane deteriorates and the sugars turn into alcohol. Previously, a large labor pool would cut the cane by hand and haul it – which would greatly exceed the eight-hour window by the time the cane made it into the factory for processing.
The company today harvests the cane with combines that are steered by Autosteer technology controlled by a wifi network. "Our entire 180,000 acres are run on a wifi network," Buker notes. "All our farm machinery is hooked into the network not only to harvest, but also collect data about the plants as well as to sparingly and precisely apply chemicals and fertilizer."
In addition, all rail cars in its operation are equipped with radio ID tags enabling crews to track the exact time each load has been harvested. The company owns 120 miles of railroad connecting its agricultural operation to its factory and refining plants.
"We have our cane ground within eight hours of harvesting, which has drastically improved the quality of our product," Buker attests. "In addition, these technology improvements have also vastly improved our safety record."
Instituting formal safety programs has also better prepared employees to prevent injuries. "Our fields are surrounded by canals," Buker says. "Two or three employees would drown or nearly drown every year because some equipment would go into the water." Since the new policies have been instituted, he says that injuries have been significantly reduced. "Our Autosteer technology is very accurate," he says. "This type of accident hasn't happened in years."
Tip-Top Shape
The 300,000-square-foot Clewiston factory is "the largest, most technically advanced and fully integrated sugarcane manufacturing/refining facility in the world," the company claims. With the capacity to grind up to 42,000 tons of sugarcane daily, the factory houses the world's largest evaporator plant and the C-Tandem, one of the world's largest milling tandems, which can grind 1,575 tons of sugarcane per hour.
U.S. Sugar's equipment maintenance has also had a major overhaul. The factory used to run 140 days during the season. When production ended, the mill was dismantled, parts were serviced and then the machinery was put back together. "Unfortunately, some things that needed to be fixed didn't get fixed," Buker says. "Plus, the machinery would break down during critical times."
Now, the maintenance crew tracks the history of all equipment. In addition, extensive vibration analysis, oil sampling and thermographic analysis to detect overheating parts have drastically reduced breakdowns. "Before, we never knew what was going to break down," Buker notes. "Now, maintenance is a controlled process." The plant's mechanics adhere to a regular maintenance schedule, which not only reduces the machineries' downtime, it also keeps the mechanic crews working steadily.
The company has reduced its spare parts inventory by 50 percent. Maintenance jobs are prescheduled with a prepared kit that includes bar-coded parts. The technician tracks how long it took to perform the job and adds any notes on how to simplify the job for the next time. "Changing the bulk of the work from repair to preventive maintenance has increased their effectiveness by 77 percent," Buker boasts.
Environmentally Sound
Using all of its resources and byproducts has not only saved costs, it has improved U.S. Sugar's   environmental footprint. The company's newest boiler runs on bagasse, the fibrous material that's left after sugarcane stalks are crushed. In addition to earning the Energy Institute's Environment Award, the boiler's generators create 40 megawatts of electricity per hour, enabling the plant to power itself entirely on bagasse biomass.
Probably the best outcome of U.S. Sugar's new strategy has been the realization that there is always room for improvement.
"When you start initiatives, you constantly see things you can improve," Buker says. "And you have more time and money to invest in these improvements."