Using industry experience to increase its technical know-how, Medstrom is developing care where it's currently lacking
The establishment of Medstrom Ltd (Medstrom) was resultant of the management buy-out of a service business called Hillrom in 2010, by a confident team with over 120 years of experience. For the first eight years, Medstrom focused on managing the 19 contracts it had inherited from its predecessor; working to deliver, refine and improve the long-standing services Hillrom had offered. The team gained a great deal of experience during this period, which not only broadened its knowledge base, but ultimately led to it manufacturing the products it had previously been distributing.

Rachel Apsey, Commercial Director, talks Manufacturing Today through the motivation behind this change in direction: "Our day-to-day learnings were a major force behind our move towards inhouse manufacturing. Two key factors in regard to harm coming to patients, which were increasingly highlighted by our NHS customers, were the development of pressure ulcers and the fall-risks posed by the traditional style of hospital beds. To solve this, our research and development team and I came together to design a new format – one that could be lowered to a safe enough height to prevent harm caused by falls and raised high enough to save the hospital staff from back issues. As an ex-nurse and midwife, myself, I wished to reiterate this issue where possible – back injuries cost the NHS something in the realm of £400 million per year."
Customer engagement
Today, Medstrom is one of the largest providers of total bed management services to the NHS and has over 25 percent of the UK's acute-care bed and mattress fleet. It supplies its specialist products and services to over 150 hospitals across the UK and Ireland, which includes hospital beds, critical care beds, pressure area care and bariatric support. The early days of the company were far humbler though, as Rachel explains: "Although we are now producing what is heralded as the best bed on the market, which customers cite to be reducing falls by 60 percent – we literally started out manufacturing in an empty shed.
"The main way in which we innovate is by engaging with our customers," she continues. "In applying my nursing background, I always say that for every product we send out into the world, there will be a patient. We monitor patient outcomes closely and discuss with our consumers what does and doesn't work, the NHS being one of the key drivers behind this. A good example is how post-COVID we have a lot more patients suffering with long-term lung conditions who require intensive care beds – making this product far more critical. Another is the increasing number of patients being admitted with mental health related issues, which has stimulated a new development of ours, a mental health bed that will be going into production early next year. This will offer the full functionalities of existing electric beds, but without the use of excessive cables that can pose a ligature risk to patients suffering with suicidal tendencies.
Addressing challenges
"The critical part for me is the continual market research in order to obtain the latest insights into the clinical environment, as it's ever-changing. Five years ago, patients weren't falling out of bed at the same rate that they do today – 700 every day in the NHS alone. Patients are increasingly getting older, frailer and overall, more vulnerable, which is also increasing the risk of pressure ulcers. Our diets, as a nation, have suffered in recent years meaning we are physically getting bigger. When a patient arrives at A&E, who is unable to fit in a typical hospital bed, they end up sitting in an ambulance waiting for the delivery of an appropriate product for far too long. This stigma removes them of any dignity and is simply not acceptable. We not only produce a four-foot-wide bed that supports up to 75 stone, but we also offer a delivery service within a couple of hours, depending on the contract in place. Right product, right patient, right time is our strap line."
Medstrom's production facility in the East Midlands was developed throughout 2019. Matt Stonton, Capital Operations Director, and a small team, were tasked with transforming the aforementioned 'shed' into a clinical manufacturing center, capable of producing 4000 beds per year. The plant employs Lean principles, applied from Matt's time working within automotive, aerospace and pharmaceutical engineering. Thus far it has managed to increase its annual output by over five times since its first year of production.
Addiotionally, the Medstrom Academy was established in early 2020, with the aim of supporting its clientele in the implementation of its products. The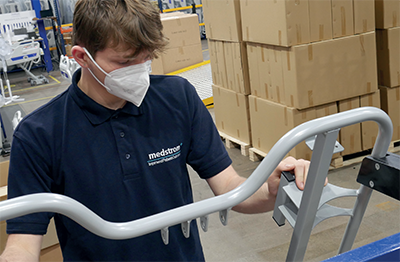 purpose-built space showcases the range of solutions that the company offers in meeting the clinical challenges of patients and caregivers, with a number of physical learning experiences. These include empathy and age simulation suits, which are designed to replicate the body morphology and physical impairments of plus-size or ageing patients, among other educational and visual tools. It also offers a number of Continuing Professional Development (CPD) accredited courses that cover the definition of a pressure ulcer, the science of surfaces, the consequences of immobility and the mitigation of bed-related injuries.
Future progression
Given the manufacturing plant's inaugural run took place in July 2019, Medstrom was required to hit the ground running when the Covid outbreak escalated, as Rachel details further: "I'm pretty sure Matt worked 24/7 for the first six months of the pandemic; we manufactured as many beds as possible then started sourcing products from overseas too. It was a frantic time. Unlike the majority of our competitors, we didn't furlough any of our staff. Covid was a real concern for us, as a board of directors, as around 80 percent of our team are frontline staff. With having everybody working, we had extra support for all of our technicians, nurses and trainers every step of the way, but we still had to consider how to protect them as they were heading into hospitals. We hosted a great deal of education and training surrounding social distancing and the virus, and I can proudly say that we never had a single person contract Covid through work.
"Teamwork plays a crucial part in everything we do," she adds. "Matt developing a new bed is obviously important, but without the clinical advisor guiding him, it may not meet the correct standards. Similarly, without the technician installing it, how can the nurse utilize the bed in treating a patient? For these reasons, we try to ensure that our network of differently skilled people, operates as one. We want to create a long-term sustainable future for all of our employees, as the company wouldn't be where it is today without everybody we've got on the ground, at every level."
On top of its success within the UK, Medstrom currently serves customers in Italy, Switzerland and the Netherlands, and is awaiting FDA approval to move across into the US market as well. According to the company's US-based Non-Executive Director, there are multiple distributors waiting for its product range to land on American soil. Besides transatlantic growth, the future of the company is very much engrossed with continuing to meet the ever-changing needs of patients near and far. As Rachel concludes: "Bottom line; improving patient outcomes is our main mission. Within that, we're looking to expand our range further, maintain our communication with customers and clinicians and continue to be there to provide answers through innovation and products."
www.medstrom.com