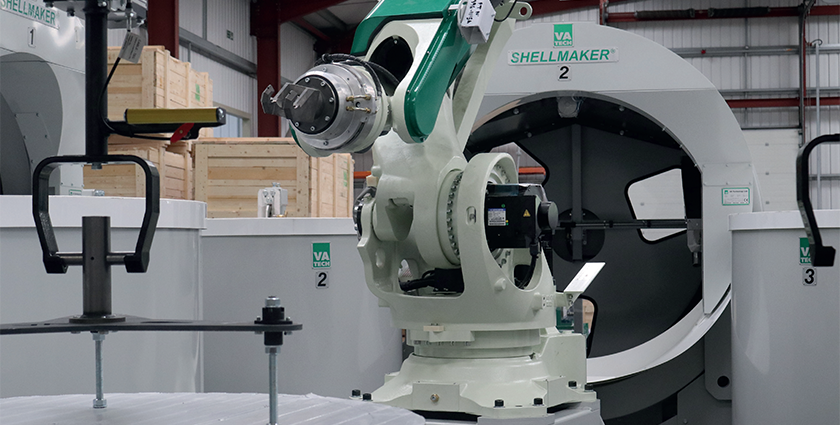 VA Technology is committed to excellence in mechanical, electrical, control, software, and systems design
With a head office in Telford, England, VA Technology started out as a service center for Unimate robots. The business then continued to expand through customer requests for help with investment casting applications. Since its founding year in 1988, it has grown from strength-to-strength over the last three decades. From there, VA Technology evolved into the Shellroom equipment provider it is today. "In 1990, we opened our first facility in the USA to support our customers there. This was closely followed by the development of our facility in China in 2009," shares James Clarkson, VA Technology's Sales Director.
We learn from James that VA Technology provides equipment for all aspects of investment casting shell solutions, from small individual pieces of equipment to fully automated manufacturing systems. "Our team design, manufacture, install and support a range of equipment, for customers of all sizes, in any global region. We fully assemble all equipment on site and invite our customers to review the complete equipment operation ahead of dispatch to their location," he explains.
He then proceeds to share more details about the company's infrastructure, which includes an extensive set of state-of-the-art machinery. "One piece of equipment I would like to discuss is the IC-Crystal Shell Management System, which is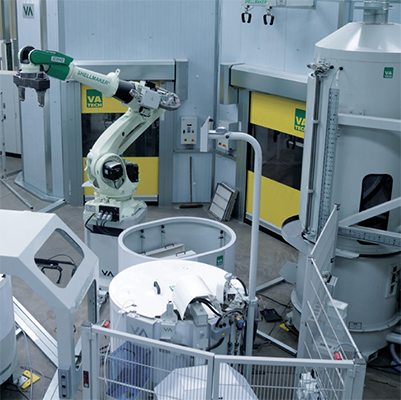 the latest generation of our management software. It gives total oversight of all aspects of the systems operation, from management of part recipes, to WIP, KPV data, OEE, and system alarms," James says. The software is a one-stop shop for the operator, and can also be easily integrated with factory MES and ERP systems to complete the automation process. He also shares that the company has a team of six, full-time engineers, constantly working on the software's future development and improvements.
"For many years, our systems have been fully connected, and we are committed to continually making improvements to develop this further. Our latest generation of Shell Management Software – IC-Crystal – is the brains of our equipment, and captures all aspects of system data, which can be communicated with the operator or out to factory-wide software."
Growth in the US
Staying on the topic of the company's facilities and in-house developments, we learn that over the last 12 months, VA Technology has made a significant investment across the business. "We have integrated our fabrication arm into our current UK site, and expanded our facility by around 20 percent to accommodate this. We have also completely remodeled the facility, and updated some of our build areas to improve the working environment. A £250,000 investment in five vertical storage systems has also been made to improve working practices and efficiency. In the US, we acquired a new building in Solon, Ohio. This has doubled the size of our US operation, and we are actively working to grow this location further to support our US-based customers," James explains.
Historically, over 90 percent of the equipment the company has manufactured has been exported from the UK, which is why VA Technology places an emphasis on having a wide-reaching global presence. "We have locations in the USA and China to offer local support to our customers in those areas. Both overseas locations are equipped to install, commission, and offer after-sales support to our customers locally, which is vital to maintain good relationships, and ensure our equipment is always running as it should.
"Over the last five years, we have begun to manufacture systems in our US facility, and with the purchase of our new, larger facility, we aim to build on this further. Having these facilities has also benefitted us greatly over the last few years when travelling has been difficult due to the pandemic. We have been able to complete installations in China and the US by using our local workforce, which otherwise would have been impossible."
James then goes on to discuss projects of which the business is particularly proud. Recently, VA Technology secured a significant contract from the Doncasters Group at its sites in Deritend, in the UK, and Groton, in the US. "These projects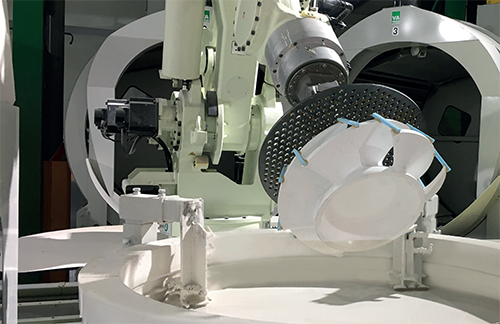 will be manufactured at both our locations here in the UK and across the pond, in Solon, OH. The Doncasters Deritend facility already has some of our equipment, but this new system will replace all the existing equipment, and completely modernize the facility, along with doubling its capability. The addition of the Groton project will make VA Technology the 'shellroom standard', which is very exciting."
The discussion of this project then triggers the question of the company's viewpoint on sustainability, and how it works to provide the best services with as minimal an impact on the environment as possible. "During the recent renovations of our UK facility, we installed LED lighting with motion sensors in all areas, to minimize our energy usage. Likewise, wherever possible, we recycle our packing materials and stillages to try to repurpose these on future projects," James says.
Team contributions
The topic of conservation then leads onto the company culture, which, according to James, is the key secret to VA Technology's success. "Our employees are the most important aspect of our business, and a good working environment is vital. There is a high level of importance put on company social events and gatherings to ensure good teamwork, and people are recognized for their contribution. Recruitment is always challenging so retaining people is key and a good working environment plays a big part in that," James elaborates.
With confidence in his team, and a positive outlook on the future ahead, James expresses that VA Technology will continue to invest in both the UK and USA facilities to further improve productivity and the company's manufacturing methods. "The expansion of our fabrication facility to increase our capability will also be completed in the upcoming six-month period, which we are all looking forward to.
"Beyond that, we are working to further develop our US facility, and create a self-sufficient manufacturing location, with full design capability and with all US-based system manufacture taking place there. This will support our UK business, and allow us to better utilize the manufacturing space we have available." He concludes by adding that the team forecasts a busy couple of years, and with the new expansions on the horizon, the business will continue to excel in providing leading shell casting solutions.
www.vatech.co.uk