Big in plants
From its humble beginnings on Rune Stark and Siw Stark's 30-hectare farm in Herrgarden, Sweden, in 1962, Väderstad has been characterised by its entrepreneurial spirit, innovation and creation of ground-breaking farm machinery that improves the lives of farmers across the globe
Beginning as a designer and producer of rigid steel tine harrows, Rune Stark and his team went onto develop a new harrow, launch a cultivator and grow a strong reputation in Sweden, all before the 1970s. Over the following decades Väderstad witnessed incredible growth as it became increasingly innovative in the manufacture of cultivators, planters and drills.


During the 1990s the company launched its first subsidiary in the UK, Väderstad Limited, which was followed by the establishment of subsidiaries in France in 1994, Poland in 1996, Hungary in 1997 and Germany in 1999.
Not only an integral decade for the firm due to strategic expansion, the 1990s also proved to be a key time in the company's history thanks to the development of two new innovative drilling concepts, Rapid, which originated from the earlier DS-drill, and Concorde, which was based on the highly successful NZ-cultivator. Upon exhibiting prototypes of the two machines, Väderstad comreceived a positive response from farmers and manufacturing began.
Committed to increasing its global coverage, Väderstad strengthened its presence in Saudi Arabia, with approximately 100 machines sold in the oil kingdom to date, and also established a new subsidiary in Ukraine in 2006. In addition, the company opened its 12th subsidiary in Krasnodar, Russia, an area that contains three per cent of the arable land in Russia but is responsible for 60 per cent of the oil seed production in the country. Alongside these strategic expansions, Väderstad also acquired 49 per cent of the Canadian company Seed Hawk, a manufacturer of direct seeding technology, in the final quarter of 2006. In 2013, the company became the complete owner of Seed Hawk and has since focused on developing its presence in North America.
Today managed by the Stark siblings, Christina, Crister, Andreas and Bo, the family business boasts an enviable reputation as a leading innovator and developer of agriculture machinery, as Mattias Hovnert, sales director at Väderstad discusses: "We are present in a range of markets, Europe is our main market together with Russia. The UK is a very big market for us, and has been for many years; Germany and France are also key markets as well as Poland and Hungary. We also have a presence in Russia, however, because of the current economic situation, this is currently a tough market.
"The reason behind our success lies in our innovation and commitment to designing machines that benefit the farmer, whether that is through speed so he can be much faster on the field, providing multifunctional options or even boosting precision, which ensures a better yield. One example of this dedication is the Rapid Seed Drill product, which is a highly beneficial and a winning concept for farmers. When this machine first came out farmers were not used to operating in this manner, but through demonstrations and discussions we provided the farmers with confidence and changed the shape of agriculture operations. Today the Rapid Seed drill is one of the most common drilling machines to be used by farmers in the UK; more than 20,000 machines have been sold throughout the world, it is a true success story," he continues.
Indeed, since it was tested in the UK in 1992, Rapid has proved itself time and again as a machine with excellent precision and suitable for all conditions minimum tillage and plowed land. Over the years the machine has been enhanced to meet market requirements and today, thanks to its array of toolbars and drilling systems, Rapid is the right choice for farmers wanting unique depth control functionality, coulter pressure and optimal seed placement regardless of speed. Moreover, thanks to few moving parts and cushioning on all working parts, the machine has an impressively long life cycle.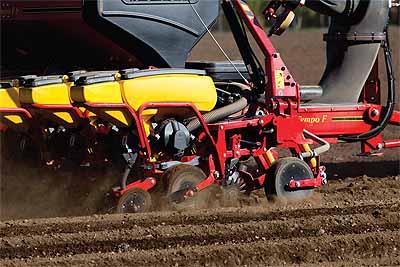 And this history of innovation seems to repeat itself, with the new planter from Väderstad: Tempo. With its innovated and patented seed metering system, it takes planting to a new level. "Double speed and better precision than other machines on the market make the Tempo to a real success," says Mattias. "In February this year we delivered our 1000th Tempo, and this only after two to three years of production."
From 2015, Väderstad has installed hydraulic metering onto all of its Rapid models, which is essential in enabling farmers to use Väderstad E-services, connect to a GPS system and use the new technology on the machine to optimum effect. Meanwhile, new tyres allow for lower air pressure and a new following harrow provides customers with better lift clearance and adjustable function. The company has also enhanced cost-effectiveness and time saving thanks to BioDrill on Rapid, which means a ley, catch crop or other small-seeded crop can be precision-drilled at the same time as the main crop.
Since its acquisition of Seed Hawk, the two companies have worked together, merging their strengths to develop a new concept of airseeder that provides outstanding accuracy of seed and fertilizer placement in the widest of areas. Benefits of this innovative product includes less soil disturbance thanks to wider row distance, low draught requirement due to the ultra narrow knives that give a superior seed placement with low horsepower required; these features ensure cost-effectiveness and efficiency for time conscious customers. "Seed Hawk has the knowledge and experience of these machines, and we can help with our expertise in both mechanical development and software; by integrating our different experiences we have created a product that is a huge success," says Mattias.
With a lot of investments made in its production facilities and equipment, Väderstad is a very modern producer that can achieve both effective production and high quality. This is true both in Väderstad and at SeedHawk.
"Effectiveness and high quality are important for us, for our brand and our products," said Mattias. "Our machines must be reliable and therefore need to be manufactured in a way that support this. Welding robots, 3D-lasercutting and automated materials handling are just a few of the areas where we have invested recently. Also logistics is important and we have created a complete new logistics centre in order to achieve an effective way of handling material both for internal and external use. Also precision in deliveries is really important for us. All of these factors are part of offering only the highest quality and we have to have the right equipment and processes in order to maintain the top standards for our customers."
With new innovations ready for launch at the Agritechnica exhibition in November 2015, Väderstad has sown the seeds for future growth in a demanding market that requires optimum solutions, as Mattias concludes: "Research and development is really important to us as it means we can benefit the farmers and remain an attractive supplier on the market for agriculture machines."
Väderstad Group
Products: Farm machinery
Sites: 12
Employees: 1000+