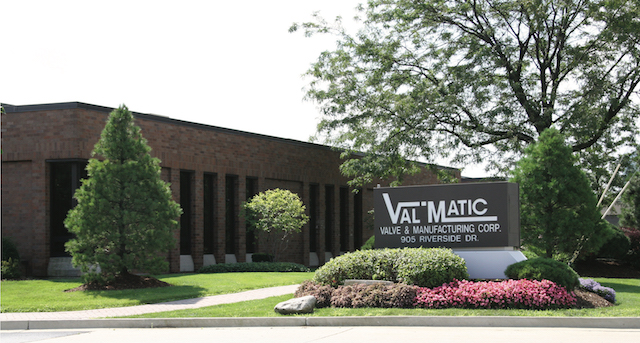 Val-Matic Valve and Manufacturing
Val-Matic Valve and Manufacturing Corp.'s mastery of its namesake products makes it an industry leader. "We are valve experts," CEO John Ballun says.
The Elmhurst, Ill.-based company specializes in manufacturing check valves, quarter turn shut-off valves and air valves for the water and wastewater markets. Its products are found in water plants as well as on pipelines and water mains.
"Our valves are used to deliver clean drinking water to users throughout the world," Ballun says. "When you walk down the street and see the small round cover on the ground marked 'water,' there could be one of our valves underground there."
All of Val-Matic's valves are highly engineered to conserve energy and reduce water head loss. The company's check valves prevent clogs and water surges, also known as slamming. Its shut-off valves are designed for easy field adjustment and repair.
Products engineered and manufactured by the company meet stringent industry standards set by organizations including the American Water Works Association (AWWA) and the American Petroleum Institute (API). Val-Matic's staff is active in developing many of these standards, including those set by the AWWA as well as the Manufacturers Standardization Society (MSS) and the American Society of Mechanical Engineers (ASME).
"We take a leadership role on committees that develop these important codes and standards, and advance our products to match these standards," Ballun says.
In addition to its water-related products, Val-Matic in recent years has introduced valves designed for rigorous industrial applications such as mining and energy, where they are used on pipelines that deliver slurries, hydrogen gas and oil. These valves are made from steel and stainless steel, while its water and wastewater-related valves are made from iron, Ballun says.
Production Processes
Val-Matic uses several tools to engineer and design its products, including 3-D modeling, finite element analysis and computational fluid dynamics software. "These tools allow us to design and test valves on a computer instead of having to build and test them in a lab," Ballun says. "This is amazing technology that accelerates the development process."
The company's machining equipment includes five-axis CNC machines, which produce parts efficiently on a single machine instead of three separate machines, reducing lead time. Manufacturing staff members use 3-D models to program the machining equipment, a process that yields parts "perfectly and automatically," he adds.
Val-Matic operates two manufacturing facilities with a combined 178,000 square feet of production space. A facility in Elmhurst produces more than 100,000 small-diameter valves annually, while a plant in neighboring Addison, Ill., produces large and custom valves ranging in diameter from 36 to 108 inches.
Both facilities are ISO 9001 certified. The company employs a number of lean manufacturing methods that help it maintain this status, including 5S and process mapping. Lean methods have been standard procedure at the company for more than a decade, Ballun says.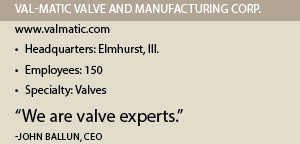 Maintaining Stock
The company manufactures valves on a for-stock, assembled-to-order and engineered-to-order basis. Assembled-to-order valves differ slightly from standard products, as they can feature custom painting or rotations. These products typically require a lead time of two to four weeks, Ballun notes.
Engineered-to-order products are designed to the requirements of a particular project, and could take eight to 30 weeks to complete. Larger projects, such as two 126-inch-diameter butterfly valves the company designed and manufactured for the U.S. Army Corps of Engineers, can require up to a year of lead time.
Val-Matic uses a production planning software system to schedule its work. The software schedules work based on the availability of labor, material and equipment, also known as the Theory of Constraints. Sales representatives can access the program online to determine how long it will take a particular part to be produced, Ballun adds.
The company determines its stocking levels based on a complex mathematical model that considers the past three years of sales. "We track over 1,000 items and create a forecast for seven months based on history and input from our sales department," Ballun says. "We carry safety stock on top of that to ensure that we maintain a 95 percent on-time and in-stock customer service level."
Val-Matic partners with more than 20 suppliers including foundries, which pour the castings the company's manufacturing staff assembles into valves. Roughly half of the castings and other parts used in the company's products are sourced from overseas factories; the other half is produced domestically.
Since 2014, the company has invested millions of dollars into its manufacturing capabilities. This investment followed a requirement that valves used in federally funded waterworks projects be made in the United States. "We've increased our number of employees and invested in machinery to make and test our valves," Ballun says. "We now have a large stock of U.S.-made valves to serve the industry."
Val-Matic's products are available through a network of 70 independent sales representatives located through the United States as well as internationally. The company also offers products directly through agents and distributors, he adds.
Problem Solvers
The company develops new product lines roughly every three years, and adds features to existing products annually. "We believe in organic growth through product development and great customer service," Ballun says.
Val-Matic has grown gradually since 1966, when founders Andrew Nuter and Ted Makowan started it with just one product line: the Silent Check Valve. Additional product lines and valve types were added over the next several decades.
For the past 12 years, Val-Matic has been owned partially by its employees through an employee stock ownership plan (ESOP). Ballun became the company's CEO in 2016, the same year Val-Matic marked its 50th anniversary in business. Ballun is a 20-year veteran of the company who previous served in other senior management positions as well as a chief engineer.
"I am proud of our ability to deliver complex engineered products of the highest quality to our customers," he says. "We are customer-driven – it gives us great satisfaction to provide products that really solve problems for our customers."