Valley Forge Fabrics combines human artistry with technological advancements 
Dan and Judy Dobin, the parents of Mikey, Co-CEO, and Diana Dobin, Co-CEO and Chief Sustainability Officer, opened the doors to Valley Forge Fabrics (VFF) in 1977 with an office in New York City and warehouse in Pennsylvania. In the early 1980s the infamous fire at the MGM Grand Hotel in Las Vegas was the catalyst for fire codes in the Hospitality Industry, and VFF was approached by hotels for the first time to purchase the fire retardant performance materials that the company had primarily been supplying to movie theatres. By the time the 1990s rolled around, they were ready for another move, but this time down to Fort Lauderdale in Florida, where the organization has resided ever since.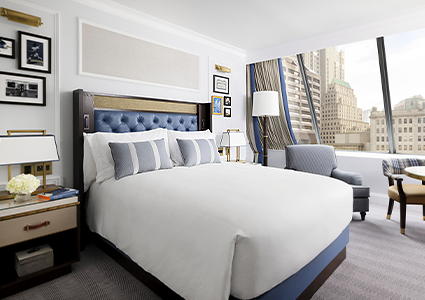 Industry expertise
"Over the years, we have steadily added a number of additional lines to the business," begins Vanesa Patino, COO, "thus broadening our fabric supply offering for the hospitality sector. From mere fabrics we have grown to provide all bedding related products, decorative hardware, printing solutions, and custom window treatments. We offer a turnkey service to our clients, who sit right across the hospitality board, from big name hotel brands to luxury boutique locations.
Ultimately, we work closely alongside them to create the perfect feel for every type of end user, whether in their guest rooms or public areas."
In serving its clientele, VFF provides a full range of interior and textile design, and product development services, within which it can offer absolute customization and color matching too. Furthermore, when it comes to the window treatment side of the business, the organization can support its customers through every step of the journey.
"Our process begins with the customer's spec," Vanesa continues. "First of all, we'll carefully analyze the blueprints of the building, whether it's still under construction or fully completed, to gain an initial understanding of the property's range of windows. Next comes the measurements stage, during which we will visit the site to measure the window fittings in-situ, so that we know exactly what we're dealing with.
"This information is then passed on to our designers, who can devise the most suitable solution for the specific floor plan or blueprints, before they can begin sourcing exactly what the customer wants. They work tirelessly to ensure that they develop the perfect type of fabric for each project, depending on the type of end user or establishment that it will be serving, because obviously there's going to be a difference between a city hotel and a destination resort, right? So, once all of this has been confirmed, and we've completed the color matching and textile design processes, we can move into manufacturing."
Personal service
VFF's US window treatment manufacturing footprint is based in Massachusetts, at its state-of-the-art facility just south of Boston. However, it's not just its leading technology that gives it the upper hand over its competitors.
"Although we do possess state-of-the-art machining capabilities," Vanesa explains, "they're bolstered by the skills of our manufacturing workforce. The team is hands down one of the best in the US, and features members who have more than 20 years' experience in their craft. The unique nature of the skillset that they offer blends both manual and machine-based work, which creates a certain fluidity between computer-driven accuracy and an artistically creative flair. The ways in which the two sides complement one another, produce exactly what the customers want, and need, every time.
"Once the products are complete, they are shipped to the client's site to meet the VFF installation team. Our secret sauce, when it comes to fulfilling this step, is centered around the management aspect. From the minute the order is first placed, we assign a project manager to the process. This person will follow it from the beginning until the end, and resultantly understand every single element involved. This approach creates a special kind of bond and enables VFF in offering a more personalized touch. The installers that we use are fully certified and, again, have many have more than 20 years' experience in their trade. They are the ones who carry out our stringent quality assurance regimes and know how to handle the wide array of complexities that you can often run into onsite."
A little bit closer to home, the business' flagship location in Fort Lauderdale is heralded as one of the most advanced facilities for digital printing on decorative performance textiles in the US. Its features and facets have cleverly been designed to reflect the warm yet modern feel that VFF projects onto every outlet of its operations.
"This is something that resonates within our customer base," Diana Dobin, Co-CEO & CSO adds. "The people and companies who choose to work with us aren't just attracted to our leading products and excellent customer service. There is a huge sense of family surrounding VFF, and customers recognize and relate to our energy and drive to be better. This is further bolstered by our desire to exceed our own high expectations when it comes to quality standards, project performance and sustainability."
People first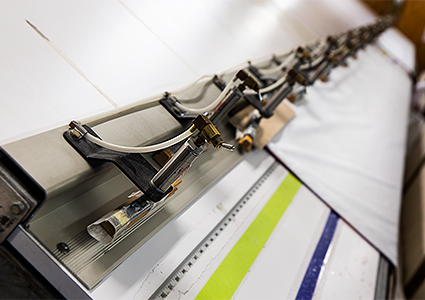 "As you walk through our Fort Lauderdale facility, you will quickly realize that the departments are laid out in an order that reflects the way our processes here flow," Vanesa elaborates. "This is an intentional design feature, which facilitates a more effective approach to communication and interaction between the different teams. We have our own inhouse textile testing lab that is fully kitted out with the latest technologies for running our quality assurance and product development tests. Quality takes up a huge part of our focus here, and not just in the post-production sense, our teams work alongside the 200-plus mills that we partner with across the globe.
"Elsewhere around the site, we have a number of wellness areas for our employees to relax in, whether they would like to meditate, play soccer, or perhaps do some yoga or Pilates. VFF has always recognized that our workforce is our most vital component, and we always like to prioritize people, so we've created an environment that generates the best possible energy for productivity. Our 'culture committee,' a small group of employees voted into a six-month term of service by the rest of the VFF team, is always working to come up with a range of fun activities, either in person or remotely, as we've also implemented an industry-leading communication platform. On top of all of this, the Fort Lauderdale facility is LEED Silver certified, which is crucial for us as an organization, as we've always placed sustainability and human health at the top of our agenda."
Diana has committed a great deal of her personal time to caring for others; through working with a multitude of non-profit organizations over the years, in a variety of different capacities. As a result, it's no surprise that she implemented the business' first fully-fledged sustainability initiative way back in 2007.
Sustainable solutions
"We became leaders of sustainability across the industry at an early stage," Vanesa explains. "Today, we are proudly at the top of every category that MindClick measures through their MSAP program, providing product intelligence that drives transparency and innovation across organizations and their supply chains to meet global demand for healthier products and healthier environments. It is a huge honor. It's also the kind of challenge we like, as it requires us to push things even harder to make sure that we're leading our peers accordingly. We're very proud that none of our finished products contain PFAs, which speaks for all of our supply chain too.
"Similarly, we are continuing to develop products and collections that contain recycled or innovative materials. There are yarns available coming from the fibers of plastic bottles, which have been collected from the ocean, and we partner with Sequal, a very respected group, to upcycle reclaimed plastic from the ocean and make them into upholstery fabrics. We always look for ways to include sustainability across the board, to support our efforts in reducing our other consumables. Paper is a great example; if you come to our site, you'll see lots of fabric, but no paper anywhere. This was another benefit of our digital platform, it meant we could finally go paperless!
Intelligent solutions
"Our vision," she concludes, "is to create happiness for travelers across the globe. Looking forwards, we're going to be exploring the different approaches that we can adopt to facilitate this, as the market is changing. More people are working remotely these days, which means they are travelling all over, and we want to ensure that they're as comfortable and as healthy as possible, wherever they stay.
"Another exciting development is the opportunity that we have to develop our own form of AI, using the information that we receive and the knowledge that we have gained over the company's lifespan. It's just another way to enhance our customers' experiences; with something that they may or may not be expecting, but will never have to ask for."