Valmet Automotive's latest developments see it edging into the tech world
Jyrki Nurmi, Senior Vice President of EV Systems, joined Valmet Automotive (VA) as an engineer over 30 years ago. His initial position was based in the body shop at the company's car plant in Uusikaupunki, Finland, but it wasn't long before he was stepping into a project management role and flourishing as a leader.
"This company is very special to me," Jyrki starts. "I started taking on extra responsibilities from very early on in my career, and VA even supported me in studying for my MBA alongside working. As a result of successfully delivering positive outcomes, and my vast experience in international networks and cultures, I have been chosen to head some of the company's most significant production projects throughout the years; with the likes of Porsche, Fisker, and Mercedes-Benz. However, being nominated to lead the EV systems business line in 2018 is by far the highlight of my career."
Strategic development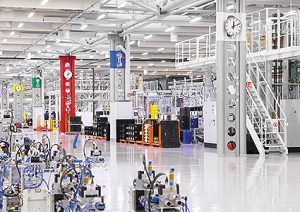 VA was founded in 1968 and, since then, it has produced more than 1.8 million vehicles at its plant in Uusikaupunki. Today, it is a leading European manufacturer of electric vehicle battery and automotive kinematic systems for OEMs, as well as being one of the largest vehicle contract manufacturers in the world. "In our strategic development, we are focusing on electromobility through the innovation and production of battery modules and packs for electrified vehicles," Jyrki explains. "Our business lines sit in three categories: vehicle contract manufacturing, EV systems, and roof and kinematic systems. We have two operating battery systems plants in Finland, and are ramping up production at our third in Kirchardt, Germany.
"The construction of this latest site is an important step towards establishing Valmet as an international leader of our industry. It is located closely to our engineering and battery-testing center in Bad Friedrichshall, as well as the production sites of leading German OEMs. There is a clause in one of our contracts that states we must produce the battery packs locally, to avoid any unnecessary wastage of resources or transportation. We are also expanding the engineering and testing capacities at our Munich and Bad Friedrichshall sites to support the development and manufacturing of the battery systems.
"We currently have two key customer orders for Kirchardt," he continues. "One is a small series run of modules, packs, and the battery management system for the plug-in hybrid electric version of an exclusive sports car brand. The production line for another client's first large-scale volume order will be installed by the end of June; the date when we will be celebrating the plant's official grand opening. It represents an important milestone for the internationalization of our production, which is key in electromobility, to satisfy our clients', and our own, sustainability initiatives.
Carbon neutral operations
"We have always been pioneers of electric mobility, back in 2009 VA took over the production of Think City, an electric city car designed by a Norwegian start-up company that stood as the best-selling, fully electric passenger car in the world for a while. Although the company failed, we maintained our vision, and when we received a boost from the Chinese battery giant CATL acquiring a minority share in 2017, we shifted full speed into e-mobility. Considering the first high-volume production of our battery systems started at the end of 2019, by summer 2022, we had produced a million, making us the leading European provider, and readying all three of our business lines for electromobility."
As part of the organization's focus on electric mobility, it has an incredible reputation as a vehicle contract manufacturer. As a medium-size business in the global automotive industry, based in a region that isn't particularly focused on the automotive sector, VA has had to hone its efficiencies and culture of innovation to stand out among its competitors. "We successfully got the production of the Mercedes-Benz A-Class up and running in just 13 months," Jyrki says, "and have demonstrated our high levels of quality and consistency with the implementation of our Salo plant and EV strategy. During all of this, we have also achieved carbon neutrality across all our operations. It's truly a breathtaking story.
"During this strategic change, however, we are aiming to reduce our dependance on vehicle contract manufacturing. To remain relevant as a system supplier, you must be able to offer more than just assembly, which is reflected in the fact that we cover the entire value chain from concept, development, and prototyping, to testing. To further bolster our position as a technology company, and to take advantage of the changes in the industry, we have also started developing a means to apply our battery platform to the off-highway segment, and the bus and truck sector too.
Ahead of the curve
"With the automotive industry undertaking perhaps its most signification transformation yet, partnerships are proving more important than ever," he continues. "As it moves away from traditional combustion engines, in exchange for electric drivetrains, the European Union has set a target of a 55 percent reduction in carbon emissions from passenger cars, by 2030. By 2035, no new cars running on fossil fuels will be sold in Europe, except biofuels.
"The industry has to adjust to these changing needs as electrification accelerates further ahead, just as OEMs must restructure their plants for electric vehicle production, whilst continuing to build combustion engines and hybrid vehicles for the time being. The roles of contract manufacturers and system suppliers, such as ourselves, are equally as imperative as those of their partners, in enabling them to expand their capabilities and adapt their production processes flexibly and to demand. We have the technological know-how and capacity to support the world as it transitions to electric vehicles, and we are already positioned as a critical, trusted, and strategic partner for OEMs and suppliers," he concludes.