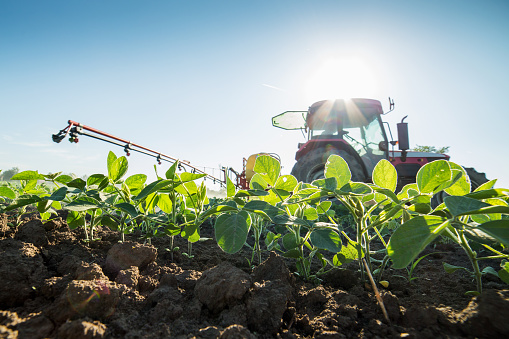 On the surface, Webster City, Iowa, may not seem to be the sort of place you'd expect to find a manufacturing company with an international customer base. However, Van Diest Supply Co.'s reputation for meeting its customers' needs at a fair price has made the town of just more than 8,000 people an epicenter of the agricultural chemical manufacturing industry.
"We're very proud of our reputation in the industry. Many of the companies we work with are based in Europe and have their choice of manufacturing partners, but they've found this little town in Iowa to do their production," the company says. "We believe we have a positive reputation because we get the job done, meet our customers' specs and have fair pricing. Our customers are more to us than just an invoice."
The company's belief in establishing strong relationships with its customers reflects the practices of its founder, owner, CEO and Chairman Bob Van Diest, who started Van Diest Supply with his wife, Mary, in 1956. "We have a great deal of experience and operate very good quality control labs, which helps our customers trust us that much more, but the single thing that's most important to us and helps us stand out is that [Bob] Van Diest insists that we think of our customers as partners," it adds. "Instead of just having a customer/vendor arrangement that's all about dollars, he feels it's important for there to be a good relationship on both sides."
The company's formulation/bulk terminal division manufactures herbicides for many of the world's largest agricultural science companies in addition to producing its own brand, Cornbelt. Van Diest Supply employs 525 people in Webster City, including 400 manufacturing employees who work in one or more of the 52 buildings on its 170-acre headquarters site. The company also operates a bulk terminal that can store 20 million gallons of herbicide.
The Webster Park facility includes a rail car loading and storage area that was expanded in 2014 as a part of what the company calls the largest expansion in the company's 60-year history. The addition added 8,000 feet of rail to the facility, giving the company the ability to load and store up to 60 rail cars. "We're located right in the heart of the cornbelt, so most of the material we make is used here in the central United States, though we do manufacturing products that are shipped worldwide," the company says.
Meeting Specifications
Van Diest Supply's manufacturing campus includes 10 manufacturing areas where dry, powder-based products are made. The company uses blenders and hammermills to produce powders that it further processes using either extrusion techniques, which produce a noodle-like product that is then dried and broken into small granules; or a pan granulation technique, where powder is placed in a pan and then sprayed with water before forming granules.
The manufacturing campus also features 13 dedicated buildings for liquid products, which are also produced using blending, heating, cooling and mixing methods. Van Diest's manufacturing facility also includes liquid and dry packaging lines.
"We do everything for our customers from start to finish; they bring in their raw material, we convert it to a finished product, package it to their specs in packaging they supply us with their label on it, and send it out," the company says.
Orders are typically shipped with 24 to 48 hours after production. All products are manufactured using formulas and methods provided to Van Diest Supply by its customers. "They give us the specifications they want us to manufacture to and the time they want us to deliver products to them," it adds. "We do everything our customers ask us to do for them and deliver all products on time."
The company typically schedules its plants around customer production campaigns that can last between 1 to 3 months. Following each campaign, Van Diest Supply cleans out each plant completely before taking on a new customer's products in order to prevent cross-contamination.
Van Diest Supply designs all of its production facilities internally, and regularly modifies its buildings to meet customer specifications. "Every time we design a new facility, we try to take things that have worked well in the past and incorporate those, but there's a lot of competition for labor in the market, which has driven us to be more automated and upgrade our equipment," the company says.
The company's customers regularly observe production. "We meet with them regularly," it adds. "We let them know of any challenges we're facing and they assist us any way they can to help us through those challenges."
The majority of the company's manufacturing buildings include a dedicated quality control lab, where a staff of three chemists and a lab technician conduct product sample testing during production campaigns. Testing is conducted according to customer specifications and includes screening products for cross-contamination and ensuring they're of the right size and formulation.
Product quality is a high priority for the company. Van Diest Supply is ISO 14001 certified and OSHAS 18001 registered. Each employee regularly receives safety and environmental compliance training overseen by the company's full-time safety and environmental compliance directors.
'People Make The Difference'
The formulation and bulk terminal division is one of three main divisions at the company. Van Diest Supply also includes a distribution arm, which warehouses products in Webster City and operates 16 distribution centers located throughout the Midwest. The company owns a fleet of semi tractors, trucks and pickups, as well as van trailers and bulk transports it uses to make deliveries.
The company also operates a specialty products division, which offers products including mosquito-spraying equipment and well as products used in the vegetation control; aquatics and turf, tree and ornamental markets.
All of Van Diest Supply's divisions share the same philosophy. "At our company, people make the difference," it says. "We believe people deal with people who have a sincere interest in their business and a desire to help them. We strive for long-lasting partnership relationships with our customers, our suppliers and our team members."