The perfect partner
A dynamic international waste management company, Vanden Global's specialist knowledge of plastics and their recycling applications make it the perfect partner for those seeking to achieve maximum value
Since its inception in 2005, Vanden Global has gained a reputation for excellence and dedication when it comes to the handling of more than 100 grades of recoverable plastics through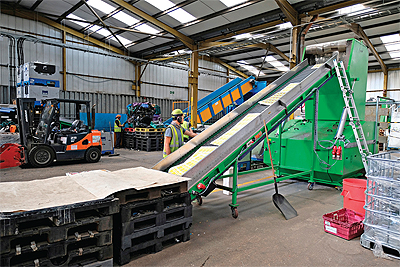 integrated logistics, processing and tailored recycling solutions, from waste generation to finished products. Not only a collector of waste, the group also consults on and helps implement services such as source separation, secure destruction, processing methods and the presentation and packaging of goods in advance of them going to market.
Key to the group's growth is its diversity and determination. Originally a business focused on finding scrap material in Australia and Europe and selling it to customers in China, Vanden Global deliberately went out of its way to develop multiple streams with a range of customers in a number of ports. By doing the opposite to many companies that founded their entire business on selling one material stream to one customer in one port, Vanden Global has gained a worldwide presence and the trust of customers in a number of strategic locations.
With recycling bases in Australia, Finland and the UK, the group's professional team of locally based purchasers are on hand to consult on each customer's product range and help achieve the optimum level of value for it. Discussing the development and services of Vanden Recycling UK is Managing Director David Wilson: "We started in 2011 as a purchasing division for our parent company Vanden Global, a Hong Kong based recycling company that provides raw materials to China based manufacturers. Vanden Recycling UK was initially a single person business, run by myself, sourcing suitable plastic scrap; today we're 28 staff, with a back office in Lisburn, a commercial team spread across the UK and Ireland and a reprocessing plant in Cambridgeshire."
He continues: "Since our establishment I would say the biggest change is in our customer base where we have developed our own client list outside of our parent company and now supply materials widely throughout the UK, Ireland and the rest of the EU. In terms of our services, it is summed up in one phrase: 'Transforming waste into commodities.' The scrap and commodities we deal with are largely, but not exclusively, plastics. We can provide a wide range of solutions at both ends of this chain of events, so for example with manufacturers with scrap that they need to dispose of, we can provide professional advice, collection services by using bespoke stillage's, disposal/ destruction certification and, where that scrap is packaging waste, PRNs. Meanwhile, for manufacturers looking for raw materials, we can provide high quality post-industrial regrinds in PE, PP, PET, ABS and PS."
Despite being in its infancy, Vanden Recycling UK has gained a strong customer base having invested heavily in equipment, staff and health & safety while also retaining the same focus on delivering a quality service since day one. One such investment is the company's new plastic processing facility, located near Peterborough, Cambridgeshire; opened in February 2017 the site is equipped with a technologically advanced shredding, granulation and baling plant and also has a front-end material inspection and preparation area. Material being processed at the site is primarily focused on post-industrial plastic waste from the vacuum forming, blow moulding, printing, retail, injection moulding and logistics sectors. For some customers, Vanden Recycling UK will provide a new way to maximise value by offering to take plastic scrap and process it so it is ready for re-use by the same client.
This customer-centric approach to operations has extended further, with Vanden Recycling UK recently investing in a new CRM system that will be an important tool in finding the best solution for scrap suppliers and the best value, most consistent supply for manufacturers. "We've just entered into our first large-scale closed loop contract where a manufacturer of a raw material has put us in contact with users of that material in the UK. We're now collecting production scrap, which is getting processed by us and then returning as infeed to the original manufacturer," says David.
"Our commitment to quality star ts right from the first conversation we have with a producer of plastic waste. We constantly question ourselves: Do we understand what the material is? How is it stored and can we turn it safely into a usable commodity? How do we best ensure preservation of cleanliness and purity of material as we collect and transport it? We run multiple processing lines to prevent cross contamination and ensure consistency of supply by entering into long term collection contracts with waste producers," he adds.
Not only established to enhance Vanden Recycling UK's capabilities and quality standards in the UK, the Cambridgeshire facility is also the group's prepared response to China announcing to the WTO that it is banning the import of plastic scrap. "The ramifications of this development are not yet fully understood. It's a sizeable shift in the world of plastics recycling, removing a large percentage of global reprocessing capacity. However, China's policy change is also an opportunity to fundamentally change the relationship between UK recyclers and manufacturers. Let's grab it," David concludes.
Vanden Recycling
https://www.vandenrecycling.com/en/
Products: Recycled plastics