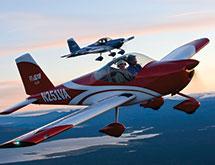 It's not often that a manufacturing company only does its job halfway, but that is required by the Federal Aviation Administration (FAA) for the airplane kits that customers of Van's Aircraft Inc. assemble themselves. Van's airplanes are full-size, high-performance aircraft designed by the founder.
"The kits that we manufacture are assembled under the experimental homebuilders' rules," President Scott Risan explains. "Our customers are required by regulation to build at least 51 percent of the aircraft and are not permitted to use the aircraft commercially."
Van's QuickBuild models are 49 percent assembled by the company. Their standard models are approximately 20 percent assembled. Customers build their airplanes section-by-section. Van's prepunches the holes in airplane parts using CNC punches.
"The aircraft is designed in the computer," Risan explains. "Individual parts files then go to our production shop, where the operators run nesting programs and punch the parts on our CNC punches. The solid modeling programs of today are accurate enough so our engineers can design not only the skins, but also the substructure with matching preprogrammed holes. Those holes will match the skins after everything is bent up. It's really impressive, and it eliminates the need for the customer to use any alignment fixtures.
"If you built one of our kits 20 years ago, you had to lay out and drill some 16,000 holes," Risan calculates. "All those holes are now supplied prepunched in the parts." Besides doing CNC punching, Van's 65,000-square-foot plant at its headquarters in Aurora, Ore., also hydroforms and welds components, forms them with press brakes and Farnham rollers, machines engine mounts and other steel and aluminum components and bends tubes for the engines' exhaust systems.
In-House or Local
"We make the majority of the components for our kits in-house," Risan asserts. "Most parts are fabricated from aluminum sheet and extrusions. The few parts we don't make here, like Plexiglas canopies and some fiberglass parts, are subcontracted to local companies."
Founded by Richard "Van" VanGrunsven in 1972, employee-owned Van's Aircraft has always relied on local companies for components. "Van has a core group of local people that do Plexiglas and fiberglass work and welding," Risan says. "Many of these businesses are cottage businesses that have grown up around us, and we show a lot of loyalty to those folks."
Van's Aircraft buys aluminum sheet in thicknesses from .016 to .125 inches, aluminum bar stock and aluminum angle extrusions. It powder coats components that are prone to corrosion, such as steel tubing and welded components.
Of the nine different models of airplane kits Van's Aircraft manufactures, six make up the bulk of the company's sales. "I'd guess that at any given time we have enough components to ship 80 to 100 completed airplanes of the various models," Risan calculates.
Van's typically uses a four-month cycle for in-house manufacturing. Production scheduling is based on a six- to 12-month average demand for any particular subkit. Each aircraft model has four basic subkits: the empennage (tail) kit, the wing kit, the fuselage kit and the finishing kit. A normal production run on a subkit will consist of producing 30 to 50 ship-sets of parts. The parts are grouped by material thickness and nested on stock sheets to maximize material usage.
The Great Planes
Risan emphasizes that the company's culture and its products have made it successful. "VanGrunsven is a straightforward, honest, conservative guy," Risan says. "What's really made this company successful is his original design."
At first, VanGrunsven just sold the plans for his airplane and a few parts he manufactured himself in a small shop behind his house in Reedville, Ore. As the business grew over the years, Van's Aircraft began producing full aircraft kits and new designs and moved twice over the years to larger facilities.
"The primary reason people build Van's airplanes is that they combine great handling, speed and aerobatic capabilities with wonderful visibility and the capability to land on short, unimproved airfields," Risan stresses. "Van designed an airplane that flies 200 miles per hour but can still land on a remote, back-country runway. That's where he coined the phrase, 'total performance.' It's an airplane that does a lot of different things very well."
That is what has kept Van's Aircraft prospering. "That in combination with Van's loyalty to the small manufacturers – the mom-and-pops and cottage businesses. It's a really tightknit group of businesses that allow us to keep going."