Bold developments
Having significantly scaled up manufacture of its hybrid retrofit powertrains for bus OEMs, Vantage Power continues to grow the business with the goal of reaching its target of selling 1000 units per year by 2021
Founded by Alexander Schey and Toby Schulz in 2011, Vantage Power manufactures complete hybrid powertrains for bus OEMs and as a retrofit solution known as the B320 System for buses already in operation. Using their previous experience in designing and building the longest range electric car, which set a world record in driving it down the longest road in the world – a feat that was filmed by the BBC – both Alex and Toby then launched themselves into the business of electric and hybrid vehicles within the heavy-duty industry.
Focusing on buses, which use a huge amount of fuel and are disproportionately responsible for harmful emissions in concentrated locations where people live, Vantage Power came up with a solution of developing a hybrid system that can be retrofitted into existing buses. Cutting fuel consumption by 40 per cent and reducing emissions by up to 92 per cent, the systems have remote telemetry as standard and offer live performance data that enables enhanced fleet management, maintenance, fuel economy and emissions. Further benefits from receiving a B320 system include £15,000 saved per year on fuel, a full driveline warranty and a lifetime battery warranty; passengers also benefit from increased comfort due to reduced noise and vibration. Furthermore, the system allows zero emissions engine off mode for up to four kilometres and utilises technology and components that are proven in the bus industry.
When previously featured in Manufacturing Today Europe in October 2016, the company was celebrating the completion of the prototyping phase, with the first units ordered from a number of the largest bus operators in the UK. Since then, Vantage Power has completed the production of its first batch of units, as Alex Schey, Co-Founder and CEO of Vantage Power comments: "The most interesting development over the last 12 months is our progression from building a few prototypes to putting in place a manufacturing system; this was an immense challenge that was possibly underestimated.
"There are things you can only learn by going through a manufacturing process as opposed to the build of prototypes. Instead of developing a technology and making changes as and when we need to, such as testing it, finding out it doesn't work and building and testing again, we wereputting in place standard operating procedures as to how to manufacture an assembly over and over again. We were also working with people on the shop floor to ensure manufacturing was correct and had to ensure quality control, not only on the finished article but incoming goods inspection. To further complicate things, we were doing a slight iteration on previous units so we were not only manufacturing a whole batch, but also manufacturing an improved version of our system that had never been manufactured before."
Following these manufacturing developments, Vantage Power generated a document on lessons learnt, particularly with regards to the difference between creating prototypes and manufacturing a product in bulk, as Alexander notes: "There were some assemblies designed that looked great on CAD and worked well as a one-off, but when it came to manufacturing more thought could have gone into how to lift this equipment, move it around the shop floor or what packaging was required. This was a huge learning experience for us and next time we will be much faster."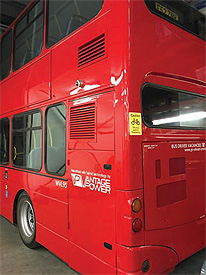 Despite the teething problems surrounding first time manufacturing, the response to Vantage Power's products has been positive, with the company selling its technology to a new bus manufacturer and gaining interest from companies taking a step away from diesel. "The backlash over diesel has accelerated over the last six months, with the Mayor of London committed to all buses having zero emissions by 2037 and cars and vehicles in the capital emitting zero emissions by 2050. This change has resulted in companies that are exclusively dependent on diesel looking for complementary technologies that will take them from diesel through to a hybrid or electric solution," says Alex. "This trend is something that will be valuable to us as it is entirely feasible that the diesel market will be a fraction of the size it is now in ten years time. With this in mind these companies will be thinking about investing in new technologies as well as teams to bring this technology to the market and we are attractive to these companies."
Moving forward, the company will focus on increasing sales and maturing its technology with the goal of gaining increased interest and demand from the market in both the UK and beyond. "With foreign sales already on the near horizon, we feel exporting could potentially go a long way for us once the market opens up and we develop a foothold. The opportunities are there but they aren't without their challenges," says Alex.
"Over the coming years we will continue developing technologies that radically reduce emissions from buses; this is important because these emissions are killing people as we speak, with 3.3 million deaths caused by air quality issues. In five years time I see us making a volume of units that will make a tangible difference to air quality in a number of cities. This isn't something a company like ours can do alone, so we will also be looking to partner with complementary organisations so we can achieve our ambition of decarbonising transportation and reducing NOx emissions," he concludes.
Vantage Power
Products: Hybrid powertrains and hybrid retrofit systems