Optimum performance
Leaders in retrofit hybrid powertains for bus OEMs Vantage Power is anticipating global demand with its award winning hybrid retrofit system
Founded by Alexander Schey and Toby Schulz in 2011, Vantage Power manufactures complete hybrid powertrains for bus OEMs and as a retrofit solution known as the B320 System for buses already in operation. With remote telemetry as standard, the system offers live performance data that enables enhanced fleet management, maintenance, fuel economy and emissions. Discussing the history behind Vantage Power, Founder and CEO Alex begins: "Vantage Power was founded in 2011 by my Co-founder Toby and I. Prior to this, we had designed and built the longest range electric car and set a world record in driving it down the longest road in the world; this was filmed into a eight part documentary on the BBC, which then launched us into the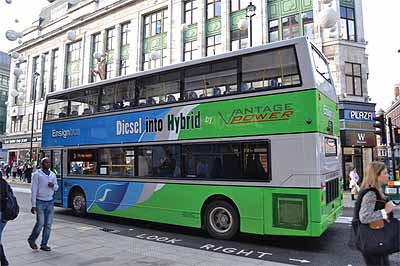 business of hybrid retrofit powertrains thereafter. Because of our previous experience we knew we wanted to do something in electric and hybrid vehicles and, after a lot of market research, we found the best place we could do that was in the heavy-duty industry, most specifically buses.
"We came to this decision because these vehicles use huge amounts of fuel and their harmful emissions are concentrated where people live, as this is where buses operate the most. In response to this we came up with the solution of developing a hybrid system that can retrofit into existing buses, cutting fuel consumption by 40 per cent and reducing emissions by up to 92 per cent. We have now gone through our prototyping phase and sold our first units to some of the largest bus operators in the UK; these buses, complete with our retrofit hybrid systems, will be hitting the road in the next few months."
Key to the development and success of Vantage Power's innovative hybrid powertrains are the company's strong partnerships with complementary organisations Ensignbus, Marshall of Cambridge and Fablink. As the UK's largest bus dealer, Ensign was instrumental in the testing and verification of the hybrid technology, while Marshall of Cambridge, which has built more than 5000 buses alongside its aerospace, military vehicle and motor retail business, brought integral commercial and engineering support. As a high quality fabricator and system assembler for major firms such as JLR, JCB and Perkins, Fablink manufactures and assembles the B320s across a number of UK sites.
Launching into the market at a time when increasingly stringent emissions regulations are being enforced in cities across the globe, Vantage Power's B320 System has been designed and developed to solve issues surrounding emissions from buses. As a disproportionately large contributor to emissions, particularly nitrogen oxides and particulate matter, a large number of buses would be made obsolete by the upcoming legislation were it not for Vantage Power's solution. By enabling operators to hybridise their existing buses for a fraction of the cost of buying a new hybrid, Vantage Power not only saves customers money, but also guarantees that the emissions coming from these buses are upgraded to Euro V and Euro VI levels and fuel consumption is reduced by 40 per cent. Operators also benefit from having a new technology suite added to their vehicles, including real time 24/7 telemetry, geo-fencing and remote testing and diagnostics.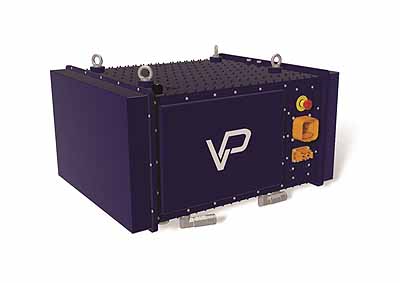 Other benefits an operator will typically receive from installing a B320 system include £15,000 saved per year on fuel, a full driveline warranty and lifetime battery warranty, and increased passenger comfort due to reduced noise and vibration. The system also allows zero emissions engine off mode for up to four kilometres and uses technology and components that are proven in the bus industry.
Having gained the attention of the automotive industry with its innovative solution, Vantage Power, along with Ensignbus, was presented with the Gold award for Innovation and Silver award for Environment at the UK Bus Awards 2015. The companies received these awards after impressing judges with an innovative, after-market product that maximises the benefits of existing vehicles while minimising capital cost. "There is a huge amount happening in the bus industry across a variety of technologies and we came out on top against some stiff competition with regards to innovation," says Alex. "What we have developed in terms of concept and technology is significant as some of these technologies have never been seen before in the automotive industry, let alone the bus industry.
"We also came second for the Environment Award, which recognises technology that is helping to improve the environmental performance of vehicles. Because our product is still being scaled and isn't out in large numbers yet, I feel we didn't have the current environmental impact that the awards were looking for to receive first place. Nevertheless, both awards recognise the innovation and environmental impact that our company and products are capable of." Since then, the company has been awarded Autodesk Inventor of the Year 2015 and winner of the UK Business Angels Best Investment in Internet of Things 2016.
As recognition continues to grow for Vantage Power and the capabilities of its product, the company will continue its focus on providing retrofit solutions for UK double-decker buses while also preparing for its ambitious goal of targeting the global market. "Over the next 12 months we will be scaling up manufacture significantly as we grow the business and set sights on our target to sell 2500 units by the end of 2020. To stay at the cutting edge of developments, we are also working on an aggressive product development plan. We are maturing as a business but want to retain our culture of nimbleness and innovation – it is important to us that people continue to enjoy working with us as we move forward, not only employees but other businesses too," Alex concludes
Vantage Power
Products: Hybrid powertrains and hybrid retrofit systems