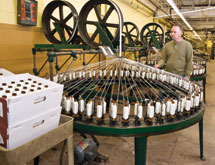 For nearly nine decades, Varflex Corporation has focused on quality, design expertise and exceptional customer service, Sales Manager Dale Rashford says. "That is what we have been known for throughout the years," he says. "These three critical factors have been the primary factors in the success of our business."
The Rome, N.Y.-based company specializes in coated and uncoated sleevings, twisted and plied yarns, braider packages and uncoated fiberglass braided products. The company began operations in 1924 and took its names from two words that reflected its business. "The "Var" was to stand for "varnished," and the "flex" was going to stand for "flexible," Rashford says, adding that the company initially manufactured spaghetti tubing that was used for radios that were starting to be manufactured in the United States in the 1930's.
Today, Varflex's main business is electrical insulating sleevings, which it manufactures and ships internationally from its 144,000-square-foot location in Rome. "We supply our sleeving to both large and small size manufacturing companies that produce primarily electric apparatus equipment, such as motors, transformers, generators, etc. We also supply sleevings to motor repair shops for aftermarket repairs and motor rewindings," he says.
Varflex's clients use the sleevings to encapsulate wires, and motor leads to help protect them in the various environments the equipment is subjected to.  "Some of the motors that use our sleevings are worth $60,000 to $70,000," Rashford adds.
Following the Standard
All of Varflex's products are made to order. "We roughly have 15 different sleeving products," Rashford says, but explains that each product can come in approximately 30 different diameter sizes and a variety of colors.
"We work with product design engineers all the time to make sure they get what they want," he says. "We pride ourselves on the design and production of the materials."
The company also takes pride in its ability to do "special products," Rashford says. For instance, if a customer wants a special coating or double-wall construction to cover their wire lead for additional insulation protection, Varflex can do it. "We are in business to take care of our customers," he states. "We work with them to satisfy their small start-up requirements in the hope of receiving their larger orders when their products are accepted by their customers. This way, it is a 'win-win' situation for both parties."
Each order goes through an extensive quality evaluation no matter what its order size is made up of, Quality Control Assistant Jeff Carpenter says. "When the order comes up to our inspection department, every foot of material goes through somebody's hands, each and every time before it is shipped out," he says.
"If there's a problem with it, we'll know," Carpenter asserts. "We make sure that the material meets or exceeds the industry standards."
Reaching Out
Rashford and Carpenter agree the company's leadership nurtures loyalty among its staff, which has a combined 1,000 years of experience.
"The company owners take great care of their employees," Rashford states. "Once they come here, they pretty much stay." Several social opportunities throughout the year foster a family-type atmosphere in the company.
"We've got employees that have been here less than three months, and some that have been here 30 [to] 40," Carpenter adds. "It's all over the board."
These employees will be critical as Varflex continues to expand its reach, both domestically and internationally. Rashford says. "We continue to see the international marketplace as a great opportunity and have to explore ways of getting our products known to the overseas markets.
"We also have to work on becoming  partners and not just vendors to our customers. Every customer that calls our company has purchasing choices to make. We have to treat them right from the beginning of the sales process to the receipt of their orders to the final shipping of their products. If we do this correctly all the time, we will have solid customer relationships for a long time." mt