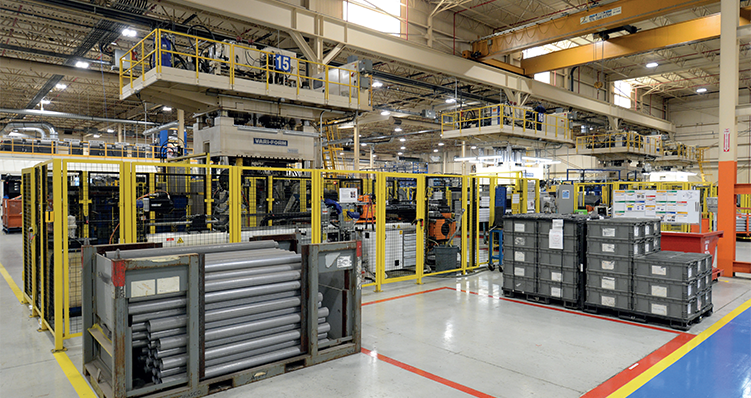 In fine form
Manufacturing millions of parts a year, Vari-Form is the pioneering force behind structural automotive hydroforming. Hydroforming is an innovative forming process delivering mass savings, structural optimization, and value to clients worldwide
When Vari-Form Manufacturing developed the pressure-sequence hydroforming process in the late 80's, the company changed the face of an industry. Today, hydroforming – an efficient and repeatable forming process using pressurized water to reshape tubes or sheet metal – continues to provide a viable alternative for the light-weighting of body and chassis structures.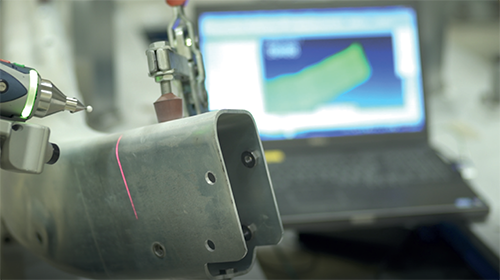 Vari-Form leads the market in tube hydroforming, producing structural solutions for some of the best-selling vehicles in the market for Stellantis, Ford, GM, Volkswagen, and others. Thirty-one years since its manufacturing debut, the company remains one of the most sought-after suppliers of hydroformed structures for the automotive sector.
"At Vari-Form, we have a very deep pool of hydroforming knowledge. Our teams have decades of specialized experience in the process," reveals Director of Sales & Engineering Dean Gericke. "That experience instills confidence in our customers. They know that we can deliver on our promises."
Increasing customer requests for crashworthy, light-weight structures is a natural fit for Vari-Form's portfolio of applications, including roof reinforcements, chassis cradles, front-end structures, instrument panel beams, pillars, frames, and cross-member tubes.
"Most of our applications end up being primary load structures and require higher strength material," Dean explains. "We are at the forefront of material development for our hydroforming applications, and we work with the steel companies to address current and future needs." Not restricted to just steel, Vari-Form also offers aluminium-based options for hybrid body construction.
Though still relatively small in the wider context of the automotive industry, Vari-Form has come an incredibly long way on its multi-decade journey. Primarily located in Ontario, Canada, but with a complementary facility in Mexico, the organization has consistently developed and marketed products that compete admirably with much larger supplier organizations.
Much of this has to do with the innovative culture that continues to be a hallmark of Vari-Form. "We are always searching for potential opportunities and that's where our first-to-market claim comes in," Dean states. "As customer engineering teams come and go, we have to front-load our approach with education, product concepts, analysis and a compelling commercial argument. We can take best practices for a system and identify where a current stamped and welded design can be reverse engineered into a more efficient hydroform assembly. For example, we are working with a major OEM on a chassis project that could yield an improvement for multiple variants on that platform. This is a prime example of why customers keep coming back to us."
As many auto-makers transition to EV designs, there are significant new demands to manage performance, crash intrusion and offset the mass gains from heavy battery packs, says Dean. "Hydroforming is much more efficient than stamping and welding. Stamping material utilization can be 60-to-70 percent, while hydroforming works at more than 90 percent efficient. With material prices in flux, this is critical in controlling manufacturing costs. In general, hydroforming leads to a 5-to-15 percent weight reduction in the final product due to elimination of overlap joints used in the construction of equivalent sheet-metal parts. These cost and mass savings can then be refocused on other areas of the vehicle for secondary savings."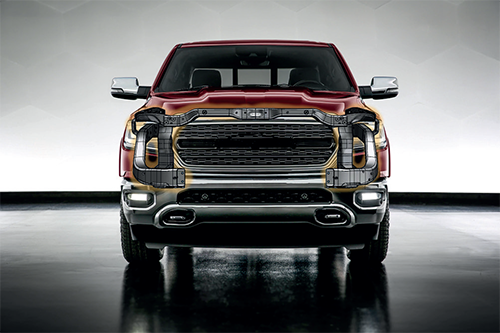 Making products that contribute to improved environmental performance of a vehicle, sustainable manufacturing practices must also be kept in mind. Manufacturing Engineering Manager, Jonathan Hayes, shared this: "Our material inputs and scrap are highly recyclable. We are harvesting more data than ever before to identify trends and opportunities for improvement." While claiming the hydroforming process is an environmentally sustainable and material efficient process, he also references a FutureSteelVehicle study, showing how a hydroformed component in a BEV leads to best fuel economy, manufacturing costs, and a low carbon footprint. Further to Jonathan's manufacturing team's effort for improvement on the plant floor, "Wastewater is down, hydraulic oil use is on track for our reduction targets and we have improved our work cell throughputs to maximize their utilization." Proud of the team's efforts, Jonathan asserts: "We didn't have to compromise quality for this – we have excellent scores with our customers and deliver single-digit PPM quality."
With the auto industry facing more than 18 months of Covid-19 disruption and supply chain difficulties, Vari-Form was fortunate to weather the storm with consistent production orders on in-demand vehicles. "It's important to have good relationships through the good times and the bad, with suppliers that are in alignment with us. Everyone we work with has got our back and we have got theirs," assures Dean Gericke.
"With the transition to electrification we are seeing many projects that take advantage of hydroforming's unique applications. Our product development teams are very busy," Dean reports, "not only in the automotive sector, but others too."
"We are forward-thinkers at Vari-Form," Dean adds in summary. "We love the challenge of new applications and work hard every day to set ourselves up for long-term success."
Vari-Form Manufacturing
www.vari-form.com
Products: Structural automotive hydroforming