Geared up
As a key supplier to the automotive industry, VCST's commitment to innovation and customer relationships have been critical to it occupying such a leading position in the market
First established in 1972 as a subsidiary of the DAF and Volvo Group, VCST Industrial Products is now a key supply partner to some of the biggest and most reputable names in the automotive industry. Volkswagen Group, General Motors and Ford count amongst its light passenger vehicle market, whilst Caterpillar Perkins, DAF PACCAR and Cummins feature in the medium-heavy client list. The company's current market offering mainly encompasses toothed components, as in gears for engine and transmission applications, but also includes related shaft and brake products. It is a portfolio which has very much developed out of VCST's close engagement with the industry as a key supplier as well as its unrivalled manufacturing capability.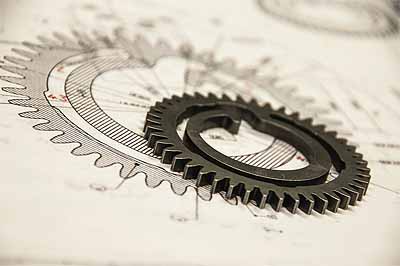 Current CEO Eric Willekens explains that at the turn of the new millennium engine technology within the passenger vehicle industry progressed in a number of ways demanding a partial transition from belts and chains, that had previously been relied upon for timing applications, Productsto geared systems. What has followed is a period of market growth facilitated by VCST's innovative development of geared timing and NVH-mitigating (noise, vibration and harshness) engine-balancing systems. "Today you can find gears in a whole variety of applications," he explains. "From cam-to-cam and balancing applications to the accurate timing of all kinds of periphery devices like oil pumps, fuel pumps and HVAC systems.
"As such our business is split into three divisions: engine applications; transmissions, which includes both gears and shafts because customers wanted a one-stop-shop for these interacting components; and aluminium brake blocks for electronic brake systems, which again resulted from our machining capacity and existing customer relationships."
Over its history VCST has developed an unrivalled depth of specialist knowledge within the fields of gear geometry and design and this, as Eric points out, is one of the company's key USPs. "A lot of customers praise us for our competence and knowledge in the design and development of complete gear systems and turnkey solutions, and this recognition has often been realised by a number of key supplier awards," he highlights. "Over the years we have been able to exploit this competence and have set up a fully-fledged R&D department to support our engineering operations and ensure that we can be a good partner to all of our customers in the design and development of new solutions. Very often OEMs and T1 suppliers, who are confronted with new engine designs and regulations, knock on our doors to ask for support in the development of associated gear components."
Enhancing this approach to innovation is a strong globalisation strategy – one that has defined VCST's growth over the past 15 years. Starting in 2001 with the opening of plants in Germany and the US, new sites in Mexico, China and Romania have followed and it is now active in five of its 'best-cost' markets. "This not only provides excellent customer proximity in the various regions where they are most active, but it is also a major strength of us as we embark on global projects for our customers whilst still supplying them from local sources," Eric continues.
However, whilst a lot of VCST's strength comes from within, as it continues to innovate both alongside and ahead of its customers' trends and demands, Eric is also keen to reward its own key supply partnerships. In particular he points out grinding specialist Reishauer, which has been essential in providing top quality solutions to the wider market. "During gear development it is
very important to understand NVH characteristics and in terms of geared components these issues arrive at the point of contact between two gears," he explains.
"In order to mitigate this NVH behaviour you have to be able to control the microgeometry of the gear and this is a very intricate process. We rely very heavily on our state-of-the-art tooling and equipment in ensuring we can meet these high quality requirements during the finishing operations and working with our suppliers at both the development and operation stages results in a very good marriage. This helps develop a fully integrated value chain to reach the best results for our end customers."
As it progresses along this path of continued development VCST aims to invest around 10-12 per cent of its total revenues into ensuring it can remain competitive in a wider industry that is always moving forward. By looking carefully at these strategic decisions, standardising its solutions and operations as best as possible is key to ensuring it can create long-term sustainability whilst keeping its customers and its relationships with those customers at the heart of everything it does. Not only is it investment into cutting-edge technology alongside its suppliers that facilitates this, but also its continued approach to idea generation and the industrialisation of its core competencies and patented solutions.
In 2015 VCST experienced its biggest year yet with a turnover of 170 million euros, the third consecutive year of ten per cent growth, and continuing this trajectory is a defining feature of the company's future outlook. "In line with this aspiration the biggest challenge for us is managing growth to ensure that we can be sustainable in the long-term in light of a market that has the potential to can fluctuate quite quickly," Eric comments. "Therefore over the course of 2016 will be looking at managing and establishing our newest plants in Romania and China where we see the biggest growth coming from in the near future, and ensuring we can balance our global presence in the best way."
Furthermore, by making significant steps with its globalisation and innovation strategy, continuing to support and develop its people will also play a key role in achieving further success over the coming years. Eric notes that nourishing and nurturing the talents and creativity of its employees is essential to VCST's future and it is this commitment, combined with its unique customer relationships within the automotive market that will drive the business's success well into the future.
VCST Industrial Products
Products: Specialist manufacturers of automotive gear and brake components