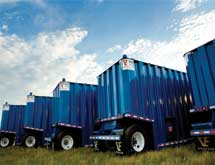 Innovation and diversification are essential for survival in today's marketplace. A company's capability to supply top-of-the-line products across multiple sectors increases its ability to achieve success. V.E. Enterprises Inc. manufactures tanks and trailers and has found staying power by servicing customers in a variety of industries with a continuously inventive range of products. Vice President of Sales Brian Barrett explains that many companies jumped into heavy metal manufacturing in the 2000s because of the rich oil and gas industry, but have left as the market decreased.
"Most companies like us have a large portion of our business wrapped up in oil and gas drilling," he says. "But if you look at the field today, there are far fewer players – the economic downturn thinned the weaker companies. We want to be a leader in the industry and a leader in innovation, and are producing products today knowing people are trying to stretch a dollar as far as they can."
In the past, when companies asked for an open top tank and a weir tank, two separate pieces of equipment had to be purchased. Now, V.E. Enterprises can build one tank that serves both purposes through its open top tank with removable weir walls. Cust­omers can use the tank as a standard weir to hold solids, or pull out the weirs to use it as a pit tank to store liquids. "We are trying to provide the flexibility for customers to get two or three different applications out of one tank," Barrett says.
V.E. Enterprises makes vacuum trailers, liquid storage tanks, water transport-storage tanks and bobtail tanks, and the company also performs custom fabrication.
Manufacturing the Web
According to Barrett, V.E. Enterprises had very strong years in 2007 and 2008. Although sales were down in 2009, the company worked to expand its customer base.
"In the old days, the phone rang, we worked with the customer to fill out their order and quickly moved to the next call – all business was incoming," he says. "Today, you can't sit back and wait for those incoming calls. We are changing our advertising and being more progressive with the Web. We have to reach out to customers and bring business in."
The company has launched campaigns on Google, Yahoo and Bing, which Barrett reports are working out great. He says the company wants to produce innovative and thought-provoking advertising, which manufacturing ads typically are not. V.E. had no means of filling a request for a quote electronically in the past and now, Barrett notes, has three to four pay-per-click campaigns in place driving a dozen leads to it sales group per week.
"We are in an industry where advertising is not very progressive," he admits. In addition, he says V.E. Enterprises realizes that companies change with younger generations taking control, meaning V.E. Enterprises is looking into communicating through Twitter, Facebook and blogs, and making its website interactive.
Communicating the fact that the company produces quality products is not simple through the Internet. "It's one of the biggest and toughest things in the industry," Barrett conveys. "The key to proving quality is getting customers into the company so they can feel the products and see the craftsmanship they are purchasing.
Encouraged Innovation
Employees at V.E. Enterprises participate in the Eureka! Winning Ways program. Barrett says this has helped the company develop innovative ideas. "There are some wild ideas that may never see paper, but we're able to take other innovative ones from a napkin to paper to product type," Barrett says.
V.E. Enterprises utilizes state-of-the-art equipment, including automated sub-arc seam welders, Hercules pyramid plate rolling machines and what the company says is one of the largest set of hydraulic brake presses in the Southwest.
"I'm proud we have a progressive management team," Barrett states. "They're not bogged down by bureaucracy. They move quickly and think outside the box."