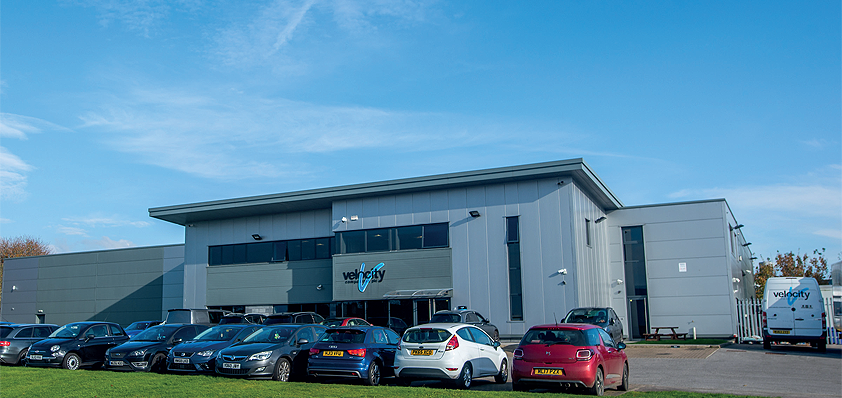 Where speed is king
Velocity Composites aims to be the supplier of choice to all high value composite manufacturers globally for value engineered raw materials
The mission that drives Velocity Composites is a relatively simple one, and that is to reduce the operational costs of its customers by utilising proprietary services & technologies in order to provide engineered kits that reduce all forms of waste from the composites supply chain. Formed in Burnley in 2007, the company identified a gap in the market, which it could fill through the development of highly technical, engineered kits of both structural (pre-preg, film adhesives etc.) and vacuum bag consumables (films, peel plys, breathers etc.). Today, the company operates from two facilities in the UK – a 46,500-square foot manufacturing site in Lancashire, and a 10,000-square foot service centre in Hampshire, and an engineering project office in Malaysia from which it serves its predominantly aerospace industry-based customers.
"The company's early success came partly on the back of its work delivering the aforementioned kits to the clean rooms of a particular Burnley-based aerospace multi-national," begins
Velocity Composites' Customer Programmes Director, James Eastbury. "This proved to be a very powerful proposition for both parties, and the success we had led to the expansion of our own dedicated premises in the town in 2012. By 2016, we had won a number of new OEM approvals, giving the business the need to expand its presence in the UK. This resulted in the purchase of a second facility, this one being located in Fareham, Hampshire."
A year later – in 2017 – arguably the biggest development in Velocity Composites' short history occurred when it was listed on the AIM sub-market of the London Stock Exchange, giving it a valuation of more than £30 million. "This listing allowed us to raise significant funding to support our expansion not only in the UK, but also across Europe and into the United States," James continues.
As of 2021, the company has what James refers to as two major value streams. "The first of these is our structural kitting service, where we will work with our customers' products and materials, and cut the plies of composite material for them in a more efficient way, which uses less material through removing waste," he explains. "The kit is delivered in a manner that makes it easy to adopt into a customers' production process, with the operator only needing to focus on the value-added activity of part manufacturing, enhancing the customers' lean operation. This is very much the largest revenue driver for the business due to the high value of the raw materials.
"Where we also spend a lot of time and energy is in the manufacturing of 3D engineered consumable kits. These kits work with the materials that are used in the process of making composite parts for various applications, such as aircraft or automobiles. Where Velocity Composites excels is in our ability to tailor the design of our kits to meet our customers' needs, removing time, waste and variation from their respective operations, sometimes by as much as ten-fold or more, whilst also improving on the quality of the final produced part which can understandably result in cost savings."
Aside from its products, the level of service offered by Velocity Composites has helped to set it apart from its peers. "We provide an end-to-end managed service to our customers, meaning that instead of having to deal with multiple materials suppliers or other third parties, they only engage with ourselves to deliver all of their composites needs, from procurement, quality, demand management through to inventory," James states. "Generally, we are a lot smaller than our customers, which gives us a greater degree of agility that they appreciate, and we also rely on our ability to scale up or down our activities depending on market demand at a given time. This means that we can further drive efficiencies enabling a competitive service model, and thus add value to what we offer our customers."
Central to the company's manufacturing activities is a cloud-based, digital manufacturing system that it employs between its two existing sites and Malaysia office, but which can effectively be employed anywhere in the world. It has also developed what it calls a 'flexible manufacturing system', which is essentially a clean room set-up that can be dropped onto a customer site when required. This latter advancement is one of the solutions that Velocity Composites is actively looking to introduce to the US market.
"We have a strong partnership in place with our key technology partner, Zund UK Ltd, which provides us equipment such as its cutting machines, ten of which are located here in the UK, while a further two are situated in the United States," James goes on to highlight. "Driving all those, we have our proprietary software system that allows us to link any of our machines and manufacturing cells – wherever they are in the world – to our internal VRP© system.
"We utilize this system to provide our customers with real-time access to the data running through our process, giving them an up-to-date view of how our performance, together with theirs, is driving efficiencies within their manufacturing. This is also a strong example of our continued investment in digital technology, which includes the building of a £1 million technology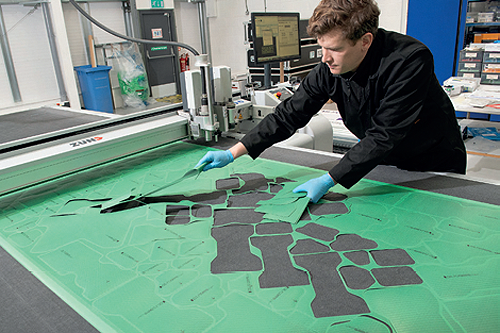 center in Burnley, which we opened in 2020. This is essentially a large creative space that we have dedicated solely towards technological developments in collaboration with our customers and partners that we believe will enhance the future of our business."
Moving forward, the company continues to focus on the technology roadmap that it has created in order to grow as the industries it serves recover from the impact of the Covid-19 pandemic. "In spite of the immense challenges posed by the pandemic in 2020, Velocity Composites has managed to stay relevant to its customers and their markets, but it is important that we continue to do so by further enhancing the value proposition and cost savings we bring to the table," James affirms. "At the same time, we are also very cognisant of continuing to focus on the nurturing of skilled labour. The advances we are making in terms of technology are those that we would class as being based on augmentation, as opposed to automation, which is all about assisting skilled labour, not replacing it."
In recent weeks, Velocity Composites has leveraged the fact that it has been able to re-affirm its position within its existing customers' operations to secure several important, multi-year contract extensions with long-standing, tier one partners. Additionally the company is driving towards new business growth opportunities, focusing in the short-term on international expansion with its existing customers, while the mid-to-long-term improving on business development activities with new customers when global travel restrictions allow.
"As one can appreciate, an immediate focus for the business – and indeed the world as a whole – is on its recovery from the pandemic," James highlights. "While this doesn't necessary mean an immediate return to pre-pandemic levels of activity, what it does entail is making sure that we are aligned with our existing customers for the foreseeable future, and I would say we are around 90 per cent of the way to meeting our targets in this area.
"The scalable and transferrable nature of our technology means we have advanced plans to expand our horizons into new markets, be that the automotive or wind power sectors for instance, and we will continue to work hand-in-hand with those partners of ours that have greater experience here than we do. All of this is designed to make the business less reliant on just a single sector, which will only help to strengthen our future proposition."
Wherever the coming years takes Velocity Composites, James understands what needs to remain at the heart of its day-to-day operations. "Ultimately, it is about staying true to our core strengths, namely our agility and providing efficiencies to our customers," he says. "We will also continue to ensure that what we have underpinning us a fully connected system that we can employ anywhere in the world, giving Velocity Composites the ability to deliver our technology across a multinational approach that benefits not only ourselves, but most importantly our customers."
Velocity Composites plc
Services: Fully engineered structural and consumable kits
www.velocity-composites.com