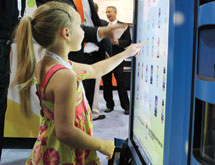 Vendors Exchange International Inc.
Products sold in vending machines change with the trends and fads consumers demand year after year. Over the last five decades, Vendors Exchange International Inc. has made it its mission to give owners of vending machines new and innovative ways to display products in their machines and attract consumers away from traditional stores.
Through the years, Vendors Exchange International has grown into a global operation that handles everything related to vending machines from cradle to the grave. Not only does the Cleveland-based firm manufacture new vending machine Revision Doors, but it refurbishes and upgrades machines for clients and the aftermarket industry, as well as selling parts to refurbish old machines.
"What makes us unique is we're the soup-to-nuts supplier," President Brent Garson says. "If you need equipment and parts, electronic services, repairs, or if you're looking to sell used equipment, I think there's no one more pervasive in those collective aspects of our business than us anywhere in the world."
After 50 years, Vendors Exchange International has worked with just about every type of vending machine imaginable. Today, the company focuses on innovation and technology to separate itself from the competition, ensuring that its machines keep up with the latest advances that keep consumers dropping in more coins or inserting more bills.
Modernizing Vending
Today's consumers demand more from their shopping experience, even when it comes to vending machines. With that in mind, Vendors Exchange International has launched a number of product lines and refurbish kits that keep up with the times.
The company's latest innovations include universal control boards, LED lighting kits, energy-saving sensors, MIND screens and the "7th Tray," which can be used to sell larger packs of gum.
Vendors Exchange International's universal control board works with most machines and helps owners reduce inventory and training costs. These controls contain an SD card slot and provides the ease of plug-and-play installation for future upgrades and optional features.
The company's LED lighting options can reduce energy use up to 80 percent, reduce energy costs and can grab customer attention. Each Deluxe LED Lighting Kit is equipped with three LED light strips, which typically last four times as long as traditional fluorescents. When combined with Vendors Exchange International's Fluorescent Reducing Energy Dimmer (FRED) – an energy use-reducing motion sensor that turns fluorescent lights off on vending machines when no one is around – the cost savings add up for clients.
Regulations Ahead
For much of his career, Garson says the vending machine industry has been minimally impacted by government regulation over its products and services. However, as the U.S. Food and Drug Administration (FDA) pushes for healthier choices for consumers wherever possible, the vending machine industry has been forced to fall in line.
"The vending industry for years was out of the regulatory limelight, but recently the regulatory world has caught up with us," Garson says. "This forced us to broaden our product offering to meet the needs of these new and proposed regulations."
One innovation by Vendors Exchange International that allows consumers to benefit from these new regulations is MIND – which stands for "Make Informed Nutritional Decisions." The Nutritional Infor­mation Touch­screen provides a simple and intuitive way to provide nutritional information and display promotional content.
This is especially necessary now that the FDA has proposed requiring vending machines to display nutritional information for food products. The MIND touchscreen provides complete nutritional information about the products in the machine while allowing shoppers to interact with an intuitive interface to select products and view detailed images and information. For vendors, MIND can display videos, animations or slideshows to capture attention and encourage sales.
"We're trying to foster a paradigm shift in the consumers' opinion of vending machines as a channel for traditional snacks and beverages, and for automated retail and nontraditional retail products not typically found in vending machines," Garson says. mt