Freedom to breathe
Motivated by the belief that people are more than their medical conditions and that technology should evolve to make life easier, and through the application of totally groundbreaking engineering, Ventec Life Systems created its life-changing product VOCSN
Following his father's battle with ALS, founder of Ventec Life Systems Doug DeVries was determined to redefine respiratory care and provide better technology for all ventilator users. With the ambition to improve patient outcomes and reduce caregiver challenges in the hospital and home, Doug and his team dedicated themselves to inventing VOCSN, a single unified respiratory system that seamlessly integrates five separate devices including a ventilator, oxygen concentrator, cough assist, suction, and nebulizer.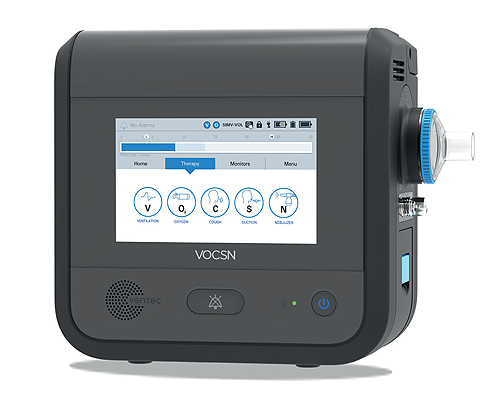 VOCSN is 70 per cent lighter and smaller than five traditional devices and includes an intuitive touchscreen that makes operating the device simple, providing peace of mind for caregivers in the hospital or home.
"People should not have to use five different medical devices to treat any medical condition. And yet, the reality has been very different," explained Mark SooHoo, VP Marketing and Communications at Ventec Life Systems. "Hospital workers must learn multiple devices and spend valuable time switching circuits to deliver multiple therapies. Patients' families are overwhelmed as their homes turn into mini hospital rooms to support all of the different devices."
Continuous improvement
The Ventec team designed VOCSN from the ground up, but combining five devices into a single unit that is fully functional, energy efficient and dependable required intense reengineering. Following an extensive product development period where over 700 essential components were created from scratch (and eight patents were granted) the Ventec team worked with those requiring treatment, as well as doctors, nurses and health care professionals to understand their pain points and to build an integrated, user-friendly medical device.
VOCSN was FDA cleared for use in the US in 2017 and cleared in 2018 in Japan, and patients have been using it across the continuum of care from hospital to home. Home health companies provide VOCSN for patients in the home, Long Term Care Facilities (e.g. Skilled Nursing Facilities) provide VOCSN for patients who cannot go home or are transitioning to the home on a ventilator, and hospital customers use VOCSN in critical care settings. Thanks to VOCSN, patie become more mobile and caregivers have more time to care for their patients. The brilliance of VOCSN has also been recognized by many awards over the years, with the most recent being the 2020 GeekWire Award for 'Hardware of the Year'.
"VOCSN is not only simple to use, but it is designed to enhance patient care, such as helping to reduce the risk of infection as caregivers no longer need to switch between therapies or take a patient off the ventilation to administer cough, suction, or nebulizer therapies," added SooHoo.
The team's history of patient-centric design includes decades of work developing respiratory innovations but the team is not done. "In December 2019 we announced Multi-View, which is the first and only comprehensive report for ventilator patients that provides clinicians with insights of not just ventilation but also medication delivery (oxygen and nebulizer) and secretion management (cough and suction)," said SooHoo, illustrating the continuous process of improvement at Ventec. "Multi-View builds on the benefits of integrated care by enabling caregivers to track and monitor all five therapies and understand what is going on holistically with the patient, something that was previously impossible."
Extraordinary achievements
Having amassed a vast amount of learning and understanding of the intricacies of respiratory care, it is no surprise to learn that Ventec was on the front lines of the COVID-19 pandemic response, educating the media and the country about respiratory care and the need for true critical care ventilators to arm medical professionals battling the pandemic. "During this pandemic, ventilators are a key resource in the public health safety net to ensure the right ventilator is available at the right time for COVID-19 patients in respiratory distress," said SooHoo.
"We were a rapidly growing company but only producing about 200 VOCSN per month. We knew that ventilator demand in response to COVID-19 would vastly exceed what any ventilator manufacturer was currently producing, so we sought an out-of-the-box solution. We partnered with General Motors (GM) to mass produce critical care ventilators. In just one month, this partnership delivered critical care ventilators to front line medical professionals saving lives. Overnight, we exponentially grew the company's production and received an order from the U.S. government for 30,000 critical care ventilators to support the Strategic National Stockpile. We completed the large order on time by the end of August. Simply put, the speed and scale of the increase in ventilator production is unprecedented," SooHoo stated.
This amazing partnership between Ventec and GM was celebrated by a visit in April 2020 by US Vice President Mike Pence to GM's Kokomo Plant, where GM Chairman and CEO Mary Barra and Ventec CEO Chris Kiple gave a tour of the ventilator production and testing lines. Chris Kiple acknowledged the extraordinary achievements of the partnership, and stated that "nothing is impossible for the combined power of American innovation and American workers."
Inspirational support
In her own statement, GM CEO Mary Barra recognized the value of team work on the project: "General Motors and Ventec have worked seamlessly as one team with one mission: to make sure more critical care ventilators are available for those who need them. We delivered our first units in just one month because we have had incredible support from our suppliers, the Kokomo community, and state and federal officials. Their passion and commitment is helping turn the tide of the pandemic. We are incredibly grateful to our team and everyone who has supported this lifesaving work and we appreciate the support and encouragement of Vice President Pence, Gov. Holcomb and Secretary Chao," she said.
Having been inspired by the support of the White House, the team at Ventec and GM were also bolstered by the feedback from the heroes battling the pandemic on the front lines. "We are very grateful to Ventec Life Systems and General Motors for the VOCSN critical care ventilators we received in April," said Dr. Suzanne Pham, of Weiss Memorial Hospital. "The devices they built in just one month are currently helping patients battling COVID-19, and are valuable tools enabling our medical team to save lives. I'm proud to say we have had many patients beat COVID-19, wean off the ventilator, and safely return home."
Team response
As the pandemic continues to ravage the US population, the need for critical care ventilators continues beyond the US government's order and while Ventec hopes that mitigation efforts stop the spread of the virus, it remains committed to maintaining an increased production capacity for as long as it is needed. This requires not only superhuman efforts from its own manufacturing team but also from the entire supply chain: "As GM CEO Mary Barra said, our suppliers have 'moved mountains' to provide the vital parts and supplies necessary to build 30,000 critical care ventilators in just over five months," agreed SooHoo. "Each supplier has their own heroic story of how their team rose to the occasion to meet this extreme need. From the beginning of our partnership with General Motors, we have worked closely and honestly with our manufacturing partners, which has been key to the success of this partnership."
SooHoo also directed the spotlight for praise onto the Ventec team itself: "We are proud of the dedication, talent, and hard work our entire team has devoted to our response to COVID-19," he affirmed. "Everything we do is truly a team effort. We are just one small part in the overall response to COVID-19, and ultimately our job is to provide life-saving medical devices to the true heroes – frontline medical professionals including respiratory therapists, doctors, and nurses – who are helping patients and putting themselves in harm's way every day."
He continued: "When scaling 80x in just five months, trust and teamwork become even more important. The first confirmed COVID-19 case in the US was less than ten miles from our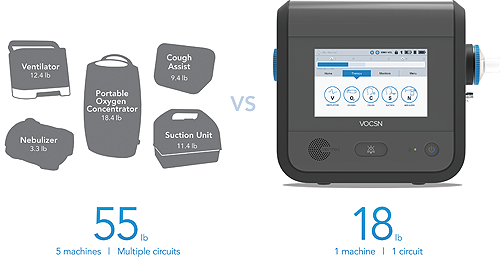 headquarters and manufacturing location. We cannot build critical care ventilators working from home so our offices have remained open from the beginning and we immediately implemented strict health protocols to keep our team members safe.
"Beyond that, we stay motivated because we are united behind a common mission together. We are proud to produce critical care ventilators that provide tools for frontline medical professionals to save lives. We know that doctors, respiratory therapists, and nurses are working tirelessly to fight COVID-19, and our team's mission is to provide them with the tools they need to help their patients."
Integrated care
Given the expertise of companies such as Ventec who are dedicating their efforts to fighting COVID-19, there is a post-pandemic future on the horizon where attention will once more be placed on growing the business as a whole. "We remain dedicated to expanding the benefits of integrated respiratory care," stated SooHoo. "We want to empower patients and caregivers to not only leave the house, but also have oxygen, cough, suction, and nebulizer therapies with them in one device, so they are not intentionally leaving those therapies behind. This allows for greater compliance because they're easier to use and they're with the patient at all times.
"Our team continues to look for ways to add additional features and functionality, improve data and tracking with Multi-View, and ultimately continue to serve our patients and their caregivers with the tools they need to live better."
It is rare that a company can enter a sector and totally disrupt the existing technology by looking at it with fresh eyes and taking a 'back to the drawing board' approach. "No other company combines five therapies in one device, and we are proud to be leading the charge for integrated respiratory care," SooHoo concluded. "From the day it was founded, Ventec Life Systems has always focused on how it can improve and innovate in respiratory care, and bring care-changing innovations to life for patients, medical professionals, and caregivers.
"We just don't have enough time or space to talk about how excited we are about VOCSN, but don't just take our word for it. Please visit our website at VentecLife.com and explore our patient stories to see real-world examples from patients and caregivers using VOCSN today."
Ventec Life Systems
Products: Created and manufactures integrated solutions for respiratory care
www.VentecLife.com