Driving innovation
Since the late 1940s, VENTREX has transformed from being a local manufacturer into a global Tier 1/Tier 2 supplier of specialist compressors and valves to the automotive industry
Founded in 1949, originally under the name of Adam Metallwaren, VENTREX began life as a contract manufacturer of simple mechanical components such as tire valves. Having taken on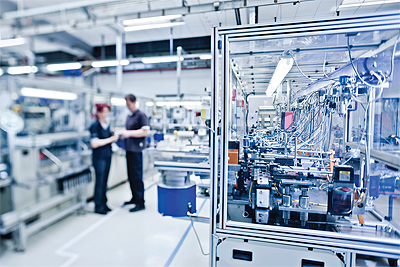 its current moniker in 1992, the company steadily grew and evolved, eventually becoming part of Dutch manufacturer, Aalberts Industries N.V. in 2015.
"VENTREX is one of the leading strategic partners to the automotive industry, with our products being used in motor powered vehicles and agricultural machinery the world over," begins the company's Head of Research & Development and Chief Technical Officer, Gerald Jaritz. "Our innovations focus on a holistic approach, simultaneously improving safety, efficiency, comfort and environmental friendliness. Our headquarters in Graz, Austria, is home to 140 employees in the fields of R&D, automated production, quality management, administration and management, while our soon-to-be completed competence centre for smart valve engineering will provide us with a hub for cutting-edge progress in compressor and valve technologies."
Operating in niche markets, VENTREX's product range and field of expertise consists of compressed natural gas valves, air conditioning valves and compressors for pneumatic suspensions, with a number of its products such as its electronic VENTREXpressure regulator for compressed natural gas (CNG) in cars currently settings standards in the automotive sector. The company's portfolio of products also includes electronic pressure regulators, safety tank valves and end-plugs, while it also leads the market in filling and evacuation valves for automotive air conditioning.
"As a technically empathic developer and producer of compressors and valve technology, we offer our customers more than just a product, we offer them long lasting partnerships that ultimately contribute to their success," Gerald continues. "We do so by providing and implementing solutions to their everyday challenges in business and making their lives easier. We are a curious and bold business, one that does not rest on its laurels and is not afraid to think and act outside the box, using agile methods and going beyond existing limits of technology.
"For example, we are currently working on the fourth generation of electronic pressure regulation, because in the near future CNG cars will be powered mono-fuel, without an emergency gasoline tank and with direct injection technology. We are also working with the liquefied state of aggregation of natural gas as we prepare for the possible future demand for cryogenic valve technology. Meanwhile, our compressor engineers are also working on a number of innovations, with a particular focus on delivering a reduction in noise while maintaining high efficiency levels.
"We also try to combine technology trends and new developments with social engagement. For example, we have beehives on our premises. The bees act as valuable observation objects that allow us to test our developed IoT applications promptly. Furthermore, the proceeds from the honey produced by our bees goes to local charities."
A combination of manufacturing and people orientated factors have allowed VENTREX to prosper in the way that it has over the years, with the company successfully bringing together a high degree of production flexibility, technical competence, automation, short reaction times and a skilled workforce under one roof. "We value the talent and experience of each one of our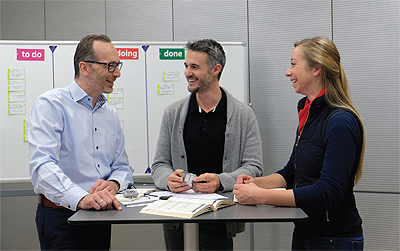 employees," Gerald enthuses. "It is their passion and drive that allows us to reach our goals, and we are very proud to offer our employees a professional environment that fosters individual development, participation and fast career opportunities."
The next phase in the company's history, one which is currently ongoing, is the investment in an entirely new competence centre for smart valve engineering. This new facility will not only act as a global hub for cutting-edge progress in developing compressor and valve technology, but will also bring together VENTREX's various departments under one roof to craft its future accordingly. "We are working to create a space that provides an excellent and versatile infrastructure for our employees, one which follows the principle that we collectively operate as a team that values communication and participation," Gerald explains.
"The R&D floor of the centre will include an open space design, providing zones for project teams, creative thinking, what we call 'silent working spaces' and areas for rest," Gerald details. "The other half of the R&D floor will then consist of testing facilities, which will include a suite of 3D printers, an electronics lab, and testing facilities for high pressure and cryogenic applications. The ground floor of the centre will then be dedicated to our competence area for prototyping with high end machines and working facilities, with the short distance between our creative zone, testing facilities and model shop making the entire innovation and development process more agile."
The new competence centre will be the latest way in which the company looks to produce added value by creating symbioses between technology, business and people. This in turn, it expects, will help to further redefine the customer experience. "As technical empaths, we listen, we think, we reflect, and then we develop," Gerald adds. "It is our goal to become the number one solutions provider for valve applications, and to achieve that we will be expanding our current business areas, while also investing in new, future-orientated technologies. We certainly are seeing trends towards more sustainable and eco-friendly mobility, and the need to develop smarter valve technology via a digital approach, and in order to allow our teams to meet these needs we will continue to invest in both them and the working infrastructure that they require."
VENTREX
Products: Compressors and valves for the automotive industry