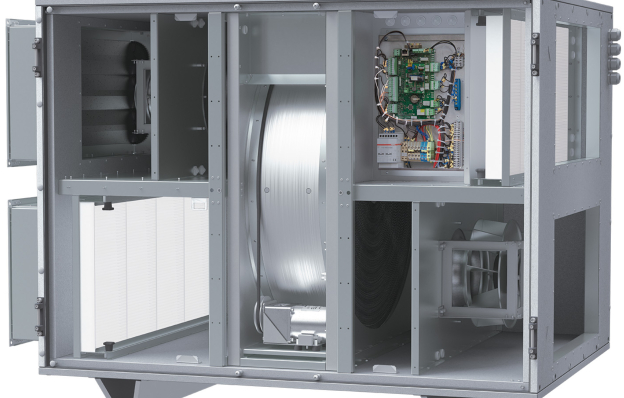 When people live in houses that are heated by a furnace, they may think that they are getting fresh air. But the opposite is true, Zoltan Bodor says. "You are just circulating polluted air," he explains. "Airtight, super insulated homes don't breathe and can trap stale air. By opening a window, the energy needed to warm or cool a house is wasted."
Bodor, the director of VENTS-US, offers a family of whole house Energy and Heat Recovery ventilation systems that directly answers to this problem. Greatly improved air quality and significant energy savings are the main advantages. Retrofitting existing structures presents a host of engineering challenges, which often require creative solutions. Ensuring efficient ventilation in such projects is no exception. Some buildings completely lack free space for air ducts and for ventilation equipment ruling out central ventilation systems as a realistic option. However, engineering challenges can be met by fitting the treated spaces with VENTS' innovative single-room ERV ventilation systems, such as TwinFresh ERV, which doesn't require dedicated air ducts. VENTS-US Single-Room ERV units deliver energy saving supply and exhaust ventilation that is suitable for use in residential or commercial settings. They feature high tech ceramic core with sensible recovery efficiency of 91 percent, reversable EC ventilator with low energy demand, integrated automation, silent operation and easy mounting and servicing.
Based in Cincinnati, VENTS-US is the North American division of VENTS JSC, a world-leading manufacturer of ventilation systems for residential and commercial applications. The firm, which started operations in Europe in 1996, has supplied products to clients in more than 80 countries.
Today, VENTS-US provides complete sales service for all markets, including retail and professional. "We distribute products through retailers, independent co-ops, mass merchants, electrical and HVAC distributors, as well as hardware stores throughout the United States," Zoltan says.
VENTS controls the complete production cycle, allowing it to manufacture 99 percent of its products, including cores, motors, circuit boards and more. Being independent from suppliers enabled the firm to achieve high quality control, increase company performance and customer satisfaction.
Core of Quality
VENTS has manufactured its Single Room Recovery units over four years with great success both in the United States and in Europe.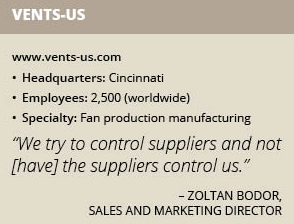 One of the unique attributes of the product is the ceramic core with recovery efficiency of 91 percent. The core is used for extract air heat energy recovery and supply air heating, features excellent heat conducting and accumulating properties.
Its Twin Fresh Comfo and Expert product, for example, features ventilators that operate in two, 70-second cycles. In the first, the warm, stale air is drawn out of rooms and pulled through the core, which accumulates heat and moisture. In the second cycle, the cold air is pulled from the outside through the core, and warms it with the help of the collected heat.
The extract and supply cycles continue to reverse every 70 seconds. Features like this, Bodor says, make the Single Room ERV units very energy efficient. It significantly reduces heat loss caused by ventilation due to heat recovery.
"It doesn't require duct work," he says, noting that VENTS' products were recently implemented in offices in Washington that were being renovated but needed to stay in accordance with regulations.
While the buildings' existing duct systems couldn't be updated "Contractors installed TwinFresh Single Room Ventilators in each room to meet with city and state building code requirements," Zoltan says.
When occupants are gathered together in places such as offices or meeting rooms, the Single Room ERV ventilation fans provide a steady flow of fresh air.
Not only valuable in commercial settings but the Single Room ERVs are great addition to any residential home. "Two, three, even eight units can be connected together," Bodor explains, noting that the simple, plug&play installation associated with low installation cost and user friendly, efficient operation makes it very appealing to a wide range of customers. The company also has introduced a Wi-Fi version, which can be controlled by Android or iPhones.
Strong Savings
The Single Room ERV ventilation fans provide users with efficient energy recovery ventilation in all seasons. Although fresh air can be let into a building through an open window, it only provides a short-term solution for the problem of poor air quality and it is at the cost of the warm or cool air that is lost in the process.
This method is also increases the load of the furnace and air conditioners, boosting the homeowner's bills. But this is where products like the TwinFresh ERV can lend a hand, Zoltan says. When TwinFresh pre-treats air entering a building, it lowers the load placed on furnaces and HVAC systems. This in turn lowers "your energy bill," the company says.
Growing Big
VENTS-US plans to increase its market share of the commercial market with semi and fully customized ERV/HRV units. To provide buildings with the best possible balance of energy efficiency, air quality and comfort, VENTS-US offers standard air handling units with simplified on-site installation and proven, tested performance. The company's air handler solutions deal with such issues as temperature, humidity, pressure control, energy recovery and air filtration.
The main features of the semi-custom ERV/HRV (AirVent) units include counter flow aluminum plate, rotary wheels, heat exchangers, high efficiency electronically commutated fans, integrated automatic dampers, plug & play controls and an insulated double-skin frameless casing. Customers can choose from a variety of accessories such as silencers, VAV, CAV, CO2 sensor or DX hydronic cooling/heating systems.
The product also is ECO-Design 2018 compliant. VENTS US can supply the units "to many industry and commercial applications," Zoltan adds.