Not just any composites manufacturer can jump headfirst into the aerospace market and have a successful run. However, Vermont Composites did just that in 1988, leveraging its vast experience in another industry that keeps a close eye on its costs. "When we went into aerospace, we were a medical device company, so we understood it was a very cost-competitive industry," says Bill Berg, senior vice president of aerospace and defense for Vermont Composites.
"It was very easy for us to leverage what we learned in cost-sensitive production into the aerospace market."
Vermont Composites was founded in 1978 as a joint venture between U.K.-based Fothergill & Harvey and Oak Industries of Hoosick Falls, N.Y. In 1981, Oak Industries sold its share back to Fothergill & Harvey, and Vermont Composites was moved to a 30,000-square-foot facility in Bennington, Vt. In 1987, U.K.-based Courtaulds Advanced Materials purchased Fothergill.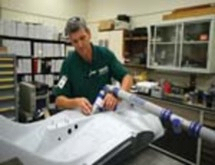 The new parent renamed the U.S. operations Courtaulds Aerospace. In 1996, seven members of the management team purchased the Bennington company and renamed it Vermont Composites.
Today, the company operates out of a 82,000-square-foot space with more than 200 employees, which include an engineering staff that offers design analysis to customers. Vermont Composites serves clients throughout the world, including numerous Tier I suppliers to aerospace giants Boeing, Lockheed Martin and BAE Systems. "For a company our size in the markets we're in, we're one of the few to offer a full line of service, design, analysis, prototyping and production under one roof," Berg explains. "Typically, a company our size may not have an engineering and design staff. But we keep that arrangement for our customers. The earlier we can get into the design cycle, the better the results tend to be."
Industry Synchronization
There are many similarities between the aerospace and medical device markets. However, there was still plenty to learn as Vermont Composites penetrated this new sector. For in­stance, the aerospace market brought with it a new set of material traceability and quality standards for Vermont Composites' production employees to learn. The biggest difference, Berg says, came in documenting all the materials and processes used, especially for military accounts. "A lot of people needed to learn about the different aerospace specifications mainly in hardware and processing requirements," Berg says. "We use the same materials, but there was different paperwork required. The allowable properties are listed in a database, so our suppliers are understanding of the military's standard system."
Although the medical device and aerospace industries are cost-ob­sessed industries, aerospace takes this to a new level. Berg says defense budgets are constantly under surveillance for any price-cutting measures, but quality must not be compromised. "We had a big advantage already in price-sensitive markets, so moving into aerospace worked to our advantage," Berg says. "Aerospace markets want a better price on the product but don't want to give up any specifications. Sometimes they over-specify a product, and they don't understand that. Something will add no value to the product, but it is still required for us to meet all those specifications."Aerospace clients are stringent when it comes to quality. Berg says customers look for manufacturers that are ISO 9000 and AS 9100 registered, but also have Nadcap accreditation for the aerospace industry.
Making it Fly
Once its engineering staff designs an acceptable prototype, Vermont Composites usually uses composite materials reinforced with continuous fibers for its manufacturing. This includes glass, carbon or quartz pre-impregnated by suppliers with epoxy resins that are delivered in frozen rolls to maintain their shelf life.Vermont Composites cuts these into patterns and locates the plies into molds, which are then processed with an autoclave to cure the resin. From there, the material is machined in a variety of ways based on specifications, which can include drilling, grinding or applied to an assembly with other pieces. The company also has finishing capabilities such as application of epoxies primers and polyurethane topcoats.
Berg says about 50 percent of the aerospace products are build-to-print. The rest originates in Vermont Composites' design department developed from customer specifications. More than 90 percent of the medical device side of the business uses the company's in-house design services. To maintain its costs, the company embarked on a lean manufacturing program about three years ago. Berg says Vermont Composites held kaizen events throughout the factory to organize processes and come up with more cost-effective methods to better serve the aerospace industry. For instance, Vermont Composites moved the quality inspection point from a single factory location into individual work cells to reduce time and travel distance, and reduce WIP awaiting inspection. The company also has moved inventory to point-of-use locations where operators can better track stock and control inventory levels.
Lean manufacturing also can help Vermont Composites reach its next goal – becoming a supplier of higher-tiered sub-assemblies to customers.
"We want to move from a parts producer to a sub-assembly producer," Berg says. "We'll be able to do more for airframe structures – we'll deliver assemblies instead of just the parts."