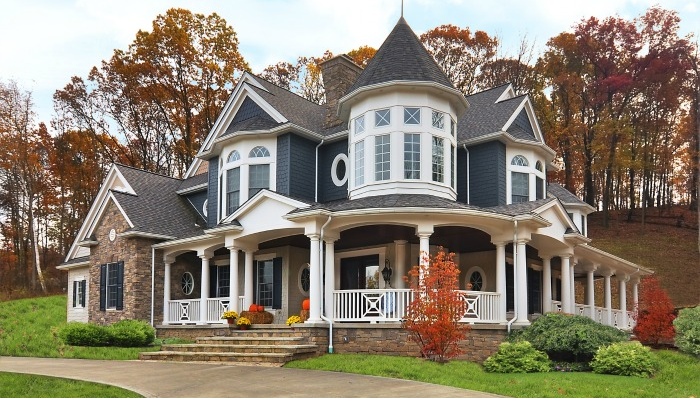 Versatex Building Products
Getting its start in last place with no sales 12 years ago, Versatex Building Products has become the second-largest player in the cellular PVC (polyvinyl chloride)architectural trim market. "Our success has been achieved by employing a business strategy built around flexible manufacturing, product and process innovations and approachability," says John Pace, president and co-founder.
The Aliquippa, Pa.-based company is an innovator and manufacturer of high-end, premium, cellular PVC exterior trim products sold under the Versatex® brand name. Versatex's products include trim board and sheet stock, signboard for digital printing, bead board, window and door casings, column wraps, soffit systems, corner board, mouldings and other precut and pre-shaped elements.
Versatex products are sold to professional contractors, builders and remodelers in the North American residential and commercial building markets through a network of stocking lumber dealers. Regional wholesale lumber distributors supply the company's products to its local lumber dealers. "Versatex focuses exclusively on trim and sheet products," Pace explains. "This focus, combined with expertise in precision and linear/vertical manufacturing have helped Versatex develop unique and proprietary formulations, processes and products that differentiate us from the competition, helping us drive customer conversion and loyalty."
As an innovator, the breadth of Versatex's product line is one of its major differentiators. The company boasts the most trim board and sheet sizes in the market, as well as the most corner boards, window surrounds, starter boards, one-piece column wraps and an extensive line of extruded mouldings. Versatex offers a unique three-piece soffit system with fascia and frieze boards that are designed to accept ?" thick soffits. In addition, its unique mixed-nut trim board units are comprised of one board thickness and length, but any width combination the customer chooses allowing its dealers to best manage inventories.
Versatex prides itself on staying nimble and flexible to address its customers' needs, thereby developing a higher conversion rate. "The company's marketing, sales and distribution programs are designed around the needs of the market and its customers," Pace explains. "Versatex continues to add sales employees in key markets doubling our salesforce over the past year. Their emphasis is on educating the contractor, builder and architect through product training and classes and technical assistance programs that demonstrate how Versatex products can help our end use customer reduce their field costs through productivity and efficiency improvements."
Staying Flexible
Versatex's free foam manufacturing process starts with a proprietary PVC compound formulation. The compound is a blend of PVC resin and other micro ingredients designed to aid in the processing of the PVC and enhance the performance and physical characteristics of the finished product.
PVC compound and foaming agent is extruded through an extrusion line producing a sheet and eventually boards in a thickness ranging from one-eighth inch to one-and-a-half inches. Products produced via free foam are used for various building product applications, signage and displays. "The market's targeted thickness is plus or minus one-sixteenths of an inch," Pace explains. "Versatex advertises plus or minus 1/32 inch but manufactures to plus or minus 0.020 inch. This tighter tolerance ensures product uniformity in all applications. Versatex can be milled and moulded into different profiles with less chance of scrap due to our tighter tolerances."
Versatex's cellular PVC trim is produced the same today as it was in 2004 when the first piece of trim rolled off their sheet extrusion lines. However, the company is continuously expanding its product offering. With the exception of moulding and milling, which is done in the fabrication department, any modifications to the cellular PVC sheet in terms of surface treatment, color, thickness or board widths to create different SKUs is accomplished during the extrusion process.
Versatex fabricates all of its value-added building components in-house, which includes corner boards, column wraps and accessories, beadboard profiles, beaded sheets, Stealth window trims, starter boards and vented soffit. "This in-house capability enhances the company's ability to offer a broader line of innovative products and features while providing a higher degree of control over quality, delivery and cost," Pace says.
From its inception, the company has prided itself on lead times from order placement to shipment of five to seven calendar days. "When you consider the growth in SKUs coupled with year over year double-digit sales growth, this is quite an accomplishment," Pace admits. "We turn our finished goods inventory more than once a month and rely heavily on production to meet custom sales order demands."
To keep up with demand while also maintaining its industry best lead times, Versatex added 42,000 square feet to its manufacturing plant in 2015 bringing its total plant space to roughly 125,000 square feet. The multi-million-dollar investment included upgrades and modifications to several workstations within its facility, additional extrusion capacity and new auxiliary equipment to support its blending operation.
Moving forward, Versatex plans to remain nimble and flexible in addressing its customers' needs. "Listen, learn and react to the needs of the end-user," Pace says. "We will continue to provide the contractor, building and remodeler with the tools and training they need to correctly install our products. Our goal is to remain the innovator in our product category. To accomplish this, we will continue to rely on our most valuable resource – our employees. Without them we would not be the company we are today."
Environmental Responsibility
Versatex President, CEO and co-founder John Pace calls himself a driving force in the implementation of green practices for decades. "For us, recycling is a way of life," he says. "We encourage all of our employees to recycle everything from office paper, cans and plastic bottles to packaging scrap and scrap from our extrusion process. Our goal is to keep as much material as we can – especially materials that are considered non-biodegradable – out of landfills."
The company receives each year the Home Innovations Research Lab's Green Seal of Approval award for meeting the requirements of certain mandated practices specified in the National Green Building Standard. Since 2012, Versatex has taken its recycling philosophy beyond its plant and to its customers, mostly lumber dealers and architectural millwork original equipment manufacturers assisting them in the recycling of cellular PVC scrap.
"We explain our campaign to these companies and working through our distribution partners return truckloads of cellular PVC scrap to our Aliquippa plant for sorting and recycling back into our base product," Pace explains. "We keep millions of pounds of cellular PVC scrap out of landfills each year. It's a great feeling knowing we're helping reduce landfill waste across the U.S. In return, these dealers and OEMs reduce their landfill waste cost while receiving a credit for the value of their scrap. It's a win-win for everyone".