Supporting efficient energy infrastructures
Representing the highest level of Finnish expertise, Vexve provides smart and reliable valve solutions for the heating and cooling needs of modern cities and industry
In a nutshell, Vexve is the leading global provider of valve solutions for the heating and cooling needs of cities and industry. Established in Sastamala, Finland in 1960, Vexve has grown over the subsequent 60 years to become a dominant force within its field, both in terms of product range and expertise. Developed for demanding applications, the company's valve and control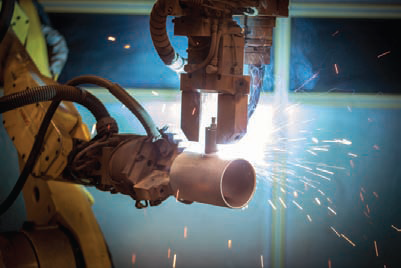 products, as well as its hydraulic control solutions, are used in district energy networks and power plants, in addition to the heating and cooling systems of all sizes of buildings.
"There are not a great many companies within the valves sector that focus their activities on such a niche as district heating and cooling, and that means you are highly unlikely to find a company that understands the market and its complexities as well as Vexve," begins Sales Director for Vexve's Region East sales area,
Petri Tuominen. "We act as something of a project integrator – tying different design elements and products together – for our customers, getting involved early on to service them throughout the project lifecycle, from design to product deployment. Together, we create innovative and efficient energy infrastructures that support the sustainable development of modern smart cities."
Today, Vexve forms part of Vexve Armatury Group Owned by long-term owner-operator DevCo Partners Oy, it is now the runaway leading European provider of valve solutions for the energy industry. DevCo Partners Oy has owned Vexve since 2016, but it was in August 2019 that it formally signed an agreement to acquire ARMATURY Group from its founders. The leading Czech industrial valve manufacturer, ARMATURY Group predominantly serves the gas pipeline, power, metallurgical, chemistry and petrochemistry sectors, with around 80 per cent of its products being exported to over 60 countries worldwide.
"Both Vexve and ARMATURY Group are known for the quality of their respective products and their mutual desire to serve their customers in the best possible way," Petri adds. "By joining forces and being part of the same family, we are able to make use of our combined expertise and offer an expanded range of products and services, both to our existing core markets as well as new ones."
From its factories in Finland, Vexve possesses the capability to produce up to one million valves per year, ranging in size from 1/4 inches in diameter up to its 1.6 metre DN1600 butterfly valves – which will be discussed in due course. The vast majority of said valves are produced on the company's automated production lines, with Vexve being among the most highly automised businesses of its kind anywhere in the world.
"Our products are very different from the majority of other valves found on the market, largely because we use steel pipe as the raw material for them as opposed to castings," Petri explains.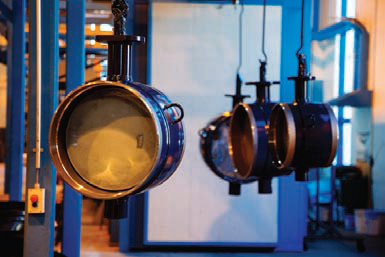 "What this means is that we buy in huge amounts of pipe in different diameters, which is then fed into our production lines where it is cut, machined, pressed and then welded, with most of our valves finally being transformed into fully-welded constructions. All of our valves are manufactured according to the Pressure Equipment Directive and GOST standards, all ball and butterfly valves are tested in accordance with the EN 12266-1 standard, and our highly-automated production process is PED and ISO 3834-2 certified."
August 2019 not only played host to the creation of Vexve Armatury Group, but also saw Vexve expand its butterfly valve portfolio with the sale of its DN 1600 shut-off valve, the largest ever created by the company. Measuring 1.6 metres in diameter and weighing nearly 6000 kilograms, the DN 1600 is a key link in a project taking place in the Chinese city of Zhengzhou, where a new 35-kilometre-long district heating transmission line will connect a power plant to the city. In addition to efficient heat transfer, the new transmission line allows for the centralisation of heat production to a more modern and larger plant, instead of several smaller and older coal-fired boiler plants.
"The requirement for valves of larger diameters is one that we have seen gradually emerging in the last several years, firstly in the Middle Eastern district cooling market and later in China," Petri describes. "It was a request from one of our larger Chinese customers that really sparked our interest in addressing this challenge, and with it making business sense to do so, we embarked on a detailed development process, which resulted in a successful first prototype being created, and ultimately delivery of an extremely high quality valve that represents a new milestone for Vexve."
Developing industry-firsts appears to be a characteristic of note for Vexve, as also demonstrated in its product lines the Vexve X and the Vexve iSENSE. Vexve X is the market's first complete series of shut-off and balancing valves made of steel and stainless steel with integrated press fit connections. They are designed for optimal shut-off and balancing functionality for heating and cooling networks in buildings. "Vexve X was an idea that we have had in the pipeline for some time, and is something that is of increasing interest in our home market of Finland," Petri states. "Having seen first-hand the demand for it, we now have designs on launching in across Scandinavia and the Baltics this year, with countries in Western Europe possibly to follow in due course."
Vexve's iSENSE product family, meanwhile, consists of smart monitoring solutions specifically designed for underground district heating and cooling networks. Consisting of three products – iSENSE Opti, iSENSE Pulse and iSENSE Chamber – all iSENSE products are suitable for wireless underground usage, are self-powered and can be retrofitted into existing networks. The real-time measurement data provided by iSENSE products help to improve network efficiency, provides tools for condition monitoring and enables fast leakage detection. "iSENSE is still in its relatively early stages of its roll out, however it has already proven to be extremely successful, and in the long-run we expect it to be the type of product that becomes part of our customers' daily lives," Petri confirms.
Last year was clearly a very positive one for Vexve, and as it embarks upon 2020 it has designs on focusing on new markets. "Countries that we would like to turn our attention to going forward include those in Western Europe – namely the UK, France, Germany and the Netherlands – and in the Middle East," Petri says. In fact, much of his own sales activitiesare currently geared towards the latter region. "We have become fairly well established inthe district cooling arena in the Gulf Cooperation Council area, and in 2019 we began sales into Egypt, which proved fruitful. It is in this region that we will be focusing on building upon Vexve's presence in the next several years for sure."
With the company's confidence that district energy networks and models will continue to grow in prominence in the future, particularly as urbanisation continues and people pack into smaller spaces, it has plenty of reason for optimism going forward. "District heating is playing an important role in tackling all sorts of issues, from the growth in smart cities to the increase in environmental awareness and the need to achieve CO2 reductions. Due to this, we believe that this is an industry that has a lot of potential for future growth," Petri concludes
Vexve
Products: Valve solutions for district heating and cooling networks