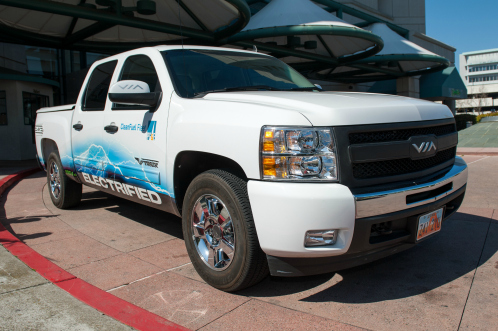 Not many companies can say they have established a leadership position in their niche, but VIA Motors Inc. can. "We are the only company that has a fully certified, plug-in light duty electric van and pickup truck," President Alan Perriton declares. "We have a product that is effectively the work horse of America."
Based in Orem, Utah, VIA specializes in electric vehicle development and manufacturing. The company has roots in a predecessor company that designed and developed electronic application components such as motors and controllers, Perriton says.
"We evolved from that with the formation of VIA Motors as a spinoff of the automotive-related assets of that company," Perriton says, noting that VIA started operations in 2010. "The objective of that evolution was to move from the design and development of electrical component applications to insertion into vehicles."
Since then, VIA has graduated into full-size pickup trucks and vans that feature its eREV powertrain technology. This allows its vehicles to drive the first 40 miles in all-electric mode with nearly zero emissions and a full range of up to 400 miles on a single fill up.
Not only does this help lower operating costs, but also supports the client's sustainability objectives. "If you're a business and you're looking to reduce carbon footprint, a plug-in hybrid electric vehicle from VIA will help you do that," Perriton asserts.
"You don't have a transmission and interval for maintenance items such as oil changes, filters, brakes, etc. is hugely reduced," he continues, noting that the vehicles also will allow users to further increase savings once fuel costs rise again. "When considering the cost of ownership, this is a significant opportunity for customers to generate a more favorable payback than they would on a gas- or diesel-burning vehicle."
VIA's vehicles also feature a mobile power plant that is capable of exporting electricity, Perriton adds. "If you're a construction worker, or just wanted to have power when you take your vehicle camping, it eliminates the need to tow a generator behind you," he states. "You can plug in your appliances, power tools or use for disaster relief purposes."
VIA sells virtually nationwide with focus on fleets. "We're not in every state, but we're certainly concentrated in those states that have high-incentive programs," he states.
The company's customer base largely consists of utility, telecom firms, government agencies and large national private fleets. "Most of these companies that we're working with have targets for sustainability and are moving with their fleets to have a higher concentration of electrification," he says. "The utilities especially have established electrification mandates for capital spend this year and ongoing years."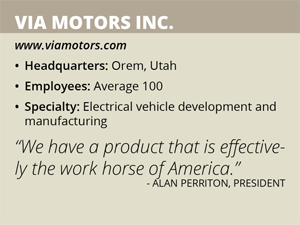 A Disciplined Operation
VIA's primary manufacturing location is a 50,000-square-foot plant in San Luis Potosí, Mexico. The headquarters are located in Orem with three separate buildings, Perriton says. One features battery production. Another is home to its software development and service operations. The third houses its administrative staff and more manufacturing operations.
VIA's Engineering and Manufacturing is managed by COO Bob Purcell. "He brings the disciplines of manufacturing excellence," Perriton states, noting that Purcell, former CEO of Protean Electric, was previously at GM responsible for all advanced vehicle programs including EV1.
Purcell brings the skills of the manufacturing sector, including all the disciplines that are required for simultaneous engineering development, Perriton says. "We also have a number of other individuals that are automotive-steeped in their history and background," he says.
The company has utilized lean manufacturing "from the very get go," he adds. "We produce to customer orders and do not build inventory. Lean manufacturing principles are endemic from the beginning of our operations."
Looking Bright
Perriton is proud that VIA, as a modestly sized company, has designed, developed and certified a light-duty pickup and van that is marketable. "The contribution that we make to the whole electrification movement … is gratifying," he says.
"2015 was very much a development year for us," he continues. "We received our certification in June from the California Air Resources Board to put the vehicles into the market."
VIA anticipates significant growth with its vehicle sales in 2016. "Our customer base is anxious to apply these vehicles to their fleets," Perriton says. "While there is relatively small penetration at this point, the growth factor is strong.
"It tells us that this is the right product and the right thing to be doing," he continues. "We have not seen an abatement of interest in the customer base, the fleets or otherwise.
"There is considerable energy and ongoing interest for the application of these vehicles," Perriton says. "We see the future as being very bright. We are the only ones who have a fully certified light-duty platform of vehicles to offer to the customer. There is every reason to be optimistic for the future and growth of our company."