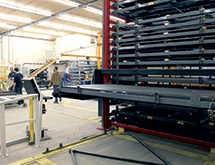 The story of Vidir Machine began in the early 1980s when Willie Dueck opened a welding shop and began making carpet carousels. Today, the Arborg, Manitoba-based operation is a manufacturer and worldwide supplier of automated vertical storage and display systems for a wide range of industries.
But the company's evolution didn't happen overnight. Instead, the popularity of the carpet carousels propelled Vidir Machine into several other markets, including construction, retail, medical, warehouse, government, automotive, printing and manufacturing. The solutions are somewhat different but the idea is the same: automated storage that is safe, accessible and requires significantly less space.
The carpet carousels found their way into major home improvement stores via carpet sales representatives, who offered stores a complimentary carousel if they placed a carpet order, says Peter Dueck, co-owner and Willie Dueck's son-in-law.
The carpet carousels appealed to home improvement stores and carpet retailers because they conveniently displayed carpet rolls of various widths, diameters and sizes. Additionally, the motorized carousels can store and retrieve carpet rolls vertically, which reduces the floor space required to manage carpet inventory.
The success of the carpet carousel was a major breakthrough for Vidir Machine. The national exposure the retailers offered resulted in representatives from other industries asking to adapt the system for their application. The ingenuity displayed in implementing these systems opened up opportunities in a variety of industries placing Vidir as a forerunner in automated storage, specifically within the retail space, Dueck says.
'A Pretty Big Deal'
For example, Vidir Machine created a bicycle display rack for Walmart that eliminated the need for a ladder to reach bicycles. "Getting into Walmart stores was a pretty big deal," Dueck says.
Vidir's bicycle merchandising system is designed to balance the storage, display, accessibility and visibility requirements in retail environments. It is the ideal commercial bicycle rack for displaying large bicycle inventories with a limited footprint, Dueck says. The modular design allows for the display of up to 10 bicycles approximately every six feet. The system also helped Walmart improve employee safety, he says.
Vidir Machine also offers storage solutions for tires, wire, vinyl flooring, apparel, paint cans and propane tanks.
The company manufacturers a bed lift, which is a cost-effective system designed to store hospital beds off of the floor and stack them securely in a vertical arrangement, Dueck says. The system not only saves floor space, but also eliminates potential fire hazards from hospital corridors. Additionally, the system increases a hospital maintenance department's capacity, organization and product flow, which increases the number of beds available for patients.
FABTECH and the Future
Vidir Machine is looking to expand in several markets and believes its presence at November's FABTECH show in Chicago will help it achieve that goal, Dueck says. The trade show draws thousands of individuals from the metal-forming, fabricating, welding and finishing industries.
The company plans to display its Vertical Lift System at the show, an automated storage and retrieval system that utilizes an elevator to climb the front of the tower to deposit and retrieve cartridges weighing up to 5,000 pounds and deliver them to ground level, increasing material storage and flow. The system is designed to save floor space, increase workplace safety, reduce material changeover time and prevent material damage.
"We're [attending FABTECH] to take another step forward," Dueck explains. "There's an opportunity in the market."
The Vertical Lift System was designed by Vidir to meet some of its own storage needs. "We needed a machine," Dueck says. The system is designed for small to medium organizations that carry inventory in sheets of metal, fiberglass, plywood, composites and other flat materials. Additionally, the design can be altered to allow for products with a bulky or length profile such as bar stock, pipes and press brake dies.
The system brings convenience and efficiency to the manufacturing floor, but also makes a company safer, Dueck says. OSHA indicates there are 85 forklift fatalities annually in the United States and 34,900 serious forklift injuries. Forty two percent of the forklift fatalities occur in manufacturing, and almost half of those deaths are caused by the forklift tipping because of unstable loads.
Metalworking manufacturing operations that implement effective safety and health management systems significantly reduce injuries and illnesses and reduce the associated costs, including workers' compensation payments, medical expenses and lost productivity.
Dueck has a high degree of confidence in FABTECH's role for the future of the company. "The level of interest is amazingly high," Dueck says. "The show will help provide us the visibility and presence required to be a serious player in the market."
He is extremely proud of the company's successes. "I take a lot of pride in being able to participate in a small community, provide career opportunities and compete in a global market," he says.