The long view
Viraj Profiles Limited (VPL) is the second largest manufacturer of stainless steel long products in the world and is ranked number one in stainless steel flanges
With a vast product range that includes stainless steel wires, wire rods, fasteners, bright bars, profiles and flanges; Viraj Profiles Limited represents a world leader in stainless steel long products and is one of the largest manufacturers and exporters of stainless steel long products in India. Nestled in the Industrial township of Boisar near the commercial city of India, Mumbai, the company exports its products to more than 90 countries across the globe.
Company's Chairman & Managing Director, Mr Neeraj Raja Kochhar, the visionary behind Viraj Profiles Limited (VPL) began operation during 1991 with a single induction furnace and a team of around 150 employees. Today the company has grown to encompass six separate manufacturing plants and a recently established fully automatic section rolling mill. With its single induction furnace, Viraj started out in the manufacture of steel for the domestic market within India and has since evolved into the world's second largest manufacturer of stainless steel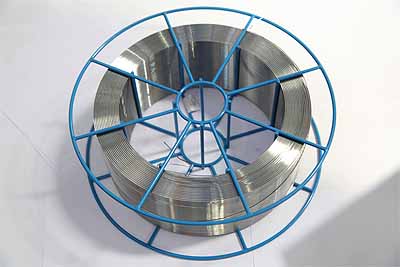 products in the world and is ranked number one for its stainless steel flanges. The company has the unique ability to do complete backward and forward integration across the product lines starting from sourcing scrap, making billets and using these to manufacture other products like wires, fasteners, bright bars, profiles and flanges etc. The organisation's highest quality products are well known amongst companies operating in steel, defence, construction & structural buildings, power, petrochemical and marine industries.
Mr Neeraj Kochhar, Chairman & Managing Director, Viraj says: "Initially the company started manufacturing utensil-grade steel for the domestic market. But looking at the market growth potential in overseas market, we soon set our eyes on the international market and started planning for expansion. To make international expansion a possibility, in 1995 Viraj started increasing its production capacity, diversifying into new grades and product ranges, and enhancing its production processes. Since then, Viraj Profiles Ltd. has transformed itself into the world's second largest stainless steel long products manufacturer with a capacity of 528,000 tonnes per annum and human resource strength of more than 9000 employees and with an annual turnover close to $1.5 billion."
Throughout its history Viraj has steadily expanded its global presence, reaching several important milestones through the establishment of its profiles, wire, wire rod mill and fastener divisions between 2000 and 2006. By 2011 the company had reached its current position as a major manufacturer of stainless steel products and in 2013 further strengthened its position by beginning first phase production at the new section rolling station (SRM). Today this facility has achieved level-2 automation and has annual capacity of 180,000 tons per annum.
Mr Kochhar further adds: "In the year 1995, we commissioned our Flanges and Bright Bars division and started exports of Bright Bars. Then after around five years, in the year 2000, Mrs. Kochhar came on board and together we established our Profiles division predominantly catering to overseas clients. In no time, our profile range of products started drawing attention from some of the major overseas clients and soon we were exporting 99 per cent of our total production of Profiles products. One of our biggest achievements came our way in the year 2008 when Viraj was ranked 3rd largest producer of Stainless Steel Long products in the world. And from then on we have kept on setting new landmarks."
Establishment of the fully automatic Section Rolling Mill was one of those important milestones for the company. The one-of-a-kind Section Rolling Mill was established in Tarapur, Maharashtra and represents a national first, being equipped with completely automated processes meaning that there is no other industrial-scale unit of its ilk within the Indian state. Spread across ten hectares, the plant boasts of some of the finest technologies in the world's stainless steel industry, while its online pickling facilities, and automatic labelling and packaging line, enable it to manufacture more than 700 different shapes and designs of angle, flats and other profiles. The use of fully automated processes ensures the accuracy of the measurement and dimension of each and every product being manufactured in this plant. The furnace is walking beam type with special emphasis on operational efficiency and fuel saving. The automatic combustion control guarantees a uniform heating of the billets while also providing limited stack emissions. The plant is equipped with FeHR cassette rack system, which is also known as a honeycomb warehousing system, enabling quick storage and retrieval of bars, all at the touch of a button. The SRM is part of the company's strategy targeted at creating the most modern manufacturing facilities possible – a strategy aimed at improving product quality, raising production volumes and increasing the output of high added-value products.
While the establishment of its SRM represented a significant milestone for the company's presence within India and its total service offering, Viraj also maintains an impressive base of manufacturing facilities and global support networks that make it an important player throughout the stainless steel market place. Indeed, the company enjoys a strong global footprint that is spread across six continents, more than 90 countries and serves around 1300 customers around the world. VPL represents one of the largest exporters of stainless steel long products in India, exporting nearly 90 per cent of its production. This has enabled the business to grow as a very dominant player in the global export market, with its own offices in some of the key financial districts of several countries. Furthermore, a strong network of talented agents and sales representatives caters to the rising demand for stainless steel long products and a thrust of business on the international market over the years has assisted in seeing Viraj's export percentage growing steadily.
Further to pushing the boundaries in terms of its manufacturing capability and leading edge technologies, Viraj is also a progressive company in the opportunities offered to and development of its staff. For example while the global steel manufacturing industry is a traditionally very male dominated field, VPL's Managing Director, Mrs. Renu Kochhar has played an important role in taking the company from strength-to-strength. Mrs. Kochhar, with a management degree from the prestigious Harvard University, joined VPL in 2000 as Director of the Profiles Division and actively participated in the day-to-day function of the department. During 2010 Mrs. Kochhar was recognised as the 'Business Woman of the Year' at the Madhavrao Scindia Leadership Awards (MSLA) in Kanpur and under her diligent leadership, VPL was later awarded with the Top Exporter Award, Silver Trophy for the year 2013 to 2014. Mrs Kochhar left no stone unturned in taking the company to newer heights and acquiring some of the well-known customers across the globe. Living out of a suitcase and shuttling between her own office and clients' locations, meeting the channel partners became a part of her life in those initial days. But she never gave up on her strong determination and took one step at a time to meet up with the clients and the partners to understand their requirements and slowly she was able to expand the operations in more than 90 countries. Today Mrs Renu Kochhar heads the most important function of the company, Sales and Marketing along with other important departments like HR, Communication and Facilities Management to name a few.
Talking about the current market scenario and Viraj strategy to meet up the challenges ahead, Mrs Kochhar adds: "We manufacture more than 50,000 SKUs across different product verticals. In fact, we are one of the largest suppliers of flanges for marine applications. We have more than 92 certificates and approvals for supplying stainless steel flanges to our various global customers. We have now also moved into the production of super duplex stainless steels. These grades are especially in demand for the oil and gas industry, marine applications and architecture and construction where high load bearing capacity is desired. As part of our growth strategy, we are in the process of setting up facilities for manufacturing special steels and super alloys for critical applications in aerospace, defense and power projects. To achieve this, we are upgrading with special melting and re-melting furnaces such as Vacuum Induction Melting (VIM), Electro slag re-melting (ESR) and Vacuum Arc re-melting. These special grades shall be used in Power sector, defence sector, aerospace sectors."
Talking about some of the recent product developments, Mrs Kochhar adds: "In addition to our range of austenitic, martensitic and ferritic grades, we have also developed martensitic grades with hardening and tempering. Our wire plant has developed soap-coated fine spring wires in size ranges of 0.35 mm – 0.65 mm and we have also developed TIG and MIG welding wires. Viraj Profiles has also developed special coating wires, which are used for springs and nails. This process leaves a very light lubricant film on the wire; as a result guides are not jammed, tool life is increased and epoxy coating on nails is improved during processing at the customers' end."
Across its business Viraj exports to clients in Europe, the Northern and Southern Americas, Africa, Asia and the Middle East, with a manufacturing capacity of circa 528,000 tonnes per annum. Throughout its operations Viraj believes that conducting business ethically and striving to do the right thing are vital to the success of the company. Its entire staff and, in particular, the company's managers are responsible for ensuring that an ethical workplace is maintained. Employees are encouraged to monitor their respective areas to identify and address situations that may lead to ethical dilemmas. Viraj adheres to the values of integrity, respect, co-operation, collaboration and innovation to help foster success through excellence, accountability and personal and professional growth. These values coupled with the company's steady investment into it manufacturing and support networks provide a stable base from which Viraj will continue to grow and solidify its position as a world-leading supplier of high-quality stainless steel long products.
Corporate social responsibility
Viraj Profiles has an extensive CSR policy and does not mind walking an extra mile to reach out to the under privileged sections of the society to provide them social, economic and environmental benefits. Its CSR projects focus on key areas such as health, education, environment and female empowerment. Mrs. Renu Kochhar who also heads the CSR wing of the company always cherished the dream of providing world-class education to the students of Boisar. It took her almost two years to realise this dream when she founded the Viraj Shri Ram Centennial School providing education matching international standards near the company premises in Kurgaon. The school was recently awarded 'One of The Top Emerging Schools' in Mumbai from the Times of India newspaper.
Mrs Kochhar shares: "The prime motto of our school lies in providing wholesome education to its students and providing them with a platform where their hidden talents can be channelled and portrayed. VSRCS has succeeded in doing this because of its strong pillars: curriculum, faculty and methodology. We conform to the ideas of equal opportunities and believe whole heartedly in saying – use what talent you possess and harness it."
Viraj Profiles Limited
Products: Manufacturer of stainless steel long products