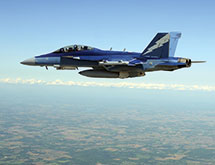 Virtek Vision International Inc.
Virtek Vision International Inc. uses its laser-based templating, inspection and CNC manufacturing solutions to help users produce products faster, with better quality and at a lower cost. The company reports delivering integrated laser solutions to more than 100 of the Fortune 500 companies.
Joseph Gerber, the founder of Gerber Technology – Virtek's parent company that acquired it in 2008 – invented the first automated fabric-cutting system in the late 1960s. The system automatically cut large amounts of material with a computer-controlled knife.
The first such GERBERcutter, used by General Motors for more than 20 years to cut seating materials, is displayed at the Smithsonian Institute's National Museum of American History.
"For decades, we have worked side-by-side with our customers helping them apply best practices to their business," the company says. Apparel magazine reportedly determined that 32 of the top-50 most-profitable U.S. apparel companies use the product lifecycle management and computer-aided design (CAD) software solutions of Gerber Technology.
Virtek Vision's systems mesh with other Gerber Technology solutions. Virtek provides laser templating, quality inspection and 3-D spatial positioning systems for aerospace carbon fiber composite part assembly, sheet metal part fabrication and construction.
Aerospace and Composites
For the aerospace and composites market, the Virtek Planner system enables users to plan and troubleshoot the ply layup process by simulating the process sequence, just as the Virtek LaserEdge system will interpret it. Virtek LaserEdge is a three-dimensional laser templating system that projects a laser template onto molds and parts to guide operators through the process of part fabrication, whether it be ply layup, paint masking, harness assembly or component location.
The system worked with other Gerber Technology systems to produce components for reconnaissance and surveillance aircraft. These components are manufactured with the combination of Gerber's automated nesting software and computer-controlled cutting system and Virtek's laser ply layup system. The combination of these automation systems dramatically improved material utilization as well as the quality and accuracy of the ply layup process.
Quality Inspection
Virtek LaserQC is a rapid inspection system that employs lasers to measure the accuracy of two-dimensional parts to tolerances of within 0.002 inches. It is ideal for first-article inspection and reverse-engineering requirements in aerospace, oil and gas, transportation and military components such as gaskets, sheet metal, glass, tool and die, and packaging. Virtek LaserQC compares the finished product to a CAD file and produces a detailed report with all the dimensions and deviations from tolerances.
Virtek LaserQC Automatic Form Measurement is a rapid inspection system that employs lasers to measure the accuracy of three-dimensional parts to tolerances of within 0.010 inches. It can measure a part's height and raised features as well as from edge-to-edge or hole-to-hole. The system can reduce scrap and rework and improve profitability by pinpointing errors immediately on the shop floor.
With the Virtek LaserQC system, two-dimensional parts can be reverse-engineered. The LaserQC scans the part in seconds – capturing all the required data – and generates a CAD file. The software allows manipulation of the scan data and part profile to optimize the quality of the CAD model. The CAD file then is simply exported for post-processing or added to a CAD library.
Construction Market
In construction, the Virtek TrussView system facilitates truss assembly by projecting data associated with a truss in production so everyone involved can visualize it and has the necessary information – including work order, truss name, quantity and key dimensions – to construct it correctly.
The Virtek TrussLine system projects a laser template of the truss to be built onto the work surface, highlighting the position and shape of all truss joints and connector plates and eliminating the need for measuring, squaring and stringing.
For assembly of wood panels, precast concrete or steel, the Virtek Laser Template Generator projects a laser template of the panel members onto the work surface, showing workers how assembly should be done.
The Virtek LaserCNC system projects a laser template of the finished part onto the CNC table to enable accurate, fast positioning of the fixing components.
Welded Assemblies
The Iris spatial positioning system guides workers through the assembly process by locating hardware in 3-D space, quickly locking onto CAD datum references and employing lasers to project exact placement positions on the work piece. "Finally, parts are manufactured exactly as designed without the expense and delay caused by using templates, tooling and fixtures," the company says.
Iris SPS determines a work piece's position in 3-D space and projects a laser outline indicating exact placement locations for parts – even on the most complex weldments. "It's ideal for companies manufacturing heavy machinery – earthmoving equipment, locomotives, ships and other large-scale products," the company says.
An optional Verification Module uses Iris' 3-D vision technology to compare the CAD file with the position of components placed on a weldment. If it determines that the component was placed correctly, a check mark is projected over the component. If it was placed incorrectly, an X is projected.
This system provides instant feedback to the assembler, eliminates the need to check parts manually and alerts users to assembly errors before they become costly. The module also generates reports that assist with quality assurance documentation. These are just some of the automation solutions that Virtek Vision International Inc. and Gerber Technology provide to many distinct markets.