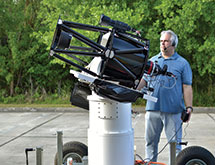 Vision Engineering Solutions
Experience means more than just witnessing something happen – it also involves interpreting the information and learning how to apply that information to the future. That's why Vision Engineering Solutions owner, Ed Logue, says the company is at the forefront of providing advanced sensing technology to the defense, aerospace and industrial sectors. As Logue explains, the company has put in more time actually using the technology it provides than virtually any of its competitors, giving it a knowledge base unlike any other in the marketplace.
"We use what we sell," Logue says. "The software, the hardware that we've developed are the products of 25 years of using other people's tracking systems in the field and finding out where the weaknesses are."
The professionals at Vision Engineering who develop the sensing and tracking technology have spent countless hours in the field performing tracking in actual real-world scenarios including tracking projectiles from advanced weapons systems, drones, rockets, and satellites. "We have taken that experience and are now developing products that reflect those lessons learned and those features we've always wanted to have," Logue says.
Logue adds that the company has a very experienced team, with no one on staff who has less than five years of experience. Many of the company's staff have more than 20 years of experience, he says.
Based in Orlando, Fla., Vision Engineering Solutions specializes in technology including advanced sensing and imaging, modeling and simulation, data collection and analysis, and pointing and tracking systems. Customers for the company's technology and systems include the United States Army, Navy and Air Force, as well as the University of Central Florida, in applications ranging from space launch support to missile defense testing.
Vision Engineering Solutions is preparing for the upcoming Space Tech Expo in California in the hopes that it can make as big a splash in the commercial marketplace as it has in the public sector, and Logue says the company's technology shows a great deal of promise in that regard. Capitalizing on its extensive field experience, Logue says Vision Engineering Solutions is confident it can make inroads into new revenue streams that will strengthen its position for the future.
More Experience
Logue says one of the strongest elements of Vision Engineering Solutions' success over the years is the fact that unlike many of its competitors, the company can deliver a fully contained sensing solution that meets the customer's every need without the need to shop around to other suppliers. "We give you the solution, not just a system," Logue says. "We try to give you the whole package to solve your problem."
For example, Logue points to the recent tracking solution it designed, assembled, and delivered for the University of Central Florida. The optical tracking system is being used by undergraduate and graduate students studying physics, optics and electrical engineering. Logue says the Vision Engineering delivered much more than just a tracking gimbal. The company provided the university with a complete transportable system that includes:  the gimbal and gimbal-controlling software; optics, sensors, and data recording software; a remote control station; a power generator; and an enclosed trailer to carry the entire system.
Branching Out
Logue says the company believes its recent project for the University of Central Florida will help get its foot in the door with commercial clients. Vision Engineering Solutions is keen on breaking into the commercial side of the business to give it an additional customer base alongside its existing defense and aerospace customers. That's also a major reason why the company is exhibiting at Space Tech Expo.
Vision Engineering Solutions is developing technology to optically track space debris, and augment existing space surveillance radar systems.  The combination of optical and radar data will provide space users with increased space situational awareness and make space operations safer.  Logue says the company has a proposal to install this technology on the International Space Station.
"I think we're going to get some traction in the area of tracking space debris," he says. "We have some customers that are very interested in that."
Logue says Vision Engineering Solutions believes it will come out of 2015 in a much stronger position among its competitors. Not only does the company have the experience to remain on the cutting-edge of the technology, but Logue says it can build a better product in less time and for less money than its competitors can.
"I think our tracking systems are going to become known because they have features that other do not," he says.