Most manufacturers realize that their customers expect promotions and rebates. They factor that into the cost of doing business.
They know that today's consumers view the list price as a starting point. Consumers may not care if the discount is given at the time of purchase or after the sale, but they expect to get one.
"Companies go into a sale knowing that anywhere from five to 25 percent of the price will be refunded back to the customer," says Cara DeGraff, vice president of product management at Vistex, a global enterprise software company that enables organizations to better deploy their products and services through incentive, rebate, price, vendor, trade and channel management programs. "The biggest complaint that I hear from manufacturers about rebates is that they want the ability to make sure that they are getting something for their money."
Not all rebates and promotions are created equal. For example, which rebate would have a better return on investment: one automatically paid at the end of the month or one with tiered payouts based on volume targets?
DeGraff – whose role at Vistex involves guiding product development and educating audiences about the company's product suites – knows the answer to that question. VistexInfo
She also knows that companies are willing to dish out more money for rebates if they know they are getting value through increased sales or desired customer behavior.
"Companies have no problem giving their customers rebates but they want to know that they are getting something in return," DeGraff says. "But what we see in a lot of situations is that they do not have visibility to what they are actually receiving versus what they are supposed to receive. They don't know if their rebates have value. We help companies calculate rebates and make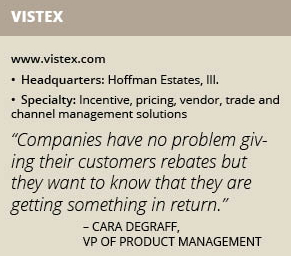 sure they are not giving out bigger rebates than necessary."
For example, a rebate based on purchases from a channel partner is not always as favorable as one based on sales to the partner's end customer.
"Even tying it to year-over-year growth or increased market share gives some incentive to the customer to improve their behavior," DeGraff says. "Choosing metrics like a two-percent rebate on all sell-through data submitted or an additional one percent for carrying a certain level of inventory helps as well."
A Holistic Approach
Hoffman Estates, Ill.-based Vistex is a pioneer in enabling organizations to better deploy their products and services through go-to-market programs.
Vistex offers software and services that help increase revenue and reduce costs by managing trade, channel and vendor programs, product pricing, performance incentives and rights and royalties.
Optimized by industry and deployed on premise or in the cloud, Vistex's go-to-market solutions offer unprecedented visibility into the full life cycle of program performance through strategy, software, implementation, execution and analytics services.
As business becomes increasingly global and interconnected, many companies are challenged in formulating and executing programs that help manage efforts to introduce new product or service plans, often referred to as go-to-market plans. Their enterprise software platforms may become constrained and hazy.
"We look at all these programs holistically," says DeGraff, who previously worked for both manufacturers and distributors across a variety of industries to manage and implement a myriad of business processes with the help of SAP software. "We look across the entire go-to-market spectrum to help our customers determine their true gross-to-net profitability."
At Vistex, some of the most popular and growing SAP® Solution Extensions by Vistex include SAP Incentive Administration, SAP Data Maintenance for ERP Pricing and SAP Paybacks and Chargebacks.
Incentive Administration
Incentive programs can be challenging to administer and manage. Furthermore, it's often difficult to determine if th≠ese programs are achieving a company's business objectives.
As sales models, distribution channels, promotions and licensing programs become layered and more involved, making decisions is becoming more complex.
The SAP® Incentive Administration by Vistex helps manage, track and analyze even the most complex incentive programs, such as sales commissions or incentive compensation and bonus plans, sales or purchasing rebate programs and royalty payments. It provides automated calculations of commissions, rebates and royalties.
"Our software will calculate and tell your financial system what kind of a rebate you should give," DeGraff says. "It will help you evaluate how much you sold, how much rebates will cost you and run reports throughout certain periods to evaluate results."
The software features modeling, administration, ad-hoc reporting and analytics tools. It also provides accurate and timely incentive payments and sets targets and quotas and compares actual outcomes to a company's budget. Data can be shared throughout the organization through SAP integration.
Data Maintenance for ERP Pricing
The key to remaining competitive is to provide a growing number of product offerings that meet customer demand. However, the pricing scenarios required for this can be complex and cumbersome.
Businesses need to have visibility into complex pricing scenarios available at the time of sale. To simply manage pricing is no longer enough. Visibility and in-depth analysis of pricing strategies to support planning and growth are crucial for success.
A robust end-to-end pricing solution that leverages a company's SAP investment, SAP® Data Maintenance for ERP Pricing by Vistex covers everything from agreement initiation to analytics for buy- and sell-side, while retaining the core SAP architecture.
The solution footprint covers price administration, deal management, price execution and reporting. User-friendly layouts and intuitive functionality allow users to adjust prices without delay, while providing the ability to execute mass pricing updates, automating maintenance and eliminating hours of manual processes.
"It will tell you what price you should sell your product or service for and what kind of a discount can be applied to still ensure that you hit your profit targets," DeGraff says.
Paybacks and Chargebacks
Managing complex agreements through unstructured or even manual processes impedes thoroughness and accuracy and often results in missed opportunities to recover costs.
Without access to data on supplier pricing, discounts, rebates and charge-backs, there is no visibility into program performance. Additionally, compliance with legal requirements and cost recovery policies can be in jeopardy.
Designed to minimize lost opportunities and manual errors with end-to-end claims management, SAP® Paybacks and Chargebacks by Vistex leverages core SAP/ERP and facilitates all aspects of go-to-market programs for claims management.
It helps increases cost recovery through contracts that reconcile with pricing agreements, corporate guidelines and other conditions and decrease cost recovery time with improved monitoring and automation of complex processes.
The solution also improves visibility to the claims management lifecycle through a complete audit trail and access to data for gross-to-net analysis.
Cloud-Based Solutions
Aside from SAP-based solutions, Vistex also offers a variety of Go-To-Market Suite® solutions in the cloud that can be managed with any ERP system.
These solutions are designed to give businesses unprecedented visibility into program performance and deeper insights to better enable fact-based decisions. It empowers them to drive revenue, control cost, minimize leakage and streamline processes.
Vistex's Go-To-Market Suite solutions include Master Data (improving data maintenance for partners and products), Rights and Royalties (managing intellectual property, rights and royalties), Vendor Funding (lowering costs with control of vendor programs) and Performance Incentives (driving desired customer behavior with incentives).
But its most favored Go-To-Market Suite solutions among manufacturers are Trade and Channel and Price Management.
Manufacturers use special price authorizations (SPAs) to win large-volume business. However, complex SPAs, manual claim processes and inconsistent data yields limited visibility into go-to-market programs.
This gives rise to claims from distributors or customers for SPA reimbursements. Industrial manufacturers may also offer rebates to customers and/or distributors to increase volume. Vistex offers solutions to manage all contracts and special price agreements, customer and distributor rebates, channel inventory, price protection and marketing funds in comprehensive manner that provides insight into program success and gross-to-net profitability.
Trade and Channel
Large companies lose millions of dollars annually because partner claims processing is poorly managed. For many, up to 20 percent of their revenue is tied to claims.
Without an effective way to manage inventory, associated claims and rebates (to and from channel partners), large companies can miss opportunities to properly collect and settle claims. Some have lost millions of dollars annually due to partner claims being processed poorly.
Vistex's Trade and Channel solution offers an efficient and highly automated approach to managing trade and channel programs with sophisticated tools to administer vital processes from start to finish.
It gives companies – especially manufacturers – the tools to take control of their trade programs with an automated, end-to-end solution to manage inventory, claims and rebates.
The software features advanced reporting tools to provide insight into program and partner performance and powerful analytics for visibility into spend, effectiveness and ROI.
The solution optimizes programs, maximizes spend effectiveness, minimizes profit leakage, improves administration efficiency, cuts processing costs, reduces errors, improves cash flow, enhances customer and partner satisfaction – all of which helps increases profitability.
Price Management
A common misconception among many business leaders is that a company's pricing goals should revolve around delivering the lowest price. In reality, the ultimate goal is to achieve the right pricing strategy that meets desired business objectives.
"A few years ago, a large retailer decided that it was going to change how it incentivized buying behavior by eliminating special sale days and only offering everyday low prices," DeGraff says. "But the customers rebelled at that model and a plunge in sales followed."
Vistex price management solutions help companies keep the balance between the right price to sell product and reaching goals for maximizing lift, revenue and margin.
Vistex Price Management provides unprecedented visibility into complex pricing scenarios offered to channel partners and customers.
From agreement initiation to analytics, companies gain a comprehensive audit trail to document all buy and sell-side programs and can automatically track complex, rapidly evolving pricing scenarios.
Its software simplifies the development of strategic and tactical plans to model, forecast, propose and execute optimal pricing programs in alignment with business objective, pricing agreements and special price promotions.
In short, Vistex enables companies to react quickly to market changes that affect pricing strategy and provides end-to-end visibility, from bidding and contract creation to program execution, tracking and analytics.
Overall, Vistex tips the scale and brings back balance, providing companies with exceptional visibility into the breadth and depth of its efforts to manage trade, channel and vendor programs, product pricing, performance incentives and rights and royalties, while enabling these businesses with more insightful information.
Deployed on-premise and in the cloud, and utilizing leading-edge software and services, Vistex serves businesses of all sizes worldwide across a spectrum of industries. It has 22 locations throughout the globe and serves a variety of industries from automotive and agriculture to life sciences, manufacturing, consumer products and electronics.
With the company's unwavering commitment to its clients, some of the world's best-run organizations have chosen Vistex to ensure their go-to-market program success.