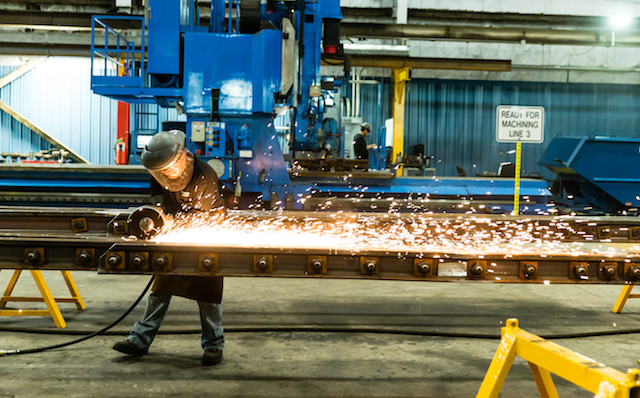 voestalpine Nortrak was founded more than 30 years ago to serve a niche need in the railway industry as a distributor of new and used track equipment and material. The Richmond, B.C.-based company has evolved over the years to become North America's leading manufacturer and supplier of trackwork and related materials with the vision of becoming a full systems provider.
"The company's focus has historically been squarely on trackwork, but we have aggressive plans in place to expand our product and service offering," COO Brian Abbott says. "We are always looking to expand our product base and have an active research and development group that operates out of Birmingham, Ala."
Nortrak Railway Supply Ltd., was founded in 1981 and acquired by Austria-based voestalpine Eisenbahnsysteme nine years later. Nortrak then changed its name to VAE Nortrak Ltd., but in 2012 changed it again to voestalpine Nortrak. Headquartered in Richmond, B.C., Nortrak operates manufacturing facilities in Birmingham, Ala.; Cheyenne, Wyo.; Pueblo, Colo.; Newton, Kan.; and Decatur and Chicago Heights, Ill.
Nortrak specializes in the design and manufacturing of all components that go into trackwork, Abbott says. "One of the reasons we are so successful is because we are vertically integrated in terms of our supply chain," he adds. "We produce rather than purchase much of what we need – from injection molded plastic components to cast ductile iron or manganese steel. By not relying on offshore suppliers, we are in control of our schedule and probably more importantly, in control of quality. Our U.S.-based manufacturing infrastructure also means we are fully compliant with the requirements of 'Buy America' regulations."
Designed to Spec
Nortrak says it has the strongest engineering design group in the industry. The company prides itself on being well-equipped to design and manufacture a full product range to meet the needs of its three primary railway markets: Class I, transit and industrial.
"Class I railways comprise North America's seven largest heavy-haul freight carriers. Product for this market segment sees the toughest service environment but is relatively consistent in terms of design standards," Abbott explains. "The transit rail market, on the other hand, is characterized by a large number of players and the absence of a universal standard. Essentially, it's all design-and-built-to-suit and driven in large measure by local street geometry and operating requirements. Serving the transit sector requires both specialized design expertise and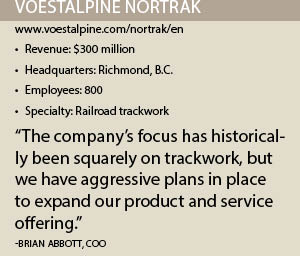 operating flexibility. Finally, the industrial market is driven more by price and lead time than the other two segments."
Nortrak's manufacturing plants operate as "centers of excellence" with each specializing on specific segments of the industry. The manufacturing facility in Cheyenne focuses on product for the heavy-haul freight market and works primarily to serve Union Pacific Railroad. Cheyenne is also the site of Nortrak's plant for the production of pre-stressed concrete crossties for turn-outs.
The Newton plant is ideally situated to work closely with Burlington Northern Santa Fe (BNSF) Railway and Kansas City Southern Railway (KCS). Its operation in Pueblo specializes in rail component work and welded crossings or "frogs." "We produce a wide variety of crossing types including those designed to be welded integrally into the track structure. Production of welded manganese crossings requires a specific and specialized process undertaken in Pueblo and Birmingham," Abbott explains.
The Birmingham facility also specializes in components for passenger and freight railways, which include Amtrak, CSX and Norfolk Southern Railway. "Chicago Heights is our biggest plant and serves a wide variety of customers, including CN and the big transit agencies in Toronto and the U.S. North-east," Abbott says. "Chicago Heights is also home to an impressive stable of heavy CNC manganese milling equipment. Nortrak's Decatur operation is a ferrous foundry that specializes in the large manganese alloy castings necessary for the fabrication of trackwork."
Notwithstanding operating specialization, the roles played by Nortrak's manufacturing facilities are not hard and fast, Abbott says. "Product variations and the lead time demands of our customers require that we be flexible," he adds. "A lot of our orders, especially through Chicago Heights and Birmingham, are built-to-spec projects so being nimble and creative are keys to success."
In all of its facilities, Nortrak has begun rolling out its latest operational program, "OpEx," which Abbott describes as "lean manufacturing on steroids." "We are in the midst of rolling that out and have trained most of our managers and engineers in OpEx processes," he adds. "Although we are still in the early stages of implementation, we have already driven significant efficiencies through the program."
Expanding its Range
Nortrak prides itself in maintaining close relationships with its customers and having the ability to develop products to meet their specific needs. "Throughout its history, voestalpine Nortrak has sought to satisfy its customers by consistently expanding its range of high-technology products and services," the company says. "Its integration in the 1990s into the VAE Group of companies was a major milestone in this regard. With voestalpine Nortrak's parent company, voestalpine VAE GmbH, having been in the trackwork industry for over 150 years and with sister subsidiaries in some 26 countries worldwide, voestalpine Nortrak is uniquely placed in the North American market. It offers customers the benefit of the VAE Groups' broad-based, deeply historic yet up-to-date knowledge and experience."
Moving forward, voestalpine Nortrak will continue to expand its product base. On the immediate horizon, the company will be offering pre-stressed concrete crossties for standard track application through a recent partnership with GIC. In association with its sister voestalpine companies in Europe and North America, Nortrak can also offer a range of switch drives as well as fixed and rolling infrastructure monitoring technologies. "We see a need in the industry for a one stop system solutions provider and we are aggressively endeavoring to fill that niche."  Abbott concludes.