Voith Industrial Services UK
Adding value
Voith Industrial Services provides an unrivalled level of service to a number of international blue chip clients, both in terms of the breadth of offering but also the scale at which it is able to operate
Voith's history is vast and impressive. As one of the largest family-owned companies in Europe, the business employs 39,000 people and turns over 5.3 billion euros every year. Established in 1867, Voith GmbH now operates in the energy, oil and gas, paper, raw materials, transport and automotive markets delivering products and engineering services to a broad range of clients. Within the group is the Voith Industrial Services division, itself an expansive entity employing 18,500 people across 205 sites generating revenues of 1.178 million euros in 2014. With extensive engineering knowledge and industrial experience behind it, the division provides unrivalled levels of service from cleaning to complex assembly to a range of industries.


Voith's operations within the UK give some indication of the level of incredible growth and success the company is capable of achieving. In 2010 the company employed 650 people with a turnover of 33 million euros. Today – just five years later – those numbers have risen dramatically UKto 2600 staff and over 100 million euros in sales. Finding its roots in the unparalleled reputation held by Voith across the globe, this growth has been the result of a core UK business strategy based on organic growth, new business development and one key acquisition in a sector where the company had already amassed specialist expertise.
Voith's UK business is mainly focused on providing a wide range of outsourced and technical services to the UK automotive industry as well as the wider transport sector. Phil Spencer, Sales and Business Development Director at Voith Industrial Services outlines in more detail the company's key market focus: "In the UK, we have been able to win key contracts with several major international automotive manufacturers because we have been consistent in focusing very sharply on specific market sectors. Our name is becoming more well-known in the car manufacturing field, but we believe that there are further opportunities for us with Tier One suppliers to the automotive industry and some of the specialist vehicle areas."
Amongst these major international automotive manufacturers, not many names escape from Voith's client list. General Motors, Ford, BMW, Jaguar Land Rover (JLR), Aston Martin and Case New Holland all now feature. Many of these clients are served through on-site employees, meaning that the vast majority of Voith's UK employees are based at customers' sites across the country.
Phil goes on to give an overview of the company's offering to these clients. "Today there are three pillars to our business," he says. "First, there's the on-site services where we work totally on our customers' sites. These include activities such as facility management, technical cleaning of paint shops and other managed processes. Then there's our assembly services, for which we have our own dedicated facilities, such as our wheel and tyre assembly operation in Coventry. Finally, there are the projects for companies that are expanding their facilities. This often involves construction and civil engineering work, and can also encompass dis-assembly and re-assembly, or the introduction of, for example, a new paint shop."
In terms of on-site services, Voith is the world's leading provider of technical cleaning services in paint shops with references in over 80 car plants across the globe. Having already established a name for itself offering these services in the UK, in 2012 the company took a significant step towards solidifying its position in the automotive market by acquiring Coventry-based ThyssenKrupp Services Ltd. The move brought vast resources and clients with it, raising the total number of staff within the UK to over 2000 working across 35 separate locations. Importantly, not only did the purchase build new client relationships with the likes of JLR, BMW and Ford, as well as several other automotive and non-automotive companies, but it helped Voith strengthen its technical cleaning and technical services offering to them. An example of the services now offered within this division includes a two-year £2 million facilities management contract for Peugeot Citroen Automobiles in Coventry. At the client's UK HQ at Pinley House, which employs around 450 people, the company is carrying out the cleaning of offices, post room and reception as well as managing security and on-site facilities maintenance. In addition to this, Voith is also providing cleaning, battery charging and security services to Peugeot's Tile Hill distribution centre, a 30,000 square metre warehouse, which handles thousands of parts and accessories for the UK dealer network.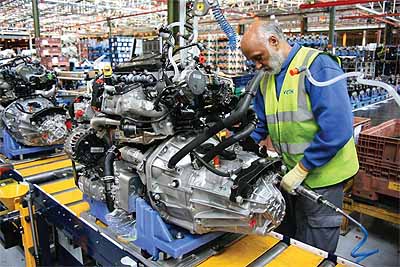 It also operates two of its biggest contracts for JLR. The first covers three of JLR's UK manufacturing plants in Solihull, Castle Bromwich and Halewood, and covers a range of services including technical cleaning services for paint shops, electrical, heating, ventilation and air-conditioning maintenance, janitorial and office cleaning and waste management. The second contract at the newly constructed Engine Manufacturing Centre (EMC) was competitively tendered by Voith and covers an extensive range of services from cleaning, waste and grounds maintenance, to landscaping and winter services. This contract also includes the maintenance of all facility equipment such as boilers, heating and ventilation systems, water treatment and the disposal of metal scrap and swarf to the factory gate.
However, its ambitions for providing a comprehensive service to its clients does not stop there and one area of diversification for the company has been in expanding the service its employees are able to offer to its clients. "While our roots remain in cleaning services, we have been growing our business by developing our engineering and technical expertise in specific areas so that we believe we are now world-class in specific assembly services," says Phil. This is exemplified by Voith's relationship with Vauxhall, which reaches back to the late 1990s with a cleaning contract at the manufacturer's Luton plant. Part of this relationship involved the installation of a £1 million wax booth to provide overbody protection for vehicles being exported to overseas markets.
However, as the business with Vauxhall progressed, as too did the range of services Voith supplied to them and soon it had grown from carrying out small sub-assembly works to assembling safety-critical modules, including axles, struts, front corners and subframes. With this assembly experience gradually gaining momentum in regards to the business's reputation, two years ago Voith's engineers were asked to join Vauxhall in a joint venture with Renault in more advanced technical areas and as such became the only major supplier to be represented on the manufacturing launch team for the new Vivaro van. Here the company's engineers helped to design and develop a new layout for part of the engine assembly line. In its Luton facility, the company now manages and controls all incoming material for the engine dress process, with engineers preparing engine kits, and assembling the gearbox and ancillary parts to the engine. These include starter motors, alternators, power take-off, pulleys, fan belts and a full wiring harness.
"As a partner to Vauxhall we were delighted UKwhen the Luton plant became the first in GM's manufacturing portfolio in Europe and the third in the world to achieve the Built in Quality (BIQ) Level Four honour in recognition of its world-class quality control standards," notes Phil – testifying to the high level of expert service Voith was able to contribute.
Elsewhere, the company's Torrington Avenue facility, which employs 80 people, recently won the prestigious JLR Quality award, JLRQ. Here Voith has continued its tradition of providing assembly services to the automotive industry with a wheel and tyre operation supplying finished assemblies to the Jaguar model range and the Land Rover Defender. The award followed a 12-month assessment on a range of criteria including quality, delivery, technical ability and planned preventative maintenance programmes, and serves to illustrate again the engineering competence held within Voith.
Keen to expand this technical expertise to the wider market, earlier in 2015, the company announced that it is to open the UK's most technically advanced wheel and tyre assembly plant in Coventry during 2016. Currently, the 97,000 square foot facility, which has been carrying out its operations for more than 30 years, houses three production lines turning out around 4000 units per day. The brand-new multi-million pound site will be developed near-by in order to cope with the growing demand from the automotive industry, and will cover 140,000 square feet, employ more people and reduce the unit assembly time from 20 seconds to 12 seconds. Phil highlights the significance of such a move in the market: "More automotive manufacturers are now recognising our technical expertise and quality – not only in this area but also in other more specialist automotive niches."
However, it is not just into other automotive areas that Voith is making progress, but also in the UK's wider transport sector. In 2010, for instance, it successfully transferred the skills it had gained from car plants into the bus sector with its Make Ready Services package. This package covers a whole spectrum of services for cleaning vehicles and garage facilities including overnight preparation, exterior and interior cleaning, fuelling, coolant top-ups and shunting for the following day's service. Also included in the package are deep cab cleans, wheel checks and engine steam cleans, and annual tasks such as MoT cleaning, wet vacuuming of seats and the removal and cleaning of all light fittings. This offering reached a milestone in 2012 when it was awarded the contract to prepare almost 600 buses every night at four of RATP Dev London's garages. This contract was later extended until 2018 with the addition of private hire vehicles.
Another market entry occurred in 2013, when Voith attended Railtex and announced that it had recently secured the biggest contract of its kind in the UK for the rail sector. The five-year contract was for cleaning Alstom-maintained trains on the West Coast mainline operated by Virgin Trains, incorporating First ScotRail, Northern Rail and BTMS contracts, and was worth £40 million.
It is undoubtable that Voith has had a successful history on a global scale and a closer look at its operations in the UK really serves to demonstrate the ambitious and widespread, but ultimately wholly competent, services it provides to its clients. With numerous high-value and prestigious contracts under its belt and a world-class reputation to match, the future for Voith Industrial Services in the UK is bright. "Looking forward we are confident that we can continue our growth and play a positive part in helping our customers achieve even greater successes," concludes Phil, summing up not only the company's vision but also its exemplary attitude towards providing true value to its clients.
Voith Industrial Services UK
Services: Provides a broad range of technical and industrial services to the UK automotive and transport industries