Volkswagen picks Canada as site for overseas gigafactory
The German car giant activities in North America underscores the long-term viability of electric vehicles
The thing about electric vehicles (EVs) is that they ultimately need a battery. To manufacture them at scale, large factories are required. Volkswagen's battery company, PowerCo SE, is consequently in the process of building its first overseas example.
As its growth strategy unfolds, it's clear North America is a key location in the German car giant's expansion plans.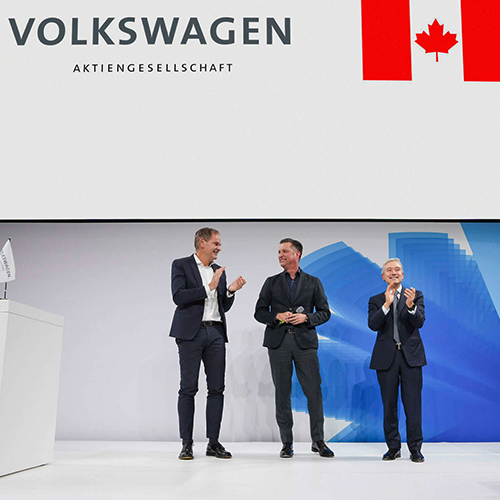 Volkswagen has decided upon St. Thomas, Ontario for its next gigafactory for cell manufacturing. A gigafactory is a facility that produces EV batteries at scale.
Oliver Blume, CEO Volkswagen Group, commented: "Our North American strategy is a key priority in our ten-point plan that we laid out last year. With the decisions for cell production in Canada, and a Scout site in South Carolina, we're fast-forwarding the execution of our North American strategy."
The Ontario-based factory will be responsible for producing sustainable unified cells, with the start of production planned for 2027. After Salzgitter and Valencia, the site will mark Volkswagen's third plant across the globe. It shows how the Group plans to introduce the market's broadest selection of full-electric vehicles in the United States.
The future of Volkswagen
By 2030, for instance, Volkswagen intends to manufacture more than 25 new battery-powered EV models. "Our gigafactory in Canada sends a strong message. PowerCo is on track to become a global battery player," said Thomas Schmall, Board Member for Technology of Volkswagen AG.
"With the expansion to North America, we will enter a key market for e-mobility and battery cell production, driving forward our global battery strategy at full speed.
"Canada and Ontario are perfect partners for scaling up our battery business and green economy jobs, as we share the same values of sustainability, responsibility and cooperation. We are committed to being a reliable partner and good neighbor for the people in St. Thomas and Ontario."
As one of the world's leading automobile manufacturers, the project underscores the viability of EVs and a more sustainable future.