Electric dreams
Matching high-end looks with the most advanced electric technology, Milton Keynes-based manufacturer Volt is responsible for an award-winning range of some of the best electric bikes that money can buy
In 2010, the electric bicycle (e-bike) – while growing increasingly popular in Europe and other major international markets – was a much rarer sight on the streets of the UK than it is today. While there were examples being manufactured in small quantities at the time, these tended to be viewed as bulky, expensive modes of transport that were often hindered by poor battery life and mileage. Recognising these issues were Buckinghamshire-based brothers James and Lyle Metcalfe, who set about the task of pairing elegant cycle design with boundary-pushing technology to create affordable electric bikes that could boast first-class performance.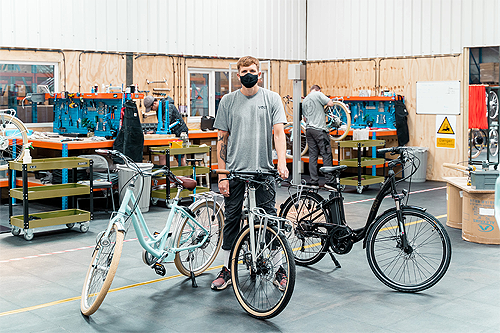 "Having seen first-hand some of the advances being made internationally with e-bikes, my brother and I believed that there was a massive opportunity for the technology to take off in the UK," Volt Co-Founder James begins. "As fate would have it, we happened to land at just the right time, when lead acid batteries were being phased out in favor of the better performing lithium-ion variety. Backed by battery technology that could support e-bikes in covering greater distances – some of ours today can take you over 100 miles on a single charge – we made a commitment to creating an attractive, stylish e-bike that would appeal to as wide an audience as possible."
In the decade since, the Metcalfe brothers have overseen a company that has continuously worked to improve its range of e-bikes, and subsequently has helped to set the pace for what is possible in their design. This has gone so far as to see Volt launch its own sophisticated and reliable e-bike driver system, dubbed SpinTech, in 2017. "As an early stage adopter of modern e-bike technology in the UK, Volt possesses a heritage that evidences how we have used our industry-leading technical knowledge and expertise to develop an intuitive product range that best integrates with the abilities and cycling styles of all kinds of riders," James continues. "Our passion for this industry is second to none. It shines through in all that we do, and has played a crucial role in making Volt the e-bike manufacturer of choice for our customers."
Since its early days, Volt's manufacturing activities occurred in Poland, where it shared a facility with a leading Swedish manufacturer. comWhile this partnership between the two was very fruitful, it had been one of James and Lyle's long-term aspirations to centralise the company's manufacturing process entirely within the UK. This goal became a reality in June 2020, when the company opened the doors to a new, purpose-built factory in Milton Keynes. Spanning some 20,000-square feet, it has the capacity to build up to 25,000 e-bikes per year and create at least 30 new jobs in the local area.
With the UK's complete withdrawal from the European Union looming, this move represents a massive investment for the company and positions it for accelerated growth, while reinforcing its commitment to British manufacturing. "In addition to an increased production capacity, this investment provides us with localized control of our entire manufacturing process," James enthuses. "This, in turn, gives us the ability to greatly improve production efficiencies, to quickly drill down into – and iron out – any issues that arise, and to make refinements quickly. Having such a level of hands-on control was a massive incentive behind the move in the first place."
As positive as the factory move has turned out to be, at the time it was conceived James and Lyle could hardly have predicted that it would ultimately take place in the midst of a global pandemic! "As you can imagine, this posed a major challenge, however we were fortunate in the fact that we had already assembled a solid team whose task was to manage the move in the months prior to the UK going into lockdown," James reveals. "Despite the fact that – as a cycling business – we were exempt from most of the lockdown restrictions, and that the sheer size of our site allowed for us to easily adopt social distancing practices, we still had to adapt massively to what was an ever-changing environment. This meant doing things like making greater use of telephone and video call technology to liaise with various technicians and experts, yet we still managed to bring to life what is a sizable facility during the midst of a national health emergency, which is quite the achievement."
Away from its factory development, Volt also took the decision in the early days of the Covid-19 outbreak to make a pool of its bikes available to key workers within the NHS free of charge, so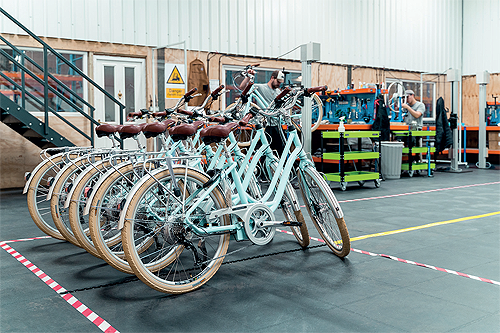 as to assist them in getting to and from work without necessarily having to use, what was at the time heavily reduced, public transport networks. It also introduced large purchasing discounts to these same workers to allow them to buy a Volt e-bike should they choose to.
With the company now established in its new Milton Keynes home, its efforts to further improve upon its already industry-leading technology have continued at pace. "One of things we are constantly looking to do is make our system ever-more intuitive, but we are also always looking at introducing new touches to our e-bikes to improve the entire rider experience," James says. "For instance, in 2019, we added an immobilizer to all of our e-bikes. This feature helps to combat instances of theft by rendering the e-bike static once engaged, and is something that very few other manufacturers have incorporated to date. We have also had very positive responses to the addition of a thumb throttle to many of our bikes, which can be used to boost a rider's speed in the event that they need to power out of any issues.
"Other innovations that we are always looking at are things like reducing the size of our motors or batteries, while maintaining the power levels and mileage that our customers are used to. We are also taking a closer look at battery integration, and examining the possibility of pushing our batteries further into the frame structure of our bikes. There are several in-frame battery designs that we are currently evaluating and that look pretty cool, so we will see how these can possibly be integrated in the future."
As 2020 marks the tenth anniversary of Volt's founding, James and Lyle are able to look back on the company's rapid rise with pride, whilst also fixing their respective gazes on the next ten years ahead. "Our employees have been fundamental in delivering the success that we have had as a business over the course of the last decade," James states. "We are blessed in the fact that the vast majority of the people that work for us are just as enthusiastic about cycling as my brother and I, and their passion for the product and understanding of its appeal is invaluable to our success.
"Equally, choosing the right strategic partners and creating strong alliances has been a core focus for our growth strategy. We want to work with and learn from industry leaders aligned in our field and by forming relationships with the likes of Bafang and Shimano we can deliver e-bike technology beyond that of our competitors. As a privately funded business, we also realised early on how critical cash flow is, and we made the decision to outsource our credit control, debt collection and finance functions to a specialist called Sterling – this works very well for us, and allows us to put all our energy into what we know best 'building and designing great e-bikes'.
"Looking ahead, I believe that we have a very strong, natural growth cycle ahead of us, having put in place what we feel are all the elements needed to expand in size and scale in the next five years. Of course, in order to achieve this, we will need to further increase production volumes, but the way that we have designed our manufacturing model means that we can easily duplicate our work stations and processes within our Milton Keynes facility. As we do this, we will look to create employment opportunities for people to join our team. This is the way we believe that Volt will grow going forward and we look forward to seeing it happen."
Volt
Products: Electric bikes
www.voltbikes.co.uk