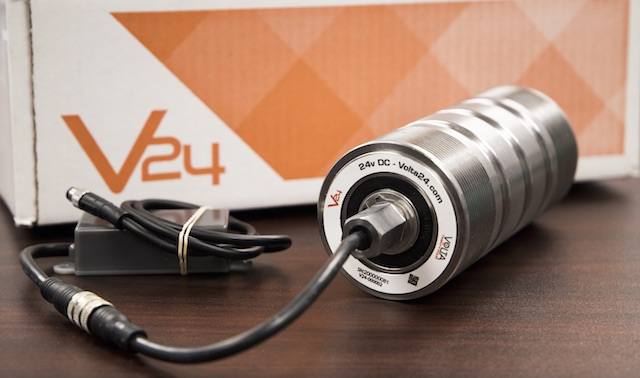 Ocain has 17 years of experience sourcing and developing products for the conveyor industry. The idea for V24 MDR started a little over two years ago after the Volta team identified significant issues with motorized drive rollers in the marketplace. "The biggest thing was the motors out there had a high rate of failure," he remembers. "Anywhere from 2 to 5 percent of the motors I was buying for the company I worked for would go bad in a few months. There are also certain environments gear-type motors simply do not work in.
"The reliability factor wasn't there and the inventory cost was substantial," he continues. "There are hundreds of different models you have to keep in stock if you want speed to market and to deliver products in a standard delivery window. On average, I remember spending up to $2 million in inventory to satisfy customer needs, which is very cumbersome and expensive."
To help in the design and development of V24, Volta brought in Kamran Ramezani, a professional engineer with more than 40 years of experience developing and designing motors. Ramezani is well known in the industry for his design and development of the "pancake" motor for conveyors.
"V24 wasn't developed over a few days or months," Ramezani notes. "I've had this in my head for 12 years since developing the pancake motor in 2006. We have worked hard to make it simple. This is a revolutionary product in terms of the technology and it is the future of MDR technology."
Top Benefits
Volta24 sets its V24 MDR apart from any other motor in the market by eliminating the gearbox, which increases reliability and longevity. "Eventually gears fail, so we got rid of the gearbox and increased the longevity by 10 times," Ramezani explains. "We offer a five-year warranty right now and eventually want to go to a 10-year warranty. Normally, gear-type motors come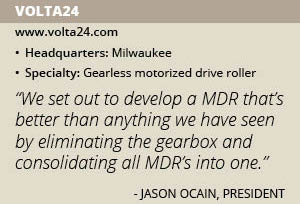 with a one- or two-year warranty."
V24's universal design incorporates both O-band and Poly-V drive options. It mounts easily under the conveyor, eliminating the possibility of direct impact. "The motor mounts below the roller plane, so you don't need to have all these different gear ratios," Ocain explains. "The universal flexibility of the motor means manufacturers only need to stock one motor, so that $2 million in inventory they have to keep on-hand goes away with V24."
In addition to the reduction in inventory, Volta24's motor is maintenance-friendly and requires no special tools to change the motor out. V24 was designed for multiple applications, including extreme cold and hot temperatures, in which gear-type motors do not perform. It is available in a stainless steel wash down version and given an IP67 rating.
V24 is also more efficient than gear-type motors. "The power supply to the motors is almost as expensive as the motor that goes in there," Ramezani says. "The less power you use the better for the manufacturer. The V24 motor, because it doesn't have gears, is more efficient in a cruising speed. If we compare apples to apples, our motor draws about half the amps compared to the current gear-type motor at no load."
While developing V24, Volta24 partnered with Hilmot, a Milwaukee-based conveyor manufacturer, to ensure its motor would meet the needs of any conveyor manufacturer. "Hilmot was our first customer and booked the first lot of units," Ocain says. "We worked closely with them to develop the motor and wouldn't be where we are today without them."
Made in the U.S.A.
Volta24 prides itself on being a motor manufacturer based in the Midwest. "To our knowledge, we are the only company actually winding a MDR in the United States and are ready to ship around the world," Ocain says.
The company's state-of-the-art manufacturing facility is fully automated and includes dynamometer testing. "Not all motor companies have the equipment we have," Ramezani notes. "We are going to publish data comparisons between our motorized rollers based on the dynamometer testing we have here. Our customers can come and watch the testing to see how things are done. Our MDR has a lot of torque and we will show that numerically."
Volta24 holds two U.S. patents on both the construction and the use of the motor today. The company has also filed for international patents as it looks to expand its reach.
Volta24 plans to manufacture about 50,000 V24 motors in the next 12 months and expects to more than double that amount the following 13 to 24 months. "We set out to develop a MDR that's better than anything we have seen by eliminating the gearbox and consolidating all MDR's into one," Ocain says. "The gearbox is in the past and the V24 is built for the future of conveyor manufacturing."