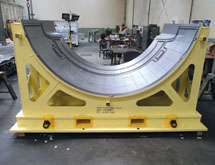 Votaw Precision Technologies
There are not many firms that can say they have a hand in building complex machined components for today's launch vehicles, but Votaw Precision Technologies can, President Scott Wallace says. "There's almost zero room for error," he says.
"The skill level of anyone that touches [these parts] is extremely high," he says. "I think that's what separates Votaw from any other company. We have the ability to do incredibly precise components, using digital models provided by our customers."
The Santa Fe Springs, Calif.-based Votaw provides machine and tooling services for the aerospace and launch vehicle industries. Founders Walt and Maxine Votaw originally started the company in April 1963, with a staff of three. Since then, Wallace says, Votaw has grown to employ a staff of 120 and operates from a 240,000-square-foot facility. "We do flight hardware, fabrication, precision machining which includes large turning, precision tooling and custom machining," he says.
Today, its clients include United Launch Alliance, Alliant Techsystems Inc., Boeing, UTCAS, Lockheed Martin Corp., Northrop and the NASA Jet Propulsion Laboratory. "Since 1982, we've been building significant in-flight hardware including the solid rocket boosters for the shuttle program," he says, noting that two of Votaw's employees are winners of NASA's Silver Snoopy Award, which is presented by an astronaut for outstanding achievements related to human flight safety or mission success. "Over the years we have built upon our success, which has led to more complex and larger flight components," Wallace says.
In addition, the company has built rings and assemblies for the Titan IV and the Mars Rover, and has transitioned into the Atlas V launch system. "We provide most of the structural rings for the Atlas V rocket," Wallace says. "We [also] provide some components that are used in space vehicles and the ground support equipment used to prepare the payloads at the launch sites.
"We produce about 20 different components for Atlas V," he states. "Recent launch increases have significantly increased our business."
Among the many awards it has been accorded for its work over the years, Votaw was recognized as the Small Business Contractor of the Year by the Marshall Space Center in 2008. "In 2010, we were named Northrop Grumman's Tooling Supplier of the Year for work performed on the F35 program," Wallace says. "Votaw was the recipient of United Launch Alliance's 2010 Small Business Recognition Award."
Doing the Impossible
Wallace joined Votaw 30 years ago as a program manager and has been President for the past 10 years. He notes that he is proud of the company's work.
"The parts that we [supply are] almost impossible to make and often have never been made before," he says. "I'm proud of the people who dedicate their lives to turning an engineering concept into an actual part and can get it right on the very first attempt."
He adds that Votaw operates by the motto "Mission Success Starts Here."
"What we're saying to our customers is their mission success starts here," he says. "The overall approach is that we need to build it right and on time the first time to support our customers' success. We have a reputation that if you send it to Votaw, it's going to be done right."
An Increased Role
Throughout the years, Wallace says, Votaw's customers have grown to expect more from the company. "Technically, our customers' in-house manufacturing capability has been greatly reduced over the last 10 years," he states.
"They used to have people inside their company that could manufacture things and they would offload work to some people. Now, those guys are retired, so our customers are relying more on us for concepts, productivity and cost efficiency."
Product design has evolved from drawings to three-dimensional models. Votaw hires and trains its workers to read, interpret, manufacture and inspect from digital models provided by the customer.
"But the most important trait is that our workers must be mentally adaptive to the work," Wallace asserts. "You've got to have the mathematical ability to work with high tolerances as well as understand and utilize the capabilities of our machines for efficiency and accuracy."
To maintain quality and efficiency, Votaw has applied lean manufacturing concepts. "Our lean activities begin with understanding our customers' unique requirements and systems," he says.  "We see ourselves as an extension of our customers' engineering departments and have used lean to make it easier to exchange and update engineering information in a high change/high risk environment.
"We can receive immediate direction from our engineering partners," he says. "In turn, we can provide minute-by-minute visual status of the product to an engineering team anywhere in the world; our toolmakers can send digital recommendations showing how designs need to be modified to improve their producibility; our inspection staff can make and show digitally recorded measurements while parts are on machines." mt