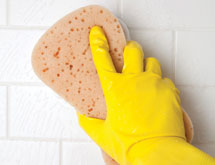 W.M. Barr & Co.'s products are used in homes all across the country, but the company says it has never lost sight of the human element in its operations. "We come to work every day to take care of people, whether that's by helping our customers take moisture out of the air, make paint stick or take care of their homes," the company says. "Our products help businesses grow, professionals get the job done and homeowners refurbish. And we've been doing it for over 60 years."
The company's commitment to people can be seen in its status as a 100 percent employee-owned firm. W.M. Barr & Co. began its employee stock ownership program in 1996 and says it is proud to be owned by its employees because it provides instant proof of its dedication.
"Because each one of us has a vested interest in the company, we're more motivated, involved and knowledgeable than most traditionally structured companies," the company explains. "We're all working together toward the same goals. And it shows in our company growth year after year."
Founded in 1946 by William M. Barr, the company originally was known for developing the market's first non-flammable paint remover. Over the years, the company has grown through organic means as well as through strategic acquisitions. Some of the well-known brands acquired by W.M. Barr through the years include KWIK, Wood Finishers Pride, Armor All Home Care, DampRid, Mold Armor and Goof Off.
"For six decades, W.M. Barr & Company has grown by leaps and bounds by responding to the needs of our professionals and homeowners," the company says. "By combining technology and biology, we'll continue bringing value to everything we touch for years to come."
Familiar Names
W.M. Barr's product line consists of a strong portfolio of well-known brands. Its products are used in everyday household applications as well as in more challenging environments. With so many brands under its umbrella, W.M. Barr is the nation's largest manufacturer of solvents, removers, fuels, cleaning and surface prep products.
The company's brands are:
Klean-Strip – removers, thinners, solvents and heavy-duty cleaners
Klean-Strip Green – more ecologically friendly alternatives to traditional solvents and removers
Klean-Strip Automotive – automotive stripping and cleaning products
Goof Off – heavy-duty household cleaners
DampRid – moisture-absorbing products
Citristrip – strippers made without caustic chemicals
Bulldog – adhesion promoters and surface prep products for automotive paint and body work
Sprinkle-Rite – products to clean and prevent rust stains and lawn fertilization products
KWIK – marine-strength paint removers
Mold Armor – mold testing, cleaning and prevention products
Bix – extra-strength paint removers
Jasco – premium removers and paint-related products
Trask – mold-control products
Building Brands
W.M. Barr recently made the biggest acquisition of its history and added yet another trusted brand to its portfolio in the form of Microban International. As the global leader in built-in antimicrobial product protection for commercial, industrial and medical products, adding Microban to its family of brands positions W.M. Barr to take an even greater share of the market in the near future.
"The acquisition of Microban is a transformational event for W.M. Barr and is consistent with our strategic direction to provide global, branded cleaning products where the care of home and property and the care of the person intersect," President and CEO Richard Loomis said in a statement announcing the acquisition. "This deal fulfills our commitment to acquire well-known brands with strong consumer franchises and strong management to which we can apply the resources of the company for rapid expansion and growth."
The acquisition follows W.M. Barr's 2010 acquisition of Aegis, another leading name in the antimicrobial industry. "The combination of Aegis and Microban will deliver numerous synergies to stakeholders, including a seasoned management team, increased scale and market reach, solid technology capabilities, established customers, a robust business development pipeline, in-place distributors throughout the world and global registrations," the company says.