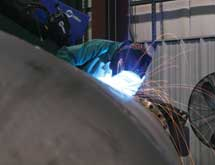 Celebrating its 65th anniversary this year, industrial mechanical services contractor W. Soule & Co. has grown and thrived through the decades based on its core values of quality, safety, cost-effectiveness and customer service. This has secured the company's reputation in the industry, according to COO Gary Cline.
"We understand what it takes to keep customers happy, give them a good value for their money and make sure their deadlines are met," he states.
Thomas R. Soule and his son, Warren, founded the Portage, Mich.-based company in 1946 as T.R. Soule & Son, a two-person residential plumbing contractor. After Warren took leadership of the business, the company's name was changed to W. Soule & Co. and incorporated in 1966.
Today, John Soule, the third generation of the Soule family, leads the company along with his executive management team. "Our management team collectively comes together and makes decisions on how the company is run and where it's going to go next," Cline says. "It keeps you from doing the same things you've always done because the one thing about business today is that it is in constant change and how you adapt to that change is what's going to determine your success.
"It seems like you end up with a better product at the end of the day."
W. Soule offers pipe fabrication and installation, custom sheet metal fabrication, millwright services and HVAC/refrigeration installation and maintenance for a variety of industries. These include manufacturing, pulp and paper, food and beverage, chemical, commercial and life sciences.Although its roots are in southwest Michigan, its reach is national, and the company will follow customers wherever they wish, Cline says.
"We've fabricated and shipped all over the world," he adds.
Valued Partnerships
The key to W. Soule's success has been repeat business and customer referrals, Cline explains. Some of the company's relationships exceed 30 years."We never miss deadlines and try to give the customer the best value possible," he notes. "We're not always the cheapest, but we're going to do the best job, otherwise they would have re­placed us long ago. We make sure we know their process as well as they know their process to understand what they're trying to achieve."
Unlike many of its competitors, W. Soule believes in old-fashioned, face-to-face communication. "The world has changed to a cyber world, but you have to stay in front of people today," Cline says. "People are transient; customers are moving them from place to place. You have to keep those relationships established. When customers change plant managers, we have to go back to ground zero and prove why the other guy was using us. It's a challenge, but it's absolutely necessary."
Maintaining lasting relationships with vendors and suppliers is equally important. "We couldn't be the size and have the efficiency we have today if we didn't have a strong set of vendors that supply us with steel, pipe and product of many natures," Cline says.
"Our vendors know exactly what we're going to use each month, and they do a very good job of making sure we don't run out of inventory. We have long-term relationships with them, and we found some new ones in recent years that have done a good job for us."
Market Optimism
Another key to W. Soule's success is its investment in technology to increase productivity and allow it to operate as efficiently as it can during fluctuating market cycles.
Although the current market is challenging, smart investing has paid off for the company, Cline reports.
"This is probably our best year ever in terms of volume," he says. "We have an extremely strong customer base that has been very busy this year, and we just happened to be at the right place at the right time.
"Big businesses in America have had good profits over the last couple of years, but haven't spent that much money," Cline continues. "They're waiting to see what the tax implications and other things that affect their business are. But this year, our customers made capital improvements, and we benefitted from that.
"People think things are never going to be back to when, in their mind, there was a good economy," he remarks. "But the truth is if you can be the best in your industry, there's going to be good opp­ortunities for you. It's not all doom and gloom out there. There are still opportunities. This is still a country where you can work hard and have success."
W. Soule sees further opportunities for growth in the oil and gas sector. "That's a pretty new industry for us," Cline notes. "It's a perfect fit for us to be able to fabricate and ship large piping contracts."
However, the company doesn't set specific growth goals. "We believe that if we do the best job every day for our customers, those goals will take care of themselves," he remarks.
"If you start thinking about making x amount of dollars, you lose focus of what got you to where you are."