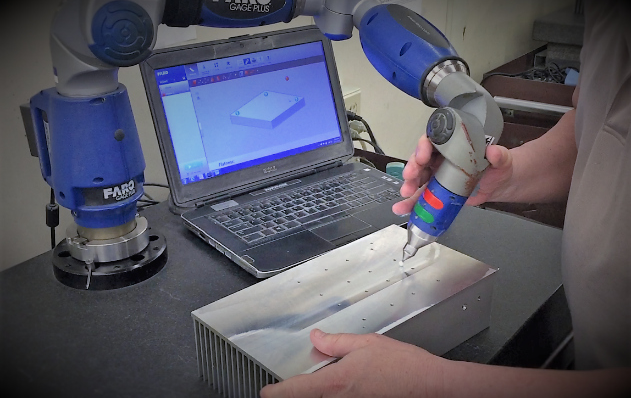 Wakefield-Vette extrudes aluminum and manufactures thermal solutions for its customers, and it is making big changes to make its processes more efficient to deliver higher-quality components at a much higher on-time delivery percentage. One of the major changes being made at the company's 250,000-square-foot headquarters in Pelham, N.H., will create work cells in which all the processes required for customer high-volume parts are centralized instead of being dispersed throughout the plant in several locations.
"There are a number of products that jump back and forth between the CNC machining, assembly, bonding, and extrusion cutting area," President Mark Daugherty explains. "What we're doing is taking those processes that are logistically scattered inside the building and putting them all in one work cell that represents all the processing required for our large customers. It's bringing all the manufacturing steps together where it makes sense to be more efficient, reduce work-in-process inventory, improve lead times and increase visibility of order status."
The thermal solutions Wakefield-Vette manufactures at it's locations in Pelham, N.H., Raleigh, N.C., and Withee, Wis., include thermal and non-thermal extrusions, LED heat sinks, heat frames and pipes, fans, heat exchangers, coolant distribution units and liquid cold plates. Vette was acquired in 2012, and Daugherty joined the company this past August "with the intention of moving the company forward to stand out as a leader in quality, on-time delivery, and customer service," he says.
With the Pelham plant operating only on weekdays, equipment can be moved on weekends. "It is not a requirement to purchase new equipment to create the work cells," Daugherty declares. "It is just a matter of putting the right pieces in the right place. We plan to set up two customer-specific work cells and one additional new line during this quarter as a start to prove out the concept."
One goal of the initial move to the work cells is to help employees understand the final uses of the products they manufacture. "Most of our employees understand what they make and how the part is made, but most have no understanding of what the end use of that product is," Daugherty maintains. "We want to bring customers in so they can see what we're doing and what we could do to improve their product and develop a closer relationship so we can meet each other's needs better than they are being met today."
Daugherty does not expect the equipment moves to cause any downtime and estimates their total cost to be $20,000. "We expect this to be our long-term method of managing our business," he forecasts. "We think it will be a much more efficient way of operating, and in the end it will deliver shorter lead times and reduce our inventory levels."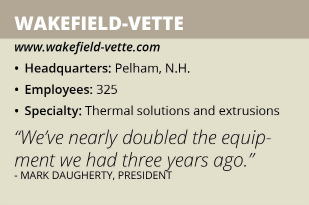 ERP Software
Another important change at Wakefield-Vette is the installation of a new enterprise resource planning (ERP) software. Microsoft Dynamics AX was installed this past January to standardize ERP software across the company's two other locations, one 50,000-square-foot plant in Raleigh, N.C., and another 60,000-square-foot manufacturing facility in Withee, Wis. Both locations were obtained through acquisitions over the past eight years.
"Prior to Microsoft AX, there had been little effort to standardize our systems, so trying to collect and consolidate data and evaluate each site's performance was extremely difficult," Daugherty recalls. "Installing Microsoft Dynamics AX has caused a little bit of disruption, but the downstream capability to report and provide us with data to manage the business will be significantly better than what we had before."
The Raleigh plant manufactures lower quantities of high-end products for industries such as aerospace that require somewhat tighter tolerances than some of the Pelham plant's products. "We have seen tremendous growth in the North Carolina plant over the past three years, and as a result, we've added several new pieces of equipment, predominantly machining centers," Daugherty says. "We've nearly doubled the equipment we had three years ago."
Measuring Up
Even more important to Daugherty is the new laser-measuring machine that determines whether parts meet their specified dimensions within tolerances by comparing them to the parts' drawings or models. "You can feed a part model into the equipment, the machine will scan the part and will tell you almost immediately if it the part was made properly and is within all of its specifications," Daugherty explains. "Its accuracy and efficiency is incredible."
The laser machine supplements the coordinate measuring machine the company used previously. Coordinate measuring is a slower manual process that might take hours to measure a part's dimensions and verify them instead of the minutes the new laser machine requires.
All these improvements are shortening response times to customer issues and resulting in more on-time deliveries and – just as important – improving part quality. "We think we're doing the right things to become what I would call the 'New Wakefield,' something better than what we have been in the past," Daugherty says. "We want to separate ourselves from our competitors through being a responsive, consistent supplier who is easy to work with."
That is being accomplished by additional training. "It's taking good people who want to do well and helping them see a new and better way of doing their job, building in accountability and ownership. Each person is responsible for his or her process. We increase our accountability to each other and our customer, and we create a greater sense of ownership. We're seeing after many months examples of our improvement efforts becoming reality."
Daugherty is impressed with the commitment of Wakefield-Vette's employees. "I recently held small group meetings with our longest-term employees and just listened to their thoughts about where we are as a company and how we could improve," he says. "What I found was a lot of really dedicated, interested and engaged employees that want to do better. They truly care about our company and are simply looking for our support. Our employees come to work to do a good job, and if we think that is not the case. as leaders, we make a big mistake."
These improvements in people, processes and equipment are laying the foundation for future business right now, Daugherty maintains. "Once our current customers see the difference and the word makes it to other potential customers about the 'New Wakefield,' they are going to think of Wakefield-Vette first, and that's good for all of our futures," he concludes. "The best is yet to come for the 'New Wakefield-Vette.'"