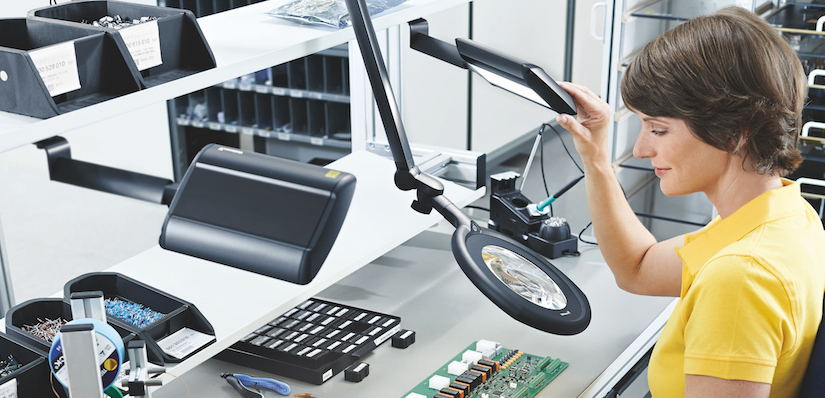 The quality and highly engineered nature of Waldmann Lighting's products make them an easy choice for many industrial and office facilities. "One of the things I enjoy about working here is the fact that we sell robust products, which allows our distributors and dealers to sell them confidently," Product Marketing Director Nick LaRoche says. "Electronics can leave a bad impression with customers when they don't work. I'm proud that we have a return rate of less than 1 percent, which speaks to the fact that we manufacture quality products that don't fail."
Waldmann Lighting's products are designed to function in factory environments where coolants, airborne impurities and similar conditions are constantly present. "This isn't like a light fixture in an office that gathers a little dust," LaRoche adds. "We are in the harshest environments, so our engineering and quality both have to be the best."
The company produces lighting fixtures and luminaires used by manufacturers serving the automotive, aerospace, medical and defense sectors. Its products include integrated machine lights which can be surface-mounted, recessed or arm-mounted, in addition to inspection lights, magnifying and high bay luminaires. Waldmann Lighting also provides lighting for offices and medical facilities. The company's products are sold through industrial distributors and dealers.
A 'Twin-C' Approach
Waldmann Lighting considers itself the "Engineer of Light" for its ability to manufacture products that maximize light output while conserving energy. "We are very good at manufacturing lights that, from an engineering perspective, have outstanding glare control, are energy efficient and extremely robust," LaRoche says. LED lighting represents more than half of the company's product line.
The company terms its approach to designing lighting systems the "TWIN-C" approach, for concepts and components. "We develop concepts based on the intelligent use of harmonized components," the company says. "TWIN-C concepts ensure energy savings, economic efficiency, safety and increased motivation and performance."
Waldmann has a large distribution channel of national and regional electrical and industrial distributors.  With local stock in readily available within North America customers can have less downtime and keep their productivity on target. "The complexity of the parts and components being machined has never been great than today and quality lighting can assist in everything from setup to QC inspection," LaRoche adds.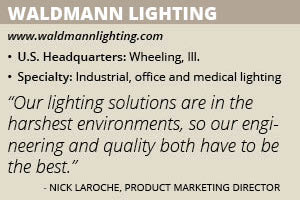 A Global Presence
Founded in 1928 in Villingen-Schwenningen, Germany, as a maker of bench lighting for clock-making workshops, Waldmann Lighting today has a global presence. The company's main manufacturing plant is located in Germany, and it operates 11 other locations around the world including its U.S. headquarters in Wheeling, Ill.
The Wheeling location includes six assembly lines. Waldmann Lighting's other locations include assembly and manufacturing facilities as well as sales offices. The company is ISO 9000 certified.
"Having locations around the world allows our OEMs and partners to maintain product standardization across the board," LaRoche says.
The company's manufacturing operations include machining, metal forming, injection molding and tooling. Waldmann Lighting staff assembles electronic wires and circuits that are placed inside of those fixtures. All products are thoroughly tested before packaging.
Waldmann Lighting's suppliers contribute greatly to the quality of its products. "We perform annual reviews and do site visits with all of our suppliers to make sure we're getting materials that are up to par," LaRoche says. The company also performs quality control inspections at supplier sites.
The company's manufacturing processes are designed for optimal efficiency. Waldmann Lighting's manufacturing processes are inspired by lean manufacturing and kaizen principles.
"The entire value-added chain of complex production steps is performed in-house from development, design and the production of individual components to the finished product," the company says. "All steps are perfectly aligned with each other – everything flows." The company worked with consultant Porsche Consulting to perfect its manufacturing flow.
Waldmann Lighting maintains a product inventory based on weekly forecasting meetings. "Our inventories are just-in-time," LaRoche says. "Everything we do speaks to the lean philosophy."
Moving Forward
In addition to producing a wide range of standard products, the company is also capable of designing and manufacturing custom products for its clients. "Having the entire production operation in-house makes us enormously flexible and independent," Waldmann Lighting adds. "With the flexibility to respond promptly to changing customer requirements, individual requests are possible at every level."
The company continues to improve its manufacturing capabilities. Two lines were recently added to Waldmann Lighting's facility in Germany, including a line dedicated to manufacturing high-bay industrial lighting fixtures. "We are always evaluating new technology and investing in our manufacturing and production processes" LaRoche adds. "We do more than just sell high-performance fixtures. We are at our best when we partner with manufacturers for lighting analysis to ensure the proper lighting is delivered within manufacturing space."
"As manufacturing facilities and OEM machine tool builders are choosing to upgrade their lighting within their equipment or within their own facility, Waldmann Lighting has engineers ready to assist."