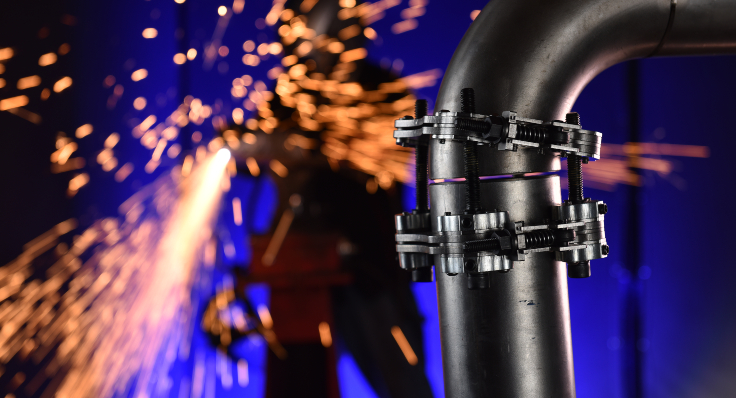 At Walhonde Tools, innovation never stops. The company specializes in precision tube and pipe alignment tools that are custom made for each customer and known for their longevity and durability. "We visit facilities that are having problems with fit-ups and help them troubleshoot to develop clamps that will solve their problem," Vice President of Sales Todd Dugan says. "Everything we make can be customized."
Gary and Kay McClure founded the Charleston, W. Va.-based company when Gary, a construction boilermaker, thought there must be an easier way to fit pipes and boiler tubes together. He started tinkering around to develop a tool that would make things fit together a little better. Gary developed the Boomer that had two grips on it and a handle in the middle that helped line up pipes and tubes for welding, but he didn't patent it and ended up tossing it into a closet.
In the mid-1980s, when construction jobs were declining and Gary had trouble finding work, the husband and wife team decided to do something with the Boomer tool. They patented it and
started selling it, founding Walhonde Tools. The couple named it Walhonde after the Delaware Indian name for the Coal River where they had their home.
Today, Walhonde Tools designs, develops, manufactures and markets 10 different sized patented precision tube and pipe fitting tools for the worldwide power, pulp and paper, petrochemical, food and drug processing, shipbuilding/repair and the oil and gas industries. McClure's son, Matt McClure, has worked at the company for 30 years and took over as president of the company for his father. "He's done everything from sweeping the shop floor to working on project sites," Dugan notes. "Matt takes the information he gathers from in the field and from working with his dad to develop new tools in-house with our AutoCAD designer, creating 3D prototypes for test mockups."
Built Tough
Walhonde Tools fulfills a niche in the tube and boiler industry with its specialized pipe alignment clamps that range in size from one-inch up to 72 inches. "Clamps are the only thing we do, which is why I say we are very niche in the overall outlook of the company," Dugan explains. "Our products are very durable and we have products that have been in service for 25 years. The longevity and durability of our product line is far better than anyone else in the market."
The company offers its tools in three different mediums: Carbon steel, stainless steel and aluminum. Carbon steel is the strongest and heaviest while aluminum is its lightest version. "That is not as durable, but it's about 35 to 40 percent lighter than the other versions," Dugan says. "Right now, the most popular medium is carbon steel because it's the most versatile and the least expensive."
The biggest benefits Walhonde Tools offers its customers is time and cost savings, increased safety, ease of use, as well as repeatability. Its clamps allow customers to do the same process over and over again, whereas the old way, welders would come out to a job site and drive wedge, use come-a-longs and jacks. "Our clamps do the same process every time without adding safety concerns for workers," Dugan explains. "They don't have to bring welders on and don't have to worry about something kicking out on them, which is a cost savings and at the end of the day means profitability for customers."
For example, Walhonde Tools recently worked with BP Offshore to condense a 24-hour process on one of its platforms down to one hour with its innovative tools. "They used to have to bring everything in by crane, rig it up, secure the pipe on both ends on the platform and bring in teams to secure everything," Dugan says. "Our pipe alignment clamp allows them to secure it 100 percent. Getting our clamp onto a BP platform is a huge thing for us."
Walhonde Tools is also working with the United States Navy to develop tools for their ship building, nuclear and non-nuclear divisions. From talking to them on the phone to visiting their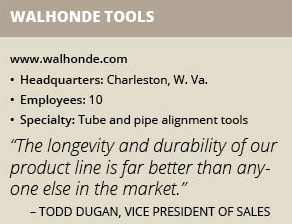 locations to working a prototype, Walhonde Tools was able to develop tools for the Navy in two-and-a-half weeks. "Most people can't get through the paperwork in two-and-a-half weeks," Dugan notes. "One of the things that set us apart is our ability to respond very quickly to problems and go from concept to actual working prototypes within two to four weeks."
Cutting-Edge Technology
For decades, Walhonde Tools has worked closely with the Robert C. Byrd Institute for Advanced Flexible Manufacturing (RCBI), which has played an instrumental role in the company's success. For example, Walhonde Tools used RCBI services to redesign one of its patented tube and pipe alignment product lines, which has enabled it to make modifications that improved several components.
"These changes have helped us address specific customer needs and concerns," Matt McClure says. "We used the rapid-prototyping process and made 3D drawings of all of this product line's components … and then we used the 3D printer at RCBI to make prototype components for further configuration and design. Once we completed this, we used the abrasive water-jet cutter, Swiss Turn and Okuma vertical machining center at RCBI Charleston to produce finished parts to integrate into the new tool model."
Walhonde Tools' Top Liner pipe fitting clamps, for example, are a unique innovation in that it allows for the complete control of a fit-up.
Walhonde Tools takes pride in supporting its local economy and organizations. "Our tools are 100 percent made in the U.S.A.," Dugan says. "We don't use foreign steel and 95 percent of the elements in our tools are made in the United States that meet the requirements of the Navy."
Moving forward, Walhonde Tools will continue to innovate to continue meeting its customers' demands. The company plans to debut three new product lines in the near future.