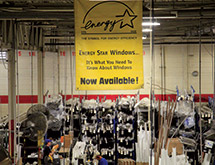 At Wallside Windows, keeping direct contact with end-users is essential. "[By doing] that, we're able to keep making sure the customer is satisfied, no matter what," Chief of Staff Adam Blanck says.
This approach has paid off for the family managed company. "[Judging] from our tracking, our business is based on referrals and people that have been satisfied," he says, noting that the majority of its business is repeat or referred by a satisfied customer.
Taylor, Mich.-based Wallside Windows specializes in custom-manufacturing replacement windows. Blanck's grandfather, Martin Blanck, started a home improvement business in 1944, but later moved into vinyl replacement windows in the 1970s.
At the time, the U.S. government offered tax incentives for conservation. When Blanck read an article in The New York Times about vinyl replacement windows, he felt they fit homeowners' needs because vinyl is more energy efficient and durable than wood.
"He always wanted to make something [there was a need for], and here we are today," comments Stanford Blanck, Martin Blanck's son and vice president of the company. "We make and install everything to a home customer's satisfaction."
Wallside Windows is a leader and renowned brand in the Michigan and northwest Ohio markets, Adam Blanck says. "If you ask people in the Michigan area about windows, in most cases, they'll know Wallside," he declares.
Jumping Through Hoops
Wallside Windows copes with an increasingly regulated industry, Blanck says. The company has closely watched National Fenestration Rating Council and ENERGY STAR regulations, he notes.
"Making sure we're keeping up to date is definitely a big challenge," he admits. The company recently switched to Cardinal Glass Industries Inc. as its glass supplier to ensure its products meet ENERGY STAR 6.0 specifications.
Wallside Windows also has been impacted by EPA's lead-safe work practices rules, Operations Manager Dave Ball says. "All companies – whether they're painting or renovating a home – have to comply," he says. "We are up to date on all those."
"Those types of regulations have had a huge impact on the home improvement industry," Blanck adds. "[They] provided many more hoops we've had to jump through to do our [work]."
Standing Firm
Nearly all of Wallside Windows' work is for homeowners, for whom it strives to provide "a piece of mind with a quality product," Blanck says. "We're definitely committed to standing behind our product, even decades after we make it."
The company has stood behind its product with a 35-year transferrable warranty that it has offered since 1990. "There's a lot of products out in the field that we warranty no matter who owns that home," Ball says. "That warranty is based on the address, not on the homeowner."
The warranties can impact decisions Wallside Windows makes, including whether or not to switch suppliers, Blanck notes. "We still have to consider previous customers and how we can maintain and manage any issues that may arrive, based on previously manufactured goods," he explains.
Smooth Operators
Wallside Windows keeps a close eye on manufacturing quality, Ball says. Not only does the company utilize Keystone Certifications Inc. to perform semi-annual inspections, "There's random inspections throughout the day," he reports.
The company also recently optimized cutting on its lines to save waste and maximize yields. "We did 140,000 windows in total last year," Blanck reports. "[Anything] we're manufacturing today will be sent out to homes tomorrow."
Additionally, if part of the product is damaged on its way to the home, Wallside Windows can easily replicate it. "We're able to manufacture it and bring it out if they drop the window or a piece of glass breaks," he says.
Product Partners
Wallside Windows maintains strong relationships with its suppliers, including several it has used for decades. One is vinyl manufacturer VEKA Inc., a Wallside Windows vendor since 1999.
A key to a continued partnership with Wallside Windows is a consistent, quality product. "We have standards we have to maintain for our customers," Blanck says. "Therefore, our suppliers have to maintain the same standards."
But the company is equally responsible for treating its suppliers with integrity, which upholds the values set by Martin Blanck. For example, "We pay on time and make sure that the relationship is beneficial for both parties," Adam Blanck says.
A Family Place
Wallside Windows plans to continue making energy-efficient windows, Blanck says. "We feel consumers more interested in sustainable products for homes," he says.
This challenge will be made easier thanks to the company's experienced workers who care about the product they manufacture. "It truly is a family," he says. "It's a family place and a family business as well."
Wallside Windows also might grow to reach more customers, Ball predicts. "We might start looking at hubs to get to [so we can] expand our areas," he says.