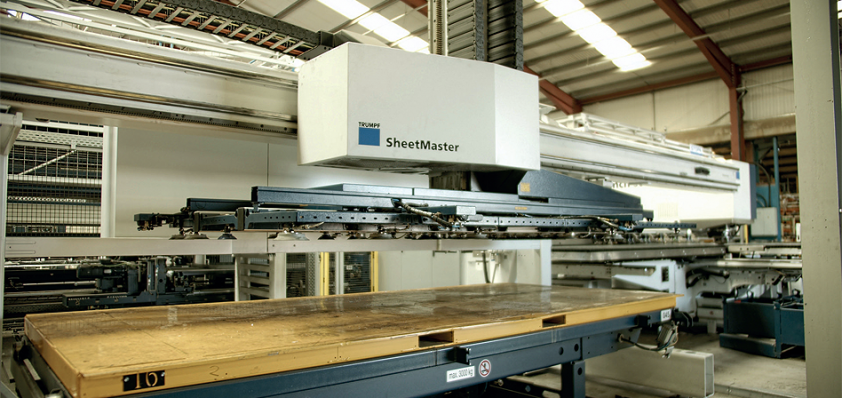 A team with mettle
This is what is unique about Washington Metalworks: where some servicing businesses may specialize in laser cutting or punching, this company does it all. With in-house CNC machining, powder coating, wet painting and final assembly, the company covers a spectrum of the manufacturing process. Its Commercial Director, Paul McGowan, sits with us to talk about the journey that has allowed the business to grow from one man and a bench to employing over 200 people, while achieving the sort of cutting edge service that put it on the North East Manufacturing Growth Top 50 list.
In 1985, the business came to life in a small manufacturing unit in Washington, Tyne and Wear. It was only five years after its inception when Paul joined the business as a sheet metal worker. "I started with the company 31 years ago and I've progressed over the decades," he begins. "We started off in a 500 square foot unit and then we moved to 5,000 square feet, then 30,000 square feet. It wasn't until about 18 years ago that we moved
to 100,000 square feet. As we've grown, we've also taken on more blue-chip companies in the UK, and now we have a portfolio of some top-class customers."
One of the facets the business prides itself on is supporting new apprentices, with six to eight newbies joining the ranks each year. "This is a brilliant trade to have under your belt because if you can make things out of metal, you can make things out of plastics, wood, anything really – it's a great grounding. Many of the apprentices who have come through have the opportunity to grow in a range of skillsets because punching and lasering are just the tip of the iceberg of what we do," Paul says.
Washington Metalworks incorporates its customers' concept with its own expertise to help the client develop and produce their product. In order to improve its efficiency, the business has spent the last four years implementing a new ERP system, which, according to Paul, has become the heartbeat of the business as it controls all the factory processing, from schedules, to purchasing records. With the new ERP system came additional investments in robotics for sheet metal processing machinery. "We have some machines in here like our robotic welding and folding processes that are quite unique. From what I know, there are very few companies that have the same level of equipment as us, which makes it great for repeatability," he says. At the moment, Paul believes that the system installation has been invaluable in improving the company's operations, giving Washington Metalworks an extra jolt ahead of the competition. "This is such a cutthroat industry. You can have all the labor in the world but in my opinion, systems are driving businesses now, which is why we're putting a lot of time and effort into our technology. This is what is going to help strengthen our services and allow us to stand out," Paul adds. This is why the manufacturer was able to secure a contract with a business as internationally widespread as The Great Outdoor Gym Company (TGOC). "That is a great project for us and TGOC has a big future because it is really determined to get people exercising again, and there's a huge scope that it is working with to achieve that. It wants to bring in the likes of spinning bikes and ski machines, which we can manufacture in our site and then we ship the equipment as far as New Zealand and Australia," Paul informs us.
As a case study, the partnership with the Great Outdoor Gym Company demonstrates perfectly how the business works with its clients and the full range of its in-house capabilities. "We have the manufacturing drawings for these parts, they have been prototyped and tested for safety So, we manufacture them ourselves and partner the necessary parts with our skilled workforce. Following that, we powder coat them, then we do the final assembly, which in this case would be fitting the entire equipment. So, what's getting shipped out is the finished product straight to their designated park where they are either cemented or bolted into the ground," he explains.
Although Paul speaks extensively about the importance of technology within the operations of Washington Metalworks, the business could not function without its team of tradesmen. "We've got a group of excellent staff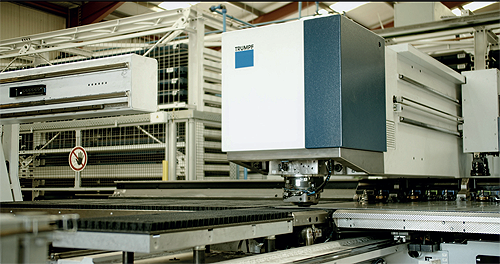 working with us. There's a different team for manufacturing, commercial and finance as well as a quality-testing team and each of those departments form the network that makes the business tick," Paul says.
"Over the last couple of years, we have identified some star players who have more potential within them than they realize. Not only have they got the experience of putting the parts together in the factory, they also have good communication skills, and they're computer literate. We've got a guy who works in the office, he's about 40 now but he started when he was a 16-year-old apprentice and he has worked ridiculously hard throughout his career here and has become a senior manager," Paul celebrates.
Given these impressive advancements and workings within the company, Covid-19 was quite a knock to the manufacturer's operations. As Washington Metalworks looks to the future of the company, it is also reflective on the consequences of the pandemic as well as the prospects of the industry's economic health. "At the moment, we're at a £12 million turnover, compared to a few years ago when we were at around £16 million, it is frustrating to see but I don't think it has been as a result of poor business. We've had a few challenges to overcome like integrating the ERP system as well as adjusting to the pandemic. However, over the next five years, we are quite ambitious about bringing those numbers up again. We've spent £4 million on new machinery, which is helping us hugely on our trajectory and we're looking to take the business to £18 million by 2025," Paul claims.
"We had to manage our facilities quite tightly, especially because we had people on furlough. Every week, we had to consolidate the best practice of bringing more people in because our work continued to increase. It was a constant balancing act. For the next decade, I can imagine that manufacturing is going to be really exciting for the UK. Many businesses have realized the importance of producing their product locally, rather than bringing it in from China or Indonesia. So, although the pandemic has hurt us, I think the UK economy will benefit hugely in the near future," he expresses.
To help it achieve these endeavors, the business is looking into the potential of further facility expansions, while acquisitions are not entirely off the table either. "A few years ago, we spent about £40,000 on subcontracting machine parts until we made the decision to buy our equipment and began working in-house. It is exciting and as we head into the next decade, I think our development is going to be massive and we've got our feet firmly in the sector," shares Paul.
The North East area is known as an industrial heartland with ship yards and coal mines scattered across the counties, which is why it is a great location for Washington Metalworks to thrive. As Paul notes, the business's investment in state-of-the-art technology will set it in good stead to excel in the metal works sector and it is clear from his enthusiasm that the company is excited to push boundaries and fulfil its potential "We're on a journey, that's for sure, and we're embracing every step of the way. We've had a tough couple of years but we're starting to reap the rewards now, and every day is a new opportunity for us to learn something new, to grow and be better than we were the day before," Paul concludes.
Washington Metalworks
www.washington-metalworks.co.uk
Services: Sheet metal fabrication and metal work services