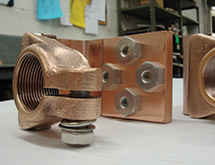 Watteredge LLC, A Southwire Company
When companies around the world need custom-engineered, high-performance current-conducting devices for industrial and commercial uses, they look to Watteredge LLC, a Southwire company.
"Our products are sold across several industries," Vice President of Sales and Marketing Robert LaRussa explains. These include the steel, chemical, chlorine, power generation, energy, fiberglass, aerospace, automotive, foodservice, printing and medical industries in both short-run as well as high-volume production.
"Typically, what the product does is it carries in most cases DC current from point A to point B," LaRussa continues. "The product principally utilizes copper, and in some cases aluminum." The products include air-cooled and water-cooled cables, along with press-welded shunt products and a variety of electrical products that condition or regulate electrical current, such as transformers, inverters and switchgear.
Watteredge's products are used as components in resistance welding equipment that holds metal components together in auto assembly and in the automotive aftermarket for vehicle repair. "We started in business making water-cooled cables that carry current to the electrodes in electric arc furnaces that create the high-power heated arc that melts ore or other metals to produce various steel alloys," LaRussa says. That was more than 60 years ago.
The company offers contract machining and welding services, arc welding and brazing of various metals and employs welders and brazers that are certified to ASME, AWS and NAVSEA standards. "We don't necessarily go out in the field on a regular basis to perform welding services offsite," LaRussa notes. However, the company will perform repairs on its equipment at customers' locations that involve welding when necessary.
The latest addition to Watteredge's capabilities is waterjet-cutting equipment that uses water at pressures up to 87,000 pounds per square inch that Watteredge says cuts through almost any material with clean, weldable edges and little to no burrs. Coupled with Watteredge's advanced CNC, CAM and Solidworks 3D modeling applications, no drilling or punching is required. The materials the waterjet can cut include aluminum, copper, brass, bronze, stainless steel, composites, rubber and even plastic. It cannot cut tempered glass, diamonds and certain ceramics.
Lean Manufacturing
Lean manufacturing techniques are being incorporated into Watteredge's manufacturing and fabricating. "Lean manufacturing strives to find the areas of waste in terms of time utilization and efficiency," LaRussa says. "We're trying to get the efficiency of equipment as high as possible. We've identified areas where we can reduce the amount of time to produce our products using lean initiatives and to better organize our production flow through different departments."
For example, Watteredge has reduced the amount of lead time for its press-welded shunts by 50 percent thanks to its lean initiatives. The general machine shop that LaRussa says is at the heart of everything has had its production flow to different machining centers reorganized and increased in speed by approximately 30 percent.
"We've applied lean initiatives and had lean key performance indicator events in what we call our large cable department, and reorganized and constructed better material-handling techniques and equipment, and that's improved production by about 20 percent," LaRussa maintains. "Over the last three or four years, lean manufacturing is really an ongoing activity at Watteredge and will continue to be part of our continuous improvement initiatives."
Design and Manufacturing
Watteredge devotes from 60,000 to 70,000 square feet to manufacturing and rents some space in a nearby building to augment its efforts as the amount of its work ebbs and flows. "We're not a standard off-the-shelf company," LaRussa says. "At least 90 percent of what we do is a custom-engineered product. That really is what separates us from the people that are doing similar things and making products that look like ours. We cater to the customer who really needs a custom approach."
Watteredge's in-house engineers can design a product from a customer's descriptive technical requirements or work from the customer's drawings if they are complete using CNC-controlled lathes, mills, punch presses and do TIG and MIG welding. "A lot of these products end up in a kit form," LaRussa points out. "In some cases, we do some assembly work that is necessary to complete a product or incorporate our product into another component."
LaRussa attributes the company's success to its employees, who meet its customer's requirements with high quality and exemplary customer service. "We strive to have absolutely 100 percent customer satisfaction," LaRussa pledges. "That is our objective. We take care of our customer."
That care extends to the company's employees, who have voted Watteredge one of the top 150 employers in northeast Ohio for the sixth consecutive year in a competition sponsored by the Cleveland Plain Dealer. Watteredge is one of only 15 companies that have been put on the top workplace list for all six years of the annual survey by their employees.
"We refer to our employees as partners because they have a voice in what we do," LaRussa emphasizes. "We solicit them for information. We want to be an employer of choice. That's not just a figment of our imagination – it's really what we strive to be."