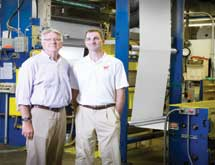 Wausau Coated Products Inc.
Wausau Coated Products Inc. has made a habit out of taking big gambles and coming out ahead of the house. Starting with founder William Reif and his partner Lawrence Wokatsch and continuing with Ben Reif, current president, Wausau Coat­ed Products Inc. has faced numerous daunting situations, yet remains at the top of the label industry 30 years after its founding.
Headquartered in Wausau, Wis., Wausau Coated Products manufactures pressure-sensitive label materials and other custom coated products for a variety of markets. The company's specialty is manufacturing high-quality roll and sheet label materials for a number of applications.
When William Reif and Wokatsch decided to launch a business, the label industry was relatively young and growing exponentially, according to Ben Reif. There was plenty of money to be made, but the founders took a leap of faith to launch their own business with no guarantee the endeavor would thrive.
"They left their jobs, took the risk and borrowed the money they needed," Ben Reif says. "I look back on that in awe. I don't know if I'm the risk-taker my father was. I'm glad he saw the opportunity."
Competition Heats Up
The younger Reif may be selling himself short. As vice president of sales, he played a key role in leading the family business through two challenging eras of change, each of which had the potential to alter the course of Wausau Coated Products' path.
The first came in 1999-2000 when the label industry went global. One of Wausau Coated Products' largest competitors built its first U.S. plant during that period, igniting a showdown for market share that changed pricing almost instantly.
Ben Reif, who had joined the company full time in 1992, realized that to continue to grow, the company had to reduce its dependence on commodity label business and focus on specialty products. He maintained this stance despite Wausau Coated Prod­ucts' setting a sales record in 1999 and 2000.
"We were a little too heavily invested in commodity label products, so we changed to survive," Ben Reif says. "We'd no longer cut prices to match the big guys. We focused on providing specialty products and custom-built solutions to become the specialty and custom source for the industry.
"Were we suited to do that? No, but we knew that's where we had to go to survive and to continue to grow."
Along with focusing on customized and specialty products, Wausau Coated Products expanded its reach geographically. Through 1999, the company primarily served the upper Midwest and parts of Canada. Today, Wausau Coated Products' reach expands as far as Central and South America, New Zealand, Australia and Europe. The expansion has paid off – in 2010, the firm set another sales record.
"In the last two years, we began exporting and it is starting to really pay off," Reif says. "Today, with business throughout and beyond North America, there isn't any one area where we stronger."
Expanding the Facility
Even after a record-setting year, Wausau Coated Products is ready to take another gamble on its future. The company is in the midst of its largest capital investment to date as it expands its facility for its newest coating line. Reif says the company expects to have the line up and running by November 2011.
The new coater will be Wausau Coated Products' largest and fastest coater, which will allow the company to produce its products more efficiently with shorter lead times. The operation's existing coating line coats silicones and adhesives in a single pass.
As the company has diversified and become more specialized, however, new functional coatings have been added, requiring a separate pass for additional top coatings suitable for different types of printing, Reif explains.
The new line will apply these functional coatings in one pass, eliminating an extra step in the process.  These functional coatings can be applied to either side of the label stock or liner, enhancing the specialty nature of our business. Reif explains that the line will run approximately 30 percent faster than the company's existing coating lines.
"This is the biggest capital investment we've ever made," Reif says. "We're all in with this bet. We're betting on our future, and I'm convinced it's very bright."
This major addition will be added to the company's facilities at its campus in Wausau. Wausau Coated Products has two manufacturing facilities that each occupy 125,000 square feet.
The operation's south facility handles all coating processes, Reif notes. In the north facility, additional converting and packaging of pressure-sensitive sheet materials takes place.