More than common scents
Following a major change in its business model in 2008, Wax Lyrical has transformed itself from an ailing organisation to a major success
Based in the scenic Lake District, home fragancing company Wax Lyrical's team of 130 skilled and dedicated employees strive to produce and market more than 15 million high quality products to its global customer base. Perfecting its innovative and unique products in Ulverston, Cumbria, the company collaborates with the best fragrance houses in Europe to ensure customers receive true to life fragrances that come from the purest and finest ingredients. Offering customers a range of candles, reed diffusers, room mists, scented sachets and refresher oils from its own Wax Lyrical collections, the company's products all emphasise its commitment to the best ingredients and materials, stunning designs and bold fragrances. Furthermore, the company has partnered with five prestigious brands, the Royal Horticultural Society, Jelly Belly, Fired Earth, Julie Dodsworth and Churchill China (UK) Limited Hidden World; by manufacturing these products under license, the company has further strengthened its appeal to a broad range of consumer groups.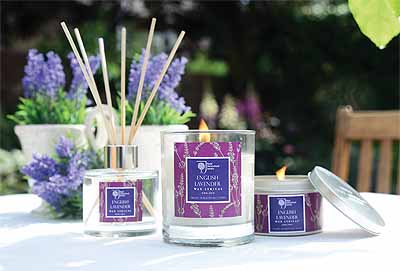 Originally established in 1980 by the Williams family when they noticed potential in the home fragrancing market while working as hotelier and restaurateurs, the company has exchanged hands over the years and faced financial difficulties before its was acquired and rebranded by owner and chairman Mike Armstead in 2006, as managing director Joanne Barber discusses: "The Williams family had been using candles in their hotel and restaurant and, upon realising that there was an opportunity in the market place, began manufacturing candles in 1980. Following business growth, the company, then known as Nice Things, moved to our current site in 1990, which was opened by Princess Diana. The company's name was changed again to Colony Gift Corporation and was later sold to Blyth Industries, an American candle manufacturer. While in Blyth Industries' hands the company became more of an importer and began to lose money to the point that by the time Mike acquired it the company was on the brink of administration. It was in dire need of a turnaround, but we have now been profitable for five years, employ 130 people and are market leaders for the manufacturing of home fragrances in the UK."
Renamed Wax Lyrical in 2010, the company today is a true success story for British manufacturing, supplying many of the major retailers in the UK and across the globe with its luxury scented products. By rejecting the previous owners decision to import 65 to 70 per cent of its goods from the Far East and India, the dynamic and innovative firm has reaped the benefits of manufacturing 95 per cent of its products in-house. Indeed, by bringing the focus back to UK manufacturing and exporting, the company has not only enjoyed major success in a struggling economy, but has also enhanced its control over issues such as flexibility and product quality, as Joanne discusses: "Reverting from importing to exporting was a key aspect to our successful turnaround, a strategic decision we made in 2006 when most companies were still sourcing from locations such as the Far East and China. It was an unusual choice to make back then, but it has become more typical over recent years for companies to say they are a proud UK manufacturer.
"This decision enabled us to shorten our lead times and ensure quality to our customers; we are the first home fragrance factory to be awarded the British Retail Consortium quality approval, which we have had for seven years now. This was a real accolade for us, but our core focus was on enhancing our manufacturing capabilities, IT and management information and planning systems to ensure we could drive productivity and double our production rate. For example, tealights were not a product that we could previously manufacture, but we now have the machinery in-house; this is also the case with our reed diffuser range."
Joanne notes that other strategies used by the company to ensure further growth included investment into training for staff and developing stronger relationships with more locally based suppliers: "We weren't just focused on bringing back manufacturing to the UK, we also looked at our supply base in the UK and focused on enhancing these relationships to allow for a more short and flexible lead time. We now work closely with our suppliers at all levels."
With 35 per cent of its products sent abroad to emerging markets such as Russia, the Middle East and Europe, Wax Lyrical is keen to continue its success story with further expansion both in the UK and across the world. Affirming that a growth plan is in place for the company's ongoing growth, Joanne concludes: "We want to remain a key player in the UK and global market place and be a strong, profitable company. To make this aim a reality we will invest further into our factory, which will double our output on ourtealight line and potentially result in 60-70 per cent growth in our wax filling lines too. Investment is key to retaining our status as a market leader."
Products: Luxury scented candles, reed diffusers and private label collections
Sites: Cumbria
Employees: 130